World of Tanks is already available on consoles for Xbox One owners, but so far, no love for PlayStation 4 owners. Never fear, Sony gamers, for Wargaming have today released the Open Beta for World of Tanks on PlayStation 4, and you can now download and play the world's biggest tank combat MMO for free on your favorite console. Hooray!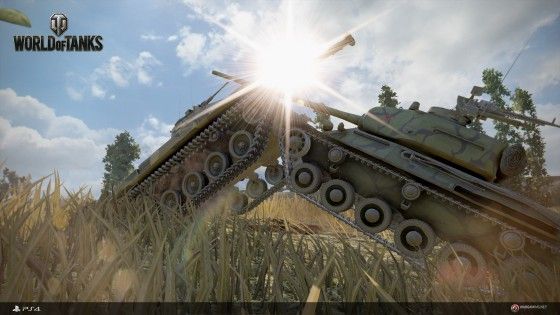 The game is available to download right now from the PlayStation Store and will be playable from today (4pm PST/5pm Paris/7pm Minsk) until December 6th, coinciding with the PlayStation Experience which is taking place on December 5th and 6th at the Moscone Center in San Francisco where visitors will be able to have some quality hands on time with the game at the Wargaming booth #1200.
What's even cooler – everybody who joins in with the PlayStation 4 Open Beta this weekend will receive an exclusive PlayStation 20th anniversary M22 Locust Premium US light tank! This tank features a unique PlayStation camouflage with a special emblem. And in addition, everybody who joins in will also receive the T1E6-PS tank, also with exclusive camouflage, for playing in the Beta. Not bad!
Key platform features will be available for World of Tanks on PlayStation 4, including Dualshock 4 functionality, Share Play, and PS Vita Remote Play. The game will, of course, be free-to-play for all PlayStation account holders and does not require a PlayStation Plus membership to be able to play. So go forth and conquer your enemies!
Source: Press Release
Our Thoughts
Whether you're excited to dive into the World of Tanks PS4 Open Beta or you're on the fence, you will not want to miss out on those exclusives! It's also pretty cool that you won't need a PS Plus membership to be able to play.
Related:
Beta
,
Event (In Game)
,
F2P
,
MMO
,
News
,
Playstation 4
,
Wargaming
,
World of Tanks