We're still a couple of weeks away from this year's BlizzCon and presumed confirmation of a new WoW expansion, but a discovery from a Redditor is likely going to further cement that expectation. A beta build tracking website, for the briefest of moments, posted a World of Warcraft 8.0 version, hinting at another expansion on the way.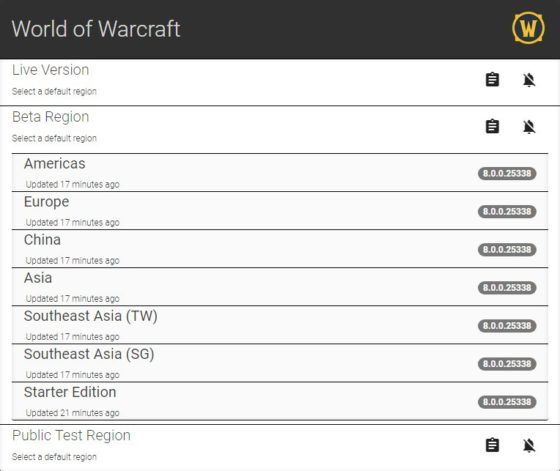 The alert was posted by Redditor FiLoUx70 and then screenshotted by Redditor Tiwuno, as the 8.0 build version was initially listed and then removed shortly after by the tracking site BlizzTrack.
The prevailing assumption is that the expansion pack is likely in an alpha state and will arrive sometime in September of next year. Naturally, none of this is officially confirmed, but with World of Warcraft essentially double-booking itself during BlizzCon's announcement segment, signs are looking good.
Our Thoughts
We're pretty sure the 8.0 build isn't really in a beta state more than some form of closed alpha or maybe a friends and family build. Regardless, it all does seem to be leading up to another expansion reveal and hopefully some excitement for World of Warcraft players.
Source: Reddit via MMORPG.com
Articles Related to World of Warcraft
WoW Wednesday: The Black Temple Timewalking
WoW Wednesday: What is Bolvar Fordragon Planning?
World of Warcraft Fan Art is Celebrated in New Video Series
Related:
Expansion
,
MMORPG
,
News
,
World of Warcraft