The holidays are a time when many feel philanthropic, and the devs of World of Warcraft are certainly no stranger to this. Case in point, a new Fel Kitty pet named Mischief is being offered to fans of the game, with proceeds from its sale going to charity.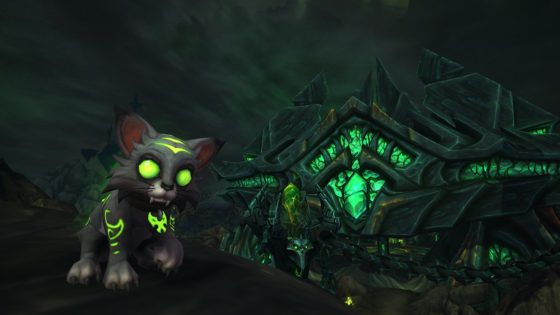 Mischief is available in two forms: an in-game variety and a physical plush that glows in the dark. Purchase of either one will benefit the Make-A-Wish Foundation from now until December 31st, with 100% of the proceeds from the in-game Mischief and about half of the proceeds from plush sales going to the charity.
The unveiling of the Fel Kitty pet comes with a Winter Veil animated short in the vein of The Grinch who Stole Christmas, which can be seen below.
Our Thoughts
Aren't all kitties just murderous spawn from an evil dimension? In all seriousness, Mischief is too cute to ignore whether in-game or in real life, and the fact that sales of the pet are going to Make-A-Wish is even better. We hope the adorable murder fluff finds some good homes and the charity drive rakes in a large total for a great cause.
Your Thoughts
What do you think of Mischief? Which variety are you going to buy? Share your thoughts with us in the comments.
Source: official site
Articles Related to World of Warcraft
WoW Wednesday: Exploring the Dark Side of Legion
Kirin Tor Hotfix Applied to World of Warcraft
World of Warcraft 12 Year Anniversary Celebrated with Corgis
Related:
Charity
,
Legion
,
News
,
Pets
,
World of Warcraft