The sailing airship of Worlds Adrift development is moving a little more towards the horizon of release. Which is an overly poetic way of saying that Worlds Adrift closed beta is starting, albeit in a bit of a limited format for the time being.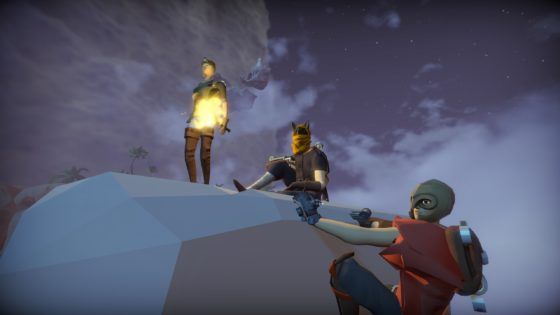 How does one get into the closed beta of the airship-building sandbox? With the purchase of a Founder's Pack. In spite of this caveat, sales of Founder's Packs are going to be limited in order to ensure the beta runs in as smooth of a manner as possible according to Bossa Studios co-founder Henrique Olifiers.
"The history of multiplayer launches is bleached with the bones of games crumbling under the weight of their communities trying to log in all at once on day one, and having a terrible experience with unavailable servers for weeks afterwards," said Olifiers in a statement. "We want to take a different road instead, ensuring that every player of Worlds Adrift has the best possible first contact with the game."
Founder's Packs are offered in three different tiers ranging in price from $34.99 to $64.99. Each pack includes a selection of in-game items, in-game currency, and a digital soundtrack in addition to closed beta access.
Sales of these packs will be carefully monitored along with the stability of the game's servers until the developers feel confident that the game can handle the strain of more open access. "This might not be the best commercial approach in the short term, but it will be the best for players in the long run — and that's what matters most for the Worlds Adrift team," said Olifiers.
Information about the latest build of Worlds Adrift can be found on the official site, and a new trailer is available below.
Our Thoughts
Funneling access to a game in order to manage server stability is fine. Selling Founder's Packs, while not the greatest tactic, is also fine for those interested in buying them. Combining the two? We're not so sure how well this will go over with players overall. We hope that the game's servers are up to the task sooner rather than later.
Source: press release
Articles Related to Worlds Adrift
Worlds Adrift Closed Beta Delay Will Take "Weeks, Not Months"
Worlds Adrift Launch Date Shifts
The MMO Alpha and Beta List: May 19, 2017
Related:
Closed Beta
,
News
,
Sandbox MMO
,
Worlds Adrift