Information about Pirate's Day and Brewfest 2016 in World of Warcraft has been shared as today marks International Talk Like a Pirate Day.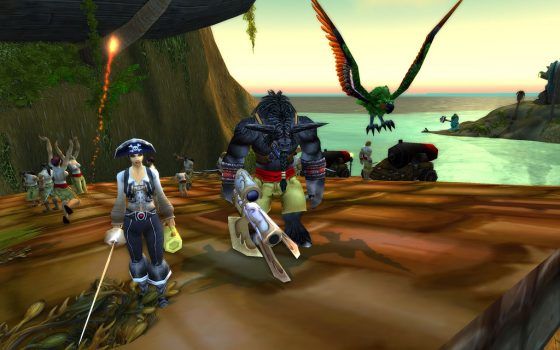 In honor of the "holiday", Pirate's Day is live in World of Warcraft with a small event involving Dread Captain DeMeza. She and her crew can be found in Booty Bay atop the roof of the bank for dancing and drinking. Doing so will give players a 12 hour pirate costume buff that persists through death. Players can also purchase a Big Bag of Booty item for 300 gold that lets you toss a giant bag of lootable gold on to the ground. In addition, the rare beast Ol' Eary drops a toy which makes your character bark out a random buccaneer insult on use.
Immediately after Pirate's Day, Brewfest 2016 begins in-game, with returning events to collect Brewfest Prize Tokens for mounts and toys. New this year is the addition of a brew that gives the drinker "a glimpse in to the spirit realm" and a Sausage Hat. The Brewfest celebration will run from September 20th through October 6th, while Pirate's Day runs through today, September 19th.
Our Thoughts
Brewfest and Pirate's Day are two of the best autumn festivals in MMO gaming, and we're happy to see them come back once more. We'll be looking forward to dizzying ourselves with digital brews and donning sausage hats, but in the meantime there be booty to plunder an' fine rags to be wearin' durin' this year's Pirate Day. Yarr!
Your Thoughts
What are your thoughts on this year's events? Will you be taking part, or are there other things you're working towards in WoW? Tell us your thoughts below.
Source: Wowhead
Articles Related to World of Warcraft
World of Warcraft Beginner's Guide: Classes and Specializations Part One, Part Two
World of Warcraft: Legion Interview with Lead Designer Luis Barriga
Go To Your Happy Place: Finding the Real Community in World of Warcraft
Related:
Event (In Game)
,
Legion
,
News
,
World of Warcraft