The Troll Warlord of the Amani, Zul'jin, has been added to the roster of Heroes of the Storm. The newly-released Assassin character brings a variety of ranged attacks that spell trouble for anyone in his sights.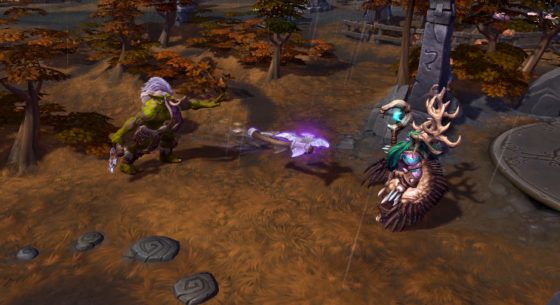 Zul'jin's attacks focus on the various ways one can throw an axe, including in a straight line, in a large circle, and by summoning a huge axe to slam in to a targeted area. He also has the ability to become unkillable for four seconds with his Taz'dingo! Heroic Ability, and can deal higher damage at the cost of health while using his Berserk Hero Trait. He also is able to regenerate a portion of his health, provided he remains still.
Complete information about Zul'jin is available on the Heroes of the Storm website.
Our Thoughts
The World of Warcraft cast in Heroes of the Storm continues to grow, and we're delighted. Zul'jin is definitely an interesting choice to be added to the Nexus, and his overall abilities look like they're easy to pick up. We expect plenty of Troll Warlords to appear in matches.
Your Thoughts
What do you think of Zul'jin? Are you interested in trying him out, or do you prefer playing another Assassin character? What other heroes from World of Warcraft would you want to see added to Heroes of the Storm? Tell us below.
Source: official site
Articles Related to Heroes of the Storm
Heroes of the Storm Game Director Steps Down
Heroes of the Storm BlizzCon 2016 Grand Finals
Blizzard Unveils the Heroes of the Storm Global Championship
Related:
eSports
,
Heroes of the Storm
,
HotS
,
MOBA
,
News