These days, a lot of game companies are trying their hand at creating custom controllers for the market. We knew that teams like Kustom Kontrollerz and Controller Chaos were making specialized ones. But we're talking major companies that are stepping up with peripherals that provide a number of features to fans for a high – yet reasonable – price. Razer previously did that with the Wolverine on the Xbox One, and SCUF Gaming made an impact with the PlayStation 4 Vantage peripheral, which is still selling well. However, Astro Gaming had yet to give the controller game a try. Granted, it makes kick-ass headsets and other equipment, but it never really rolled the dice when it came to making these types of things. That changed a few months ago when it announced the Astro Gaming C40 TR controller, which works with both PlayStation 4 and PC.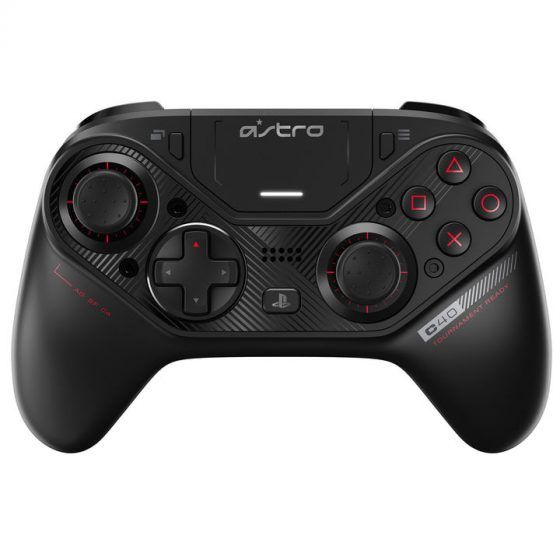 Granted, with the price clocking in at $199.99 it will probably scare off some casual consumers or those on a money crunch at the moment. But for those who love Astro Gaming's products, or are seeking a controller that's equally versatile to the original DualShock 4, you'll want to consider this a must-have.
Functionality Feels About Right
Most of the time, when a third party makes a controller for a system, it's usually set up as wired or wireless. That's because of the controller's general build – trying to offer the "best of both worlds," so to speak, is a lot tougher than you might think it is.
That said, the Astro Gaming C40 TR controller does just that. You can use it wirelessly for several hours of play, with the help of an adapter that plugs into the system, or you can play with it wired, thanks to a cable that's included inside the package. But which is the preferred way to go?
Well, first, let's talk wired play. With this, you can actually have a little bit of room to spread out, as Astro provided a conveniently lengthy cable that lets you enjoy your games without having to sit real close, as you would have to do with the default DualShock 4 cable. It plugs in snugly into the controller, thanks to a port that keeps the USB-C end secure, so it doesn't slip out so easily. Maybe during the rougher game sessions when you're jumping about, it might, but that's only if, say, you throw it behind you or something.
Other than that, the wired performance of the C40 is something else. It works conveniently with your game system and functionality never got questioned with it. Even during Overwatch faceoffs or, say, a quiet little round of Tetris Effect, we found it to be a winner all around.
Let's say you want to go wireless. Well, since the controller doesn't use Bluetooth, its connectivity with the adapter is surprisingly well done. We found its functionality to be strong across the board with wireless play, even as we stood a few feet apart from the system and another room. It didn't lose any sense of functionality. Granted, you do have to switch it over to wireless mode once you turn on the system, and it doesn't turn it on with the press of the Home button as DualShock 4 controllers are known to do. Aside from this, the performance is pretty fierce for a third party pad.
As for the general feel of the C40, it's quite nimble. The triggers aren't actually an annoyance as they are on other, cheaper third-party pads. Instead, they handle quite accordingly, particularly with racing games and first-person shooters. You can also use switches on the back to halve their presses, if you prefer, for more pinpoint performance. I prefer having full functionality, though, because that feels the most convenient.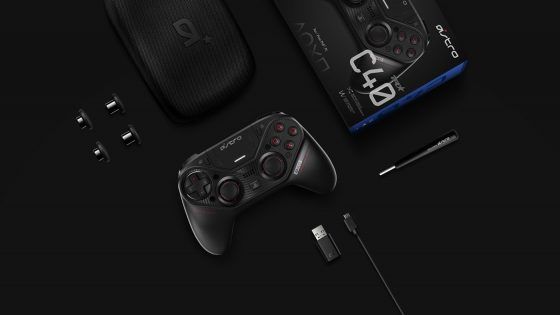 Change How You Want To Play 
That brings us to the next subject surrounding the C40 – customization. No, we don't mean changing the actual design of the controller but rather how it's set up. And it's incredibly easy to do.
Now, first off, there are faceplates that will be coming soon for the C40. In the meantime, you're stuck with its default red and black appearance. Fortunately, it's not that bad at all, looking quite versatile and fitting comfortably in your hands.
But you may notice an interestingly set faceplate in the middle of it all, surrounding the D-pad (which is a great D-pad by the way), analog sticks and buttons. The thing is – you can change around analog and D-pad however you see fit.
Let's say you want to set up similarly to the Xbox One pad, with one analog stick up high and another on the bottom. You can do that. Simply unlock the front of the pad by unscrewing the four screws on the front (relax, you won't lose them) and then shift things around. The analog sticks conveniently lock into place with little notches that are easy to line up. Once you do that, you'll find that you can play the more interesting way, should that be to your fancy.
That said, I think I prefer PlayStation 4's default parallel set-up a little more. You can play however you wish, but there's something about having the analog sticks closer together on this pad that's really cool. Granted, not everyone feels that way.  I know I've set up my SCUF Vantage on some occasions to be like an Xbox One pad, with the analog stick up high. But here, it just feels right to go parallel.
It's neat how the C40 lets you experiment and swap things around. You can even do it within a matter of minutes, should you have a preferred playstyle for certain games, such as Call of Duty: Black Ops 4. It's beautifully done, and the parts are easy to keep within the case that comes with the controller. You even get a few extra analog toppers, in case you want to change how they feel on your thumb. Alas, if you want to buy new thumbsticks or D-pads, you'll have to do that directly through Astro's website. It's not the end of the world, though.
Comfort Goes a Long Way Here
We've talked a little bit about the feel of the Astro Gaming C40 controller, namely with the triggers and analog/D-pad, all of which are balanced just about right. But now, we should talk general feel, and what makes the controller stand out from (most of) the competition.
First off, it may just be stuck with a black matte color at the moment (we've seen another faceplate with a sweet black and red design make the rounds, hope we can get our hands on that). But the design is excellent and looks pretty rad for a general set-up.
What's more, the controller is weighted just right. It's a little heavier than the PlayStation 4, but just as sturdy. And with the rubber grips surrounding the controller, it makes it hard for it to slip out of your hands, unlike other, inferior third-party brands that are on the market.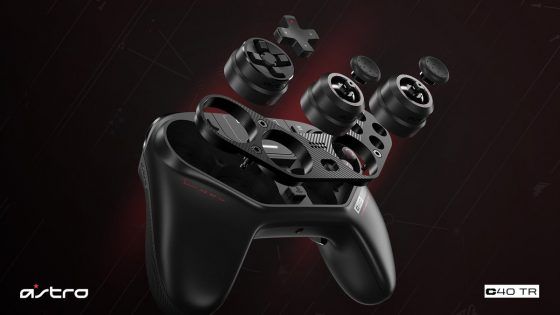 The buttons are easy to use on the face of the pad. They remain firmly in place, so you won't have to worry about them popping out as you change the layout of the C40. They handle wonderfully, even with high-function games like Mortal Kombat 11 and arcade games like Dariusburst Chronicles and Arcade Archives: Elevator Action. They may be our favorite buttons on a third-party pad to date, sitting firmly alongside the SCUF Vantage.
What's more, there are two programmable buttons on the lower back portion of the C40. These are easy to program with whatever functions you see fit, be it similarly to the left and right triggers on the top of the pad (we know some gamers that do this) or the general circle and X buttons that are already pre-programmed. It's a cinch to highlight, choose which button you want to map over, and then use to your heart's content. Unlike other controllers, these aren't big, bulky sticks that get in the way of performance. They're small, fun-to-use buttons that add to its in-game execution.
While I'm not quite sure who would use the mechanical stops with the triggers, it's a good option to have, though there are times it's easy to accidentally flip the switch and lose the full feeling of your trigger. Just switch it back if you want to regain control.
If you have a PC, you can use the controller's software to tweak things even further, such as stick sensitivity, headphone and microphone volume (for your optional headset) and more. On the PS4 front, it's a bit more limited, but it's nice to have some features in play if you use it for your favorite desktop or laptop gaming set-up.
The only downside is that the controller doesn't work with other systems; there's no option for Xbox One or Nintendo Switch. Knowing Astro, it could just be a matter of time before they get some gaming controllers of their own. They just need Microsoft and Nintendo's say-so, and I'm sure they'll be pretty convincing in that argument.
The Good With the (Somewhat) Bad
Now, aside from not working on some systems and not incorporating any Bluetooth features (at least, at the moment), the one thing that keeps the C40 from being an essential must for all gamers is, clearly, its price tag. The controller currently sits at a price point of $199.99, which is a far cry from the $65 you'd normally pay for a DualShock 4.
For those on a budget, this is a lot to ask. And it's not like Astro Gaming has a more budget friendly alternative to lean on if you can't afford this all-out model. It's either pay for all of it or stick with your default pad. This isn't likely to change because you really don't want to take features away from a controller like this. These features are what makes it stand out.
But Astro has been known for offering top-of-the-line gear for a solid, if expensive, price. Its headsets are a tour-de-force in performance, particularly the A50 headset. And here, it puts just as much love and devotion into the C40, as it feels and looks like a real champion, no matter what type of game you've got lined up with it. It's just a matter of acceptance. And, really, if you were considering the SCUF Vantage in your wheelhouse at its $169-$199 price (depending on model), there's no reason the Astro Gaming C40 shouldn't be considered. It's just as good, and the fact you can change out your performance with analog and D-pad movement is something else.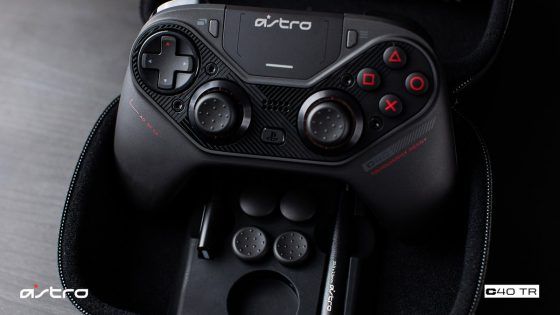 You Get What You Pay For With the C40
If you can accept its heavy cost, the Astro Gaming C40 controller will certainly give you your money's worth. The customization alone is a revolutionary feature that's likely to be copied and aped by other companies in the future, though probably not as well. Its feel is just about perfect, especially with those awesome triggers. Its look, though plain at the moment, is sleek between that black matte design and those sweet red and black buttons. It goes the extra mile on the PC front, which should open up its audience even further, especially with its built-in software.
For a first go-around with game controllers, the C40 nails it out of the park for Astro. As time goes on, we're likely to see more savvy models make the rounds with additional features, and possibly a few tweaks on design. For the time being, the C40 serves as an excellent way to get started in the controller game. Despite the competitors being loaded against them, it's a hell of a way to join the party.
RATING: 9.5 out of 10
(Disclaimer: Astro Gaming provided a model of the C40 controller for review on PlayStation 4 and PC. It does not work on Xbox One or Nintendo Switch, though a new model could do so in the future.)
Related:
Astro Gaming
,
Controller
,
Hardware
,
Peripheral
,
Review
,
Technology