Perhaps the most anticipated online game in Korea this year, it is amazing to know that it just took around 3 years for Black Desert Closed Beta to be developed by Pearl Abyss as its maiden title.
Without a 3rd party engine such as CryEngine or Unreal Engine, everything was made from scratch, where the development team can have total control of what they want to create.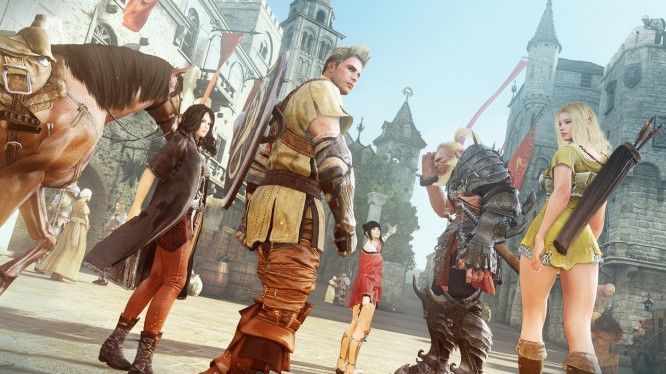 For Closed Beta 1, only 5,000 players were accepted from around 150,000 application. I decided to start MMOGames' adventure as a Giant, taking a quick look at how Black Desert appeals to gamers at the beginning.
Upon logging in, the stunning graphics immediately left me in awe. This is not just about plain graphics, but grasses were moving, day and night were in order, with moving characters not going through each other, but rather bumping into each other.
The Giant class uses axes as its main weapon, and unlike the Sorceress, he uses normal attacks to fill up its rage bar instead of downing mana pots. Gamers should be familiar with this mechanic, and it is simply more convenient without worrying about mana pots.
Skills are kind of fancy, though not overboard. I can't say that for higher level skills though. The non-target combat is on the dot, somewhere between the system found in TERA and Dragon Nest. The target crosshair can be adjusted as well, which is pretty awesome.
There isn't anything new for stats (no manual stats assignment) or skills (just learn from a NPC via skill points), but that really doesn't matter.
The landscape is huge, with no loading (although it comes with tons of running) and vivid shadows. I have a feeling that my system is getting old, and it was the best of its class back when I got it 3 years ago.
Of course, this is just a first look at CBT 1 with several features, functions and classes yet to be implemented. I was informed the developer is in discussion with some English publishers now, hopefully the transition won't take as long as ArcheAge or Blade & Soul.
To find out more about Black Desert visit the game page.
Related:
Beta
,
Black Desert Online
,
Pearl Abyss
,
Preview