I Take It Back!
I most definitely am NOT a huge fan of browser based games, aside from the fact that most are going to force you to spend on cash items and gamers end up relying on spending just to be able to catch up with the pace of the game. Not to mention how these browser games have the same style of game play, same animations, almost similar storylines, and so on and so forth – I could literally wither away from utter boredom. But as I was browsing around for a new game I could try, I had the last Steampunk game I played a couple of years back in mind. So in my search, City of Steam: Arkadia was first on the list of results that good ol' Uncle Google gave me. So come one, come all and feast your eyes on my official City of Steam: Arkadia review!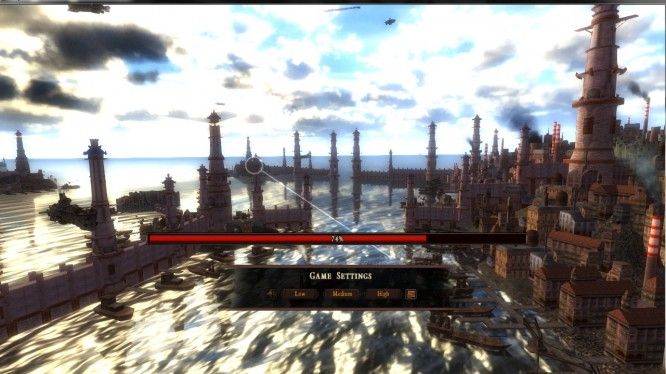 I have always found steampunk-themed games quite interesting, that awkwardly beautiful mixture of magic and machinery. I keep hoping that they would make more of them but anyways, I immediately assumed that City of Steam: Arkadia was a game that was a few years old judging by the effects shown on their trailer video. The surprise came to me when I signed up and was asked if I wanted to make an account or login via Facebook which was unique to none other than browser games.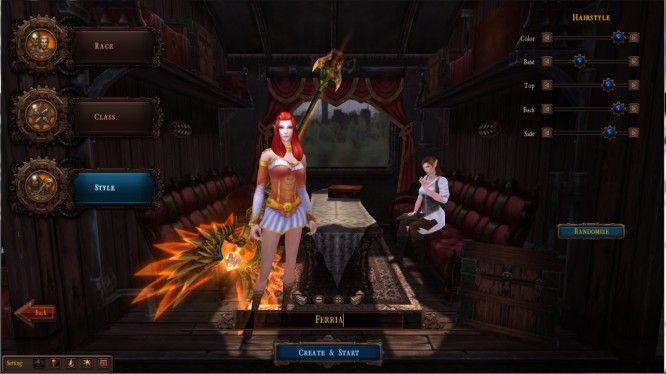 The game offered a mini client that was barely 3mb in size and it installed just as fast as it downloaded. I was in complete awe of the bright loading image, I couldn't believe I was easily being impressed by a browser game. Character creation offered a decent amount of presets but that didn't really matter to me, I wanted to see if the game was going to disappoint me or not. Two hours later, I found myself amused, shaking my head and taking back what I said before about browser games – how it's as good as any client based MMO and not all of them were made to "con" gamers to spend their hard-earned cash. This is another of those not so many moments where I am more than glad to take back what I said and re-adjust my impression on something.
Looking at the game now, I am not quite sure how R2Games, City of Steam's previous publisher could say that they didn't have enough players to keep the game viable that is why they had to close it down. Imagine how the gamers who have spent a lot on the game or for any game for that matter? Luckily for them Mechanist Games, developer of City of Steam understands it's potential well enough. Mechanist Games, also the developer of City of Steam, immediately announced that they will release an updated version of the game and even published it themselves. December 4, 2013 Mechanist officially launched City of Steam: Arkadia to the public.
I have been on the game for over 72 hours now, day in and day out the server is quite lively. There is so much to do and one thing I definitely love about it is that this game is absolutely not like any other browser game that's "pay-to-win".  I do feel bad that the previous server for City of Steam had to resort to something that extreme when obviously lack of players (assuming that really was the reason) plainly means the game wasn't advertised properly or the handlers didn't give enough effort in making the game more interesting existing their players. Word by mouth alone would've been enough to call on to new adventurers if they did exert a decent amount of energy into managing the game.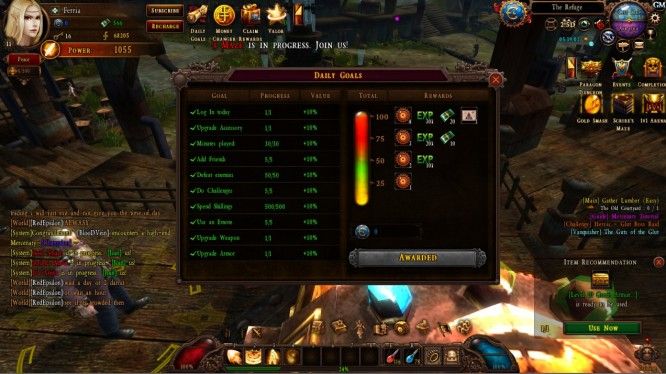 Free To Play In Every Sense
There are tons of different browser games and if you say you're one of the few who has never seen one then you probably also have never heard of Facebook…(c'mon even pets have them). Anyways, so yes most of them are available via App particularly used by Facebook. And of course, I am talking about MMO Browser games. Most of them have the same outline; daily rewards, login rewards, achievement rewards… etc. But the punch line is that in most of them, when you reach a certain point in the game, especially once they've got you baited and hooked, you'll be given a choice to either spend real money or wait a long time before you can continue playing. As in literally putting a big red stop light on all of your activity or anything else can you do in the game. And if that's not annoying enough, since it already ruined your momentum, not to mention your enthusiasm, almost every quest or achievement will have something to do with going up against other players – whom most of them are wasting real money on the game. Who wouldn't be agitated if it's a 1/100 chance to nick your opponent's life regardless if you are of the same level – or small level difference?
In City of Steam: Arkadia, they do have all that but this time I actually feel like I have a choice if I want to spend money on my character or grind (normally like in any MMO game) for equipment and experience to gain level. There are some dungeons that do limit your access, but fair enough, since those are kind of exclusive challenges. Still you can do two rounds (there's a lot of them on different levels) on each of them every day with fairly hefty rewards, which hands down, is pretty darn good.
Then we have the dailies, my favorite ones are fishing and mining. The rewards for these quests are consumable items that stacks up your Mastery and Ability points. These are the clickable points used to upgrade your character stats and combat/support skills – enough to max out every single one of them. Every gamer knows that survivability in a game whether you prefer solo mode or in a group depends on four things;
Stat build
Skills
Gear quality
Aid of consumables
With this daily quest alone, it already secured two out of those four necessities that greatly affects gameplay. I know I sound like I am making a big deal out of it but not many developers considered including anything like this in their game(s). It may seem to be quite a small matter but if you really think about it, Mechanist Games did intend to put every gamer on the same level of advantage. I am quite certain that many gamers out there have encountered a game where in players get a different number of stat/skill points per level? Examples are "certain games" where in VIP accounts are available.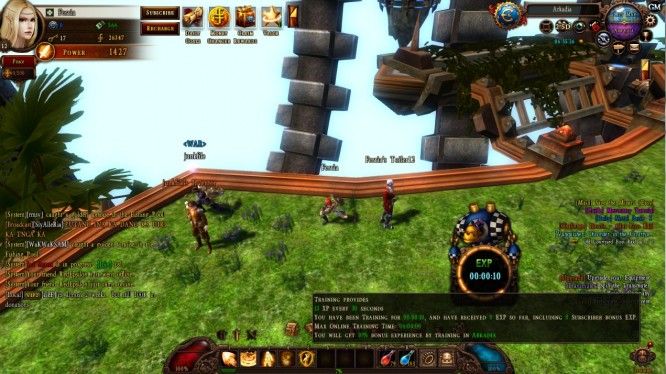 Relaxing and Quite Enjoyable
You are given a choice at the beginning of the game to either have a relaxed gameplay or go hardcore. This simply refers to its MMO settings where you can either use Auto Combat by hitting X key which you can always toggle at anytime to go manual. You are also able to summon an AI to help you in combat. They differ in rarity and specialty from precision, tanks, crit chance, etc. Then there's also their effectiveness; either single target or area of effect. You have ten chances daily to shuffle around the available recruits and stumble upon different types and rarity.
Now that I thought about it, the convenience level is a bit too much but I don't think it's a bad thing. A game that is flexible enough for different levels of gamers, you can even leave it alone and still gain experience points, training mode in town gives 13 exp points every 30 seconds and you can avail for that for 6 hours every day. And of course, like I mentioned earlier, there is an auto combat mode by toggling X key. You can leave your character accompanied by a summon in a normal dungeon (one that doesn't auto-exits you) and just leave it to farm items or Shillings (normal in-game currency).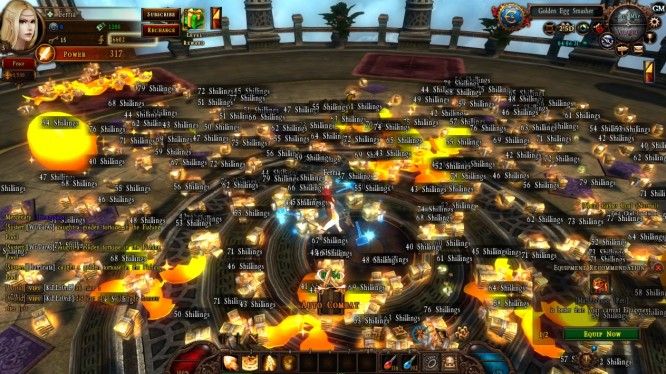 The events are quite cool too. My favorite one is the Golden Egg smasher. You'll just run around murdering bouncy giant eggs till the time is up Oh and don't worry picking up items or looting is made quite simple too. You just run over the item you want to pick up and it just goes to your inventory, auto combat does that for you too. After clearing out all the mobs, it steers your character back to every last item laying on the ground and picks it up.
C.O.S: Arkadia Shows Promise
It is unrealistic of there is nothing but the upside. Maybe because the game is still new, not to mention change of publishers and the considerable update that the whole game underwent in a short amount of time, errors and server crashes tend to happen from time to time. But I hope these once in a while flukes doesn't get anybody down. City of Steam: Arkadia is a very good game that is being handled by its own developer, surely there is no other more qualified than them. Another thing that is good about the current publisher is that they don't fail to compensate gamers every time an interruption happens in the game
I am still having a blast playing C.O.S: Arkadia, still at level 18 I definitely want to unlock every feature in this game. There is currently one server up so please feel free to join me, do check out the images and add me ingame! For those interested to try it out direct your selves here to their site. You can either register there or login with your Facebook. I am definitely looking forward to writing more about City of Steam: Arkadia!
Related:
Browser
,
City of Steam
,
F2P
,
Review