Cooking Mama is back at it, this time making sweets and setting up shops around the world! Rising Star's latest addition to the cookery simulation series is available for the Nintendo 3DS, and it offers something for chefs old and new. I've always been a fan of the series but it's been a while since I got my hands on a Cooking Mama game. I have to admit I felt right at home with the controls and formula but there are a few new features that give Cooking Mama: Sweet Shop a fresh feel. These include shop customization, from walls to tables, and the option to open sweet shops, accompanied by their own mini game, located all over the globe.
You'll be spending most of your time baking in 'Let's Make Sweets,' but decorating and organization your shop plays a big part as well. You can also dress Mama in 'Mama's Gallery' and fly to other sweet shop locations in 'World Challenge.' If you'd like to challenge a partner to a bake off, you can do so in 'Let's Play Together!' By selling sweets to customers for cash in 'My Shop' you can buy goodies such as new pots and pans, counter tops and fashion items in 'Let's Shop.' Once you've got the basics down it's time to get to baking!
There are 60 recipes in 'Sweet Shop,' which is slightly less than previous DS editions like 'Cooking Mama 2: Dinner with Friends' and 'Cooking Mama 3: Shop & Chop' that both had 80 recipes. Considering this menu is narrowed down to a specific type of food it feels like a sufficient amount of recipes. The formula for cooking is pretty much the same; follow the instructions and aim to get a golden seal of approval. There are a few less than realistic steps, such as catching cherries flicked at different speeds and heights from a hand into a pitting machine and skewering moving dough balls, but this is the type of nonsense that keeps 'Cooking Mama' interesting if not a little challenging.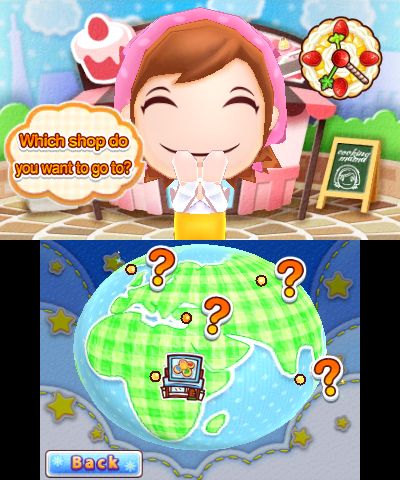 After you've made and sold enough sweets, wealthy world traveler 'Sweets Madam' will grace you with her presence and request that you make a specific dish. Once you do she will return to sample the sweet, and if she likes it then Sweets Madam will reward you with an additional shop that could be located anywhere in the world and is accessible through the 'World Challenge' selection. You can fly to any of your shops for a mini game challenge that will unlock shopping options if you hit a high enough score (10k). These mini games are simple and highly addicting. I enjoyed 'World Challenge' for is simplicity and break from the main game.
'Let's Play Together' is a fun edition that lets you play with your friends, however, I found the list of tasks to be quite small and it left me wishing I could choose from all of the options in the original menu. Instead of baking entire sweets, the multiplayer aspect is just a series of unrelated mini games. It definitely would have been more fun to challenge friends to cook the best dish, and the available options can get old quickly. If you're thinking of picking up this title specifically for the multiplayer function I'd suggest reconsidering. That being said, the multiplayer can be accessed by friends for free through the Download Play tool and is fine as an added bonus if you're going to play the main game.
Gameplay 9/10
Overall I think 'Sweet Shop' is a great addition to the Cooking Mama franchise. Most of the functions felt familiar and were easy to get a handle on. I liked being able to control my own shop design and sell to customers, although I wish I could have set my own price for each sweet. Waiting for customers to purchase your goods is kind of a time waster but the money does add up fast. The multiplayer function is a good idea but could really be improved. Kids and adults alike will enjoy this game. The touch response is sensitive enough that even a toddler could have fun with this game but time limits make it entertaining for adults.
Innovation 7/10
Cooking Mama: Sweet Shop follows the traditional Cooking Mama formula, but there are some fun new additions. However, I can't help but focus on the lacking multiplayer aspect of the game, which could have added a lot of value and replayability. An open menu and complete recipes, along with online multiplayer, would have definitely earned a higher score here.
Learning Curve 8/10
I can't say there was much of a learning curve as everything felt familiar and comfortable as it should in a seasoned series such as this. The easygoing nature of the game should make it perfect for younger, or very casual, gamers to quickly pick up on the basics. The most rewarding part of gameplay for me was the 'World Challenge' feature due to the time crunch and drive to beat my last high score.
Graphics/Sound 8/10
The game looks and sounds similar to the other games in the series. Some of the graphics seem to have improved from the older 3DS games, but the 3D effects aren't really used during gameplay. The upbeat music keeps things lighthearted, and despite Mama's change in accent, her positive reinforcement makes you want to do better next time instead of feeling bad for mistakes.
Value 8/10
At $29.99 the game retails for slightly less than a full-priced 3DS release ($39.99) and rightfully so. Had I purchased the game at full-price and expected the multiplayer function to be outstanding I'd be sorely disappointed. That being said, the core gameplay is fun enough on its own and the length of the single-player mode justifies the cost. If there had been online multiplayer, or substantially more local multiplayer content, then Cooking Mama: Sweet Shop could have justified a standard price tag.
Overall 8/10
To summarize, 'Sweet Shop' is a great addition to the franchise that has a few areas needing improvement. Shop customization and 'World Challenge' are great additions, however, the multiplayer is lacking. Overall, it should be a great addition for fans of the Cooking Mama series or a nice introduction for younger gamers.
Pros:
Price tag
Familiar and comfortable
Added 'World Challenge' shops
Main shop decor customization
Cons:
Limited multiplayer recipes
Selling sweets is a bit monotonous
Related:
3ds
,
Cooking Mama: Sweet Shop
,
Local Multiplayer
,
Multiplayer
,
Nintendo
,
Office Create
,
Review
,
Rising Star Games