When Daybreak Games announced they were bringing DC Universe Online to the Nintendo Switch a few weeks ago, I was interested what prompted them to do so, for a few reasons. First, the space required to run the game. DC Universe is no slouch, clocking in at 24GB of download size, and that's just thus far. Who knows how much more room it'll take once the Metal expansions are introduced in the months ahead.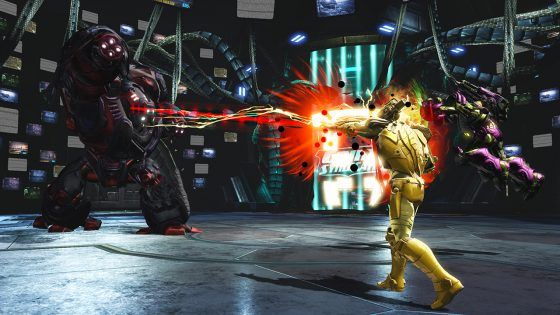 Secondly, we're talking about the Nintendo Switch here, and not necessarily a high-end PC or a PlayStation 4, which the DC Universe Online experience seems to run flawlessly on. The Nintendo Switch Online experience isn't exactly as smooth.
Lastly, does a free-to-play MMO experience really work on a platform such as the Switch? Free-to-play games like Smite and Fortnite have a home, but we're talking about a game that's been out since 2011. While it does have a steady audience, it is slightly long in the tooth.
With those things in mind, I've spent a good amount of time with the game, and despite its need for humongous system space (get yourself a hearty memory card, you're going to need at least 128GB here) and some time to get accustomed to leveling, I found it to be a worthwhile experience. In fact, quite a bit more than I expected.
Zero To Hero, Just Like That
The first you'll do upon entering this DC Universe is create your own character. You'll be able to fight alongside familiar favorites, but it's ultimately up to you to design your dream hero or villain. It doesn't matter which way you go, as you'll have your fair share of battles as you work your way up to Brainiac, the supervillain in charge of everything evil happening within the world.
The game's story spreads across a number of expansions, which will take you a good deal of time to get through. These include more recent events, some of which will take you through familiar locales like Atlantis from the Aquaman film. They all tie in nice and neat, thanks to Daybreak's compelling storytelling, and while it can take a while to progress with some of your character's traits, the developer does a solid job keeping things interesting. Enemies you encounter and battles you face do not disappoint.
What's more, the team is quite loyal to the comic universe, as the events tie in closely with some of the material. For instance, fans may spot stuff from The Death of Superman and even Teen Titans from a mile away, as well as some familiar locales, like the mysterious Earth 3. The game packs in quite a lot of content, considering its size, so you won't run out of things to do.
Additionally, daybreak is quite fair with the game's free-to-play structure. You can pay for your attributes if you don't feel like waiting to level up, but you won't get beat up if you don't, and you'll have a good time all the same. It can be good fun, though at times combat can feel a bit repetitive, we'll get into that more in a second. Just remember to find something that best suits your character's style, because you're going to be with them for a good while.
One other side note: you are not required to have a subscription to Nintendo Switch Online if you want to play. You can buy a subscription within the game if you wish to cut through some options and get right to some of the better features for your hero. Completely optional, though.

Getting Into the Action
With customization, there are a lot of available options. In fact, you can probably get lost tweaking things that are on hand for your character, and not just the default options for you Batman types. That's cool, because that means you can spend hours building your ideal hero or villain, and you can always go back to tweak something.
Then there's the in-game combat. As I mentioned, it can get a little repetitive regarding your moves. However, it's great being able to beat up thugs with some of the special moves, as well as leveling as you progress in your quest. You can also use defensive moves to your advantage, such as dodging (should you become surrounded, and you will) or blocking as well as attempting some sort of counter-strike.
It can be a slog getting to get into the game initially since you start off on a lowly level, especially if you don't pay for the Premium or Legendary memberships, which differ in price. Again, you aren't required to do so, and can build your way up if you prefer. You can spread across stat points however you see fit and actually see the effects they take on your hero quite extensively, and experiment with their levels. As you level, new opportunities open up, along with new events, where you can find even more action, and of course, more stats.
As for a preferred control method, the Nintendo Switch Pro Controller is the best way to go. You can play on the portable front, but the JoyCons just feel dinky here when it comes to executing moves. That's not to say you can't play it on the portable front with a good Wi-Fi connection, but it's best on the big-screen with a comfy controller in your hand. You'll thank me after a few large-scale battles, when your thumbs aren't hurting that much.
There's a type of hero for everyone, too, from brute types to healers, so it doesn't matter what your specialty is. The thing is, there are only so many available to free players. Buying Premium and Legendary opens up more types, so keep that in mind. They don't all unlock here.
So, to recap; the gameplay is good, the game doesn't beat you over the head with Microtransactions (unless you want all the superhero types in your arsenal right off the bat) and it performs admirably. However, some control types work better than others. Play around with them and see what's best for you.
A Good, Albeit Not Perfect, Port
DC Universe Online is technically sound on the Nintendo Switch. It runs pretty well on both the docked and undocked front. However, don't expect it to be a completely fluid experience, as it has its fair share of hitches based on our testing.
The game does have a pretty solid frame rate, which is pretty nuts considering its scope. We are talking about a game that packs in a tremendously sized world, and yet maintains a fair balance with many enemies, colors and objects. It's really something. It does slow down a bit on the portable front, but still manages to keep its scope in a rather impressive manor.
However, the textures do fall a little out of hand at times. It's easy to see some of the pop-ins with certain objects, particularly those from a distance. There are also some noticeable aliasing issues with smaller items, especially in undocked mode, but the fact that Daybreak has the game running at all is something. Though it comes at a cost since you'll probably have to delete a lot of your game library in order to get it workiing, but if it's an MMO experience you're after, this game is an impressive looker. Just don't expect a trend-setting experience like Nintendo usually presents out of its AAA game library. It's a port. A good port, but a port nevertheless.
As for sound, Daybreak carries most of the experience over without missing a step. Sure, there are the occasional synch issues that can come into play, like an actor's voice being off for a character, but for the most part, heroes and villains alike sound terrific. The musical interludes are a treat and the sound effects fit the bill for capturing the DC mood, with a lot of technical noises that replicate comic book action. Fans should like what's being offered, especially if they've got a good headset for when they're on the go.
Make Sure You've Got a Strong Connection
One final note before we get into the breakdown; TDC Universe Online DOES NOT work offline, nor does it connect with PlayStation 4, Xbox One or PC servers. The game is completely separated with its own servers with no offline mode.
Now, if you're in portable mode and have a strong Wi-Fi connection, it works great or if you're at home and connected to a Wi-Fi network, same. The performance is pretty strong, and we barely disconnected, save for a busy session or two. If you're thinking of taking the game on a road trip but wont have access to the Internet at all times, you may as well take a different game.
Gameplay: 7.5/10
The action is a bit on the "grindy" side, but DC Universe Online satisfies with its beat-em-up action. It has a great progression scale where you can level your hero and/or villain character in a number of ways. You'll be busy for a while as you discover what they're capable of.
It's an old game, to be sure, but the new expansions go a long way, particularly the Aquaman-themed addition, which will take you to Atlantis. For those of you that haven't journeyed through the previously released expansions, there's still hours worth of content to keep you busy for a great while.
Learning Curve: 8/10
DC Universe Online is a fairly easy game to get into, but make sure you have a proper internet connection and a little bit of patience to grasp the battle. Remember to build your character in the best way you can, and they'll serve their purpose well for you.

Graphics: 7.5/10
A little rough around the edges here, especially when you're taking it on the go. However, Daybreak Games has done a solid job with the port, as it runs with a fluid frame rate. Animations look excellent and are beautifully represented. For a huge sized port, the team did its job rather well.
Sound: 7.5/10
Aside from minor syncing issues, the voicework delivers with comic book-fueled gusto. The sound effects are on the money, and music pieces fit the bill at setting a heroic mood. I was just hoping there would be more of them to go around.

Value for Money: 7.5/10
The Legendary membership costs over $100 (!), so that may be asking a bit much. Premium is more reasonable at $5, and offers a little bit of bang for your buck, but the game is zero dollars to try out, and players can get a fairly decent amount of experience from it. With hours worth of play and some exciting content to explore, Daybreak doesn't force you to take the paid route, thank goodness. (But to some, it may help.)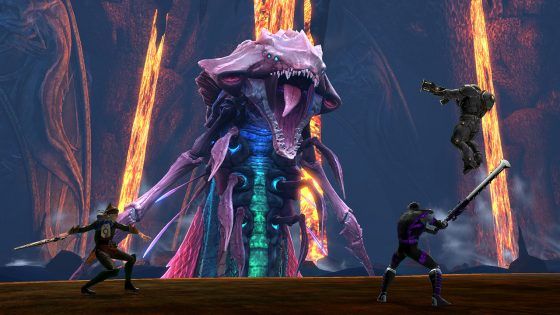 Overall: 7.5/10
I'm not sure anyone out there was begging for DC Universe Online to be ported to the Switch making it a bold experiment, to be sure. To some, it may seem quite costly between the Legendary membership and its requirement for a tremendous amount of hard drive space on the memory card, but for those willing to take a chance on its MMO wares, it pays off nicely. The combat is enjoyable, the leveling system is unique offering hours of replay value, the hero/villain customization is off-the-charts bonkers, and the presentation isn't bad, considering how condensed everything is on the Switch. There's a lot to offer here, even for a game that's over eight years old. Comic book fans will be right at home, and MMO fans will want to dig in for a few hours, and some maybe even into their wallets.
Pros
+ A surprisingly solid port that will keep you busy for hours on end, especially if you're a DC fan.
+ The customization system has tons of options. You may find yourself building more than one hero.
+ Surprisingly fun to play online, and there's a lot to do.
+ Visuals and audio are good, for the most part.
Cons
– The cost of the Legendary membership is a bit ridiculous.
– The graphics are fuzzy at times, especially on the portable screen.
– Combat is a bit repetitive. 
– You'd better get a HUGE memory card before you start downloading this one.
(A review code was provided by the publisher.)
Related:
Daybreak Games
,
DC Universe Online
,
MMORPG
,
Nintendo
,
Nintendo Switch
,
Review