Very few serious games ever make it to Android. I've always thought that it's a hub of casual games where games like Candy Crush Saga or Flappy Bird are king. Those few serious games that do make it to Android are usually ports of old games and tend to be very expensive. Legend Online: New Era is an attempt for serious gaming to be popularized in the Android scene.
Starting Off
Legend Online: New Era is an online role playing game published by Free Thought. It is currently available on both the Android and the iOS platforms. It's free to play so you don't have to worry about using your credit card to purchase the game. It has a small install of 46MB so it shouldn't take up a lot of space on your device. The game is ready to go right after install so you can jump right into the game.
When you first login to the game, you will need to choose a server you will play in before you can really start playing. Just select any server then you can begin your journey. You will then be requested to choose the class type that you will want to play. Typical of most RPGs. Don't expect much though as there are only 3 class choices available: the melee fighter, the spell casting mage, and the ranged archer. Also gender and character design have already been pre-selected so not much customization is available. All physical combatants are male while the spell caster is female. You do, however, have a choice to name your character to a maximum of 12 characters. But if you don't want to think then you can always use the name randomizer by clicking on the dice icon. Once you are ready, lock in your choices and start the game.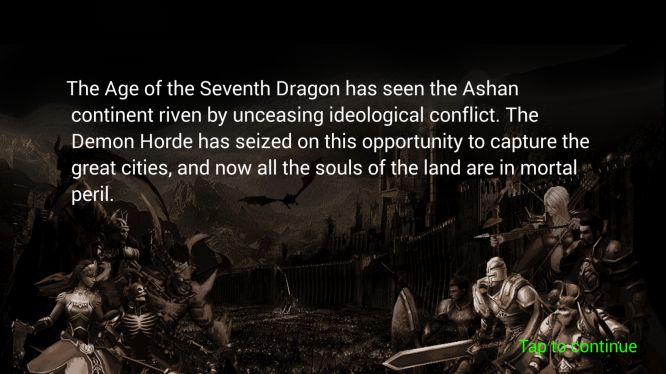 The game starts with a tutorial so you can get a hang of playing the game. My only issue with the tutorial is that it doesn't really let you explore what you are doing. It's like click this and click that, and just gives you a very brief explanation of what you're doing. It's almost like you're being spoon fed what to do next which honestly is a bit boring.
Combat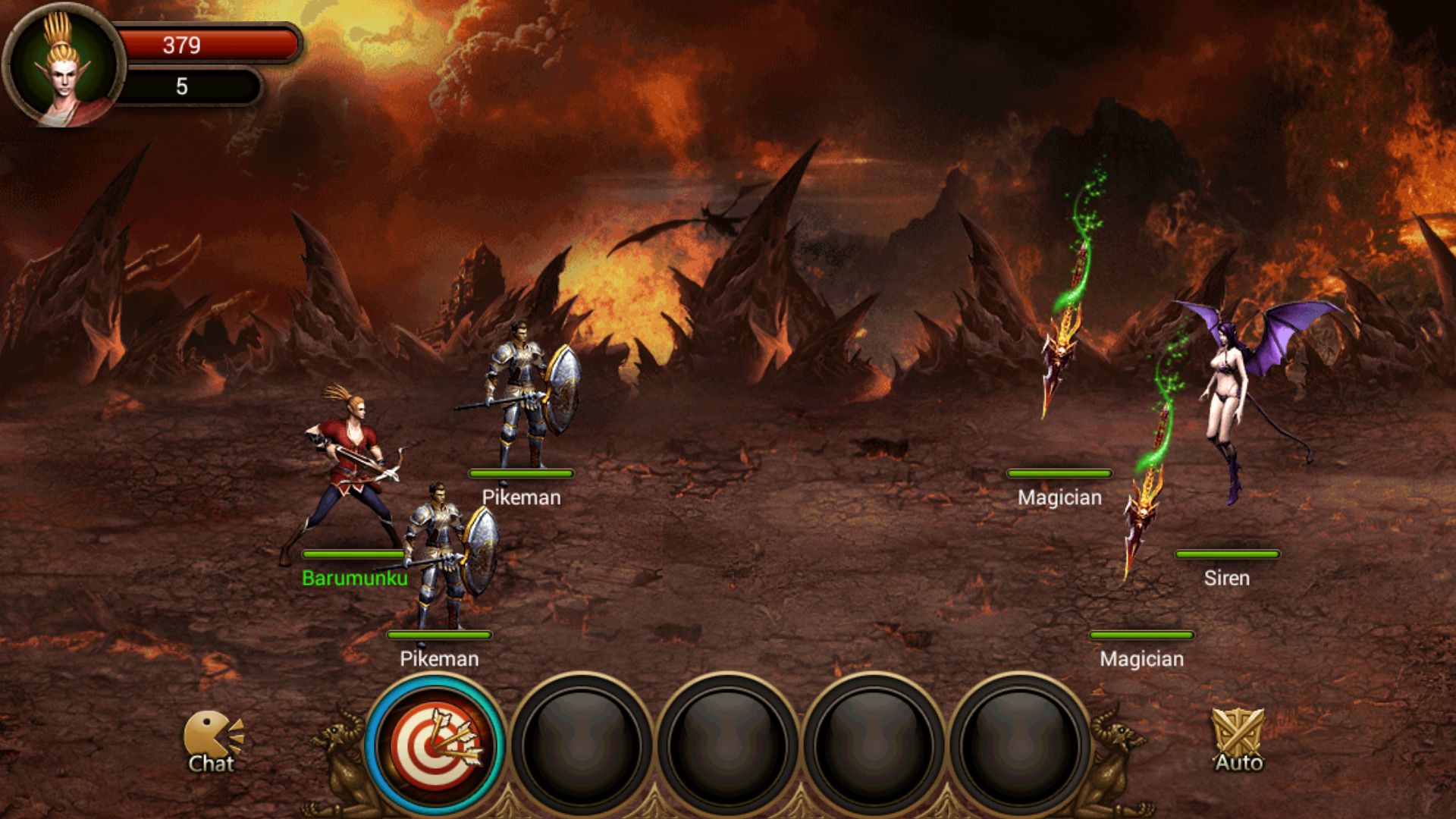 One of the first things you encounter in this game is combat. It actually puts you right into combat, and with a dragon no less. Combat system is pretty simple since the game is set to auto combat. It feels like an old school RPG where you and your allies are on one side of the combat map and your enemy is on the other side. Since this is a tutorial, you aren't really going to have much trouble with the dragon. It just teaches you how to use skills and how to attack your enemy. Be sure to attack as combat is real time. This means there is no turn taking being done and that characters and enemies tend to just keep attacking. If you're not careful enemies could overwhelm you and you might still be thinking of your first move.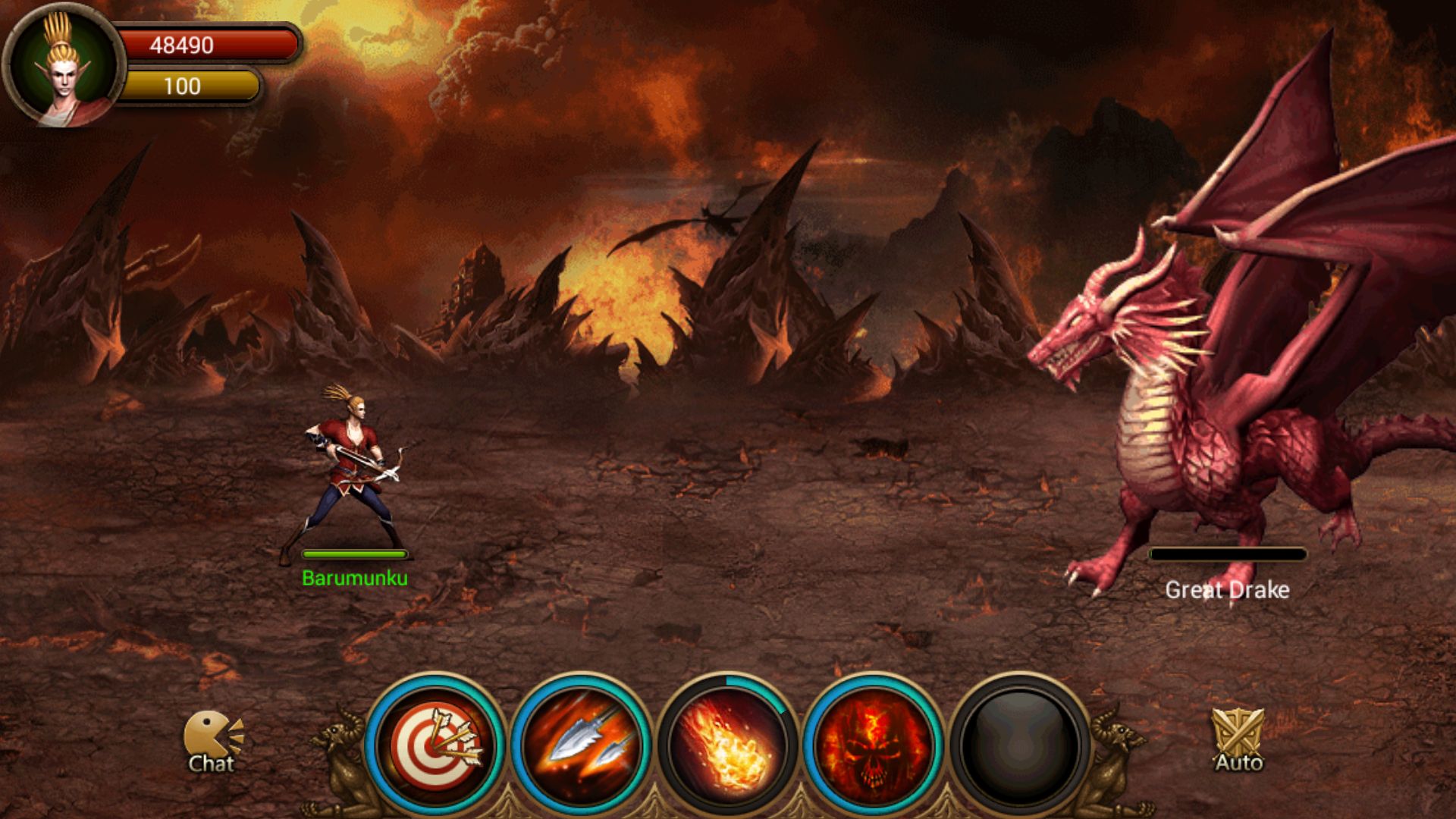 Fortunately for you, the tutorial gods aren't going to allow you to die that easily so you will be able to defeat the dragon. I must say though, graphics are pretty good for a game that is 2D. Animation is well done and seems like a lot of time was put into it to make it look good. Sound effects match the combat scene and the ambient music lets you really feel the medieval fantasy feel of the game.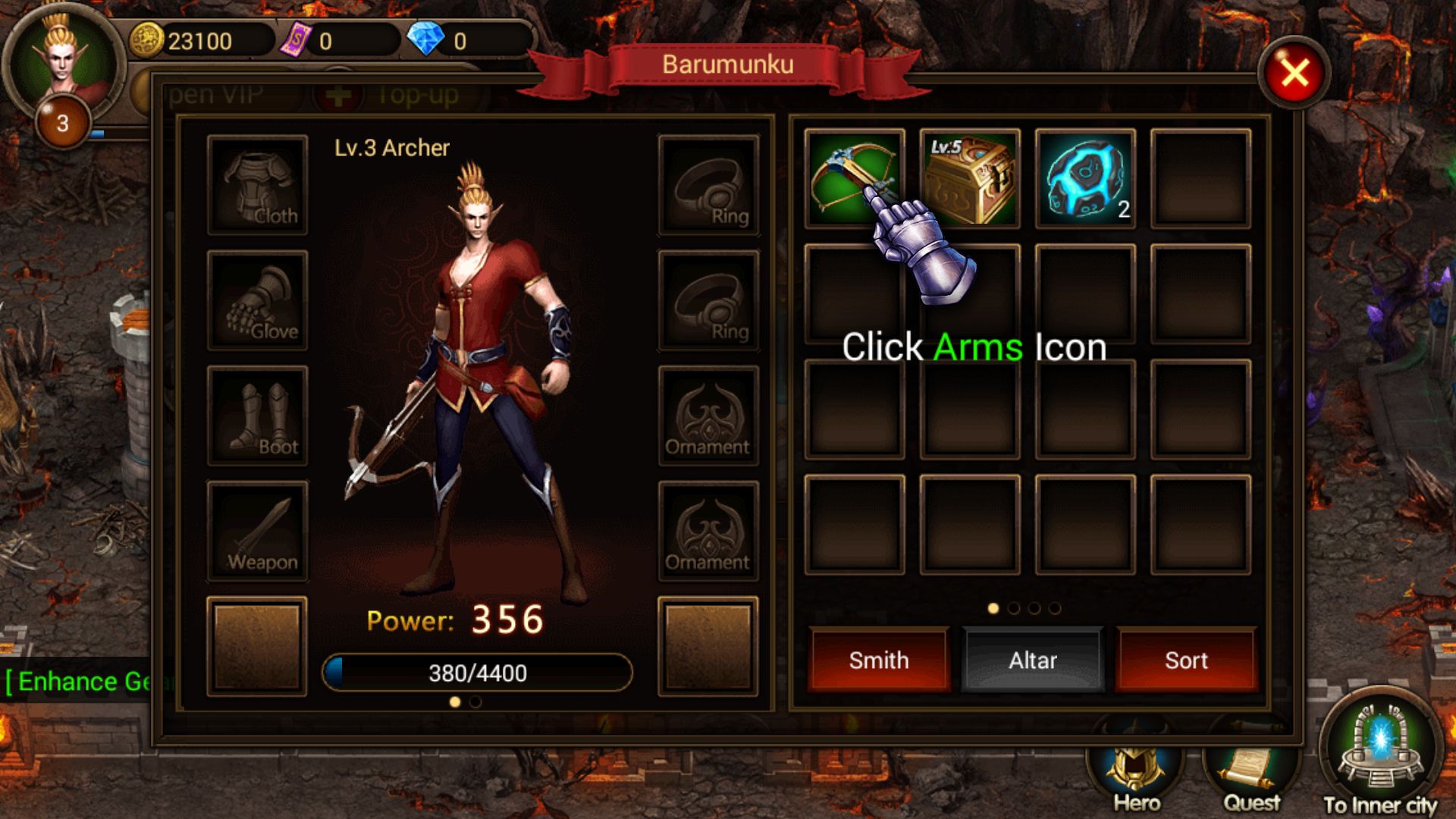 After defeating the dragon, you are then slowly shown other aspects of the game that might interest you. You will actually be able to see your town and the buildings in it. This part of the game feels a bit like Might and Magic Heroes. The buildings are static but they provide benefits to you such as the type units you can employ and the kind of technology or buffs you can use. You'll be shown later on how to upgrade these structures with the resources you have.
More thoughts
You'll also be introduced to the different menus that you'll be using through the course of the game one at a time. You actually start off with just a few menus but then you'll have access to quests and skills. The game pretty much rolls out like any standard RPG.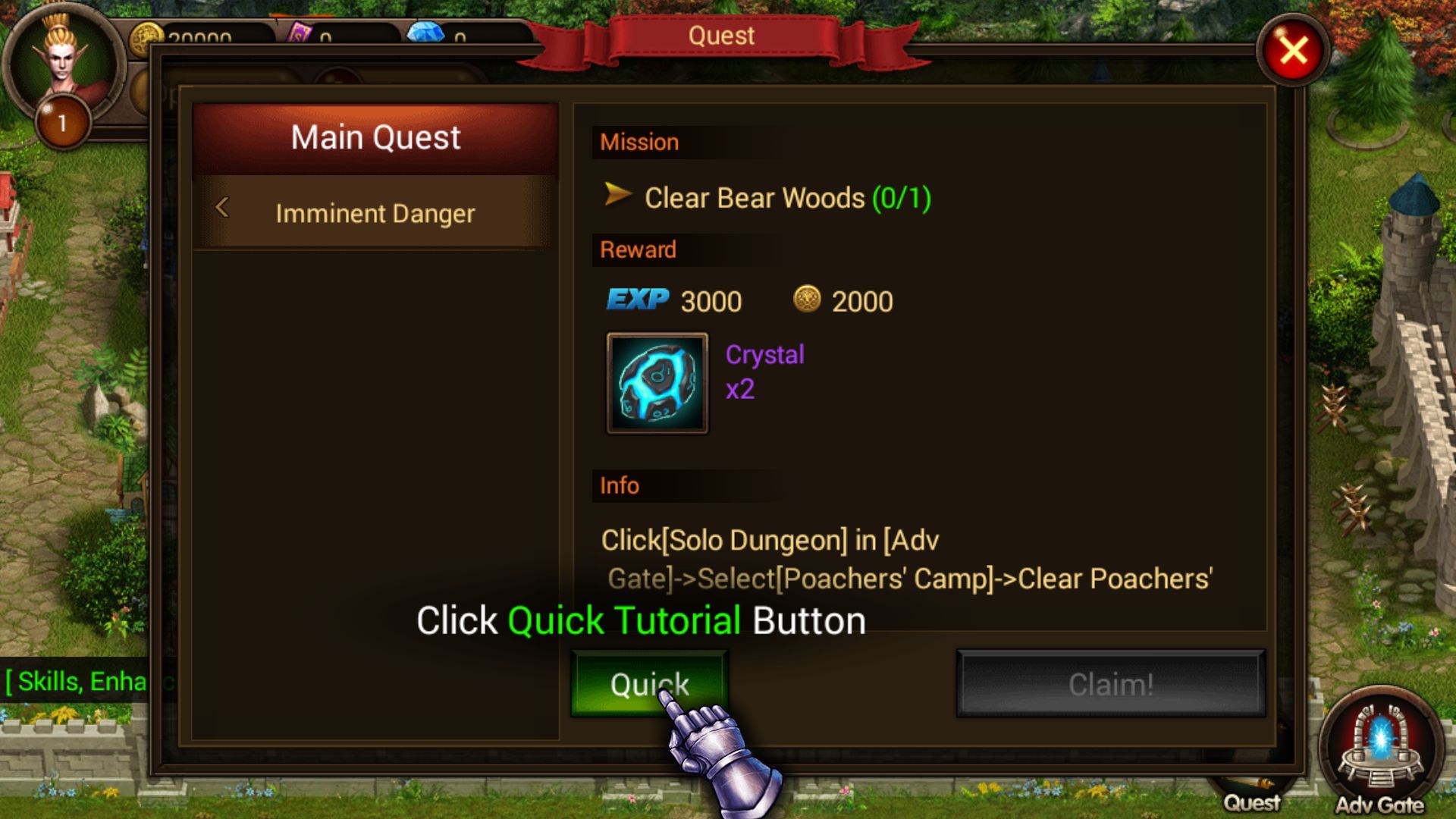 My big concern with this game is that it tends to be very generic in feel. While I do like the classic old school feel with 2D RPG style combat, there isn't much story going on in the game. There's nothing that you'd say that will really hook you to keep playing hours on end that you actually forget that you still have school or work the next day. I think this is an element of the game that was neglected or really they didn't focus too much on.
It did seem to me that the focus of this game was more on the game world and its design rather than the actual story which is completely fine for someone who doesn't really want to invest time and just want to jump into the game. However, we go back to the problem that it's actually online and does not have an option to play offline.
Conclusion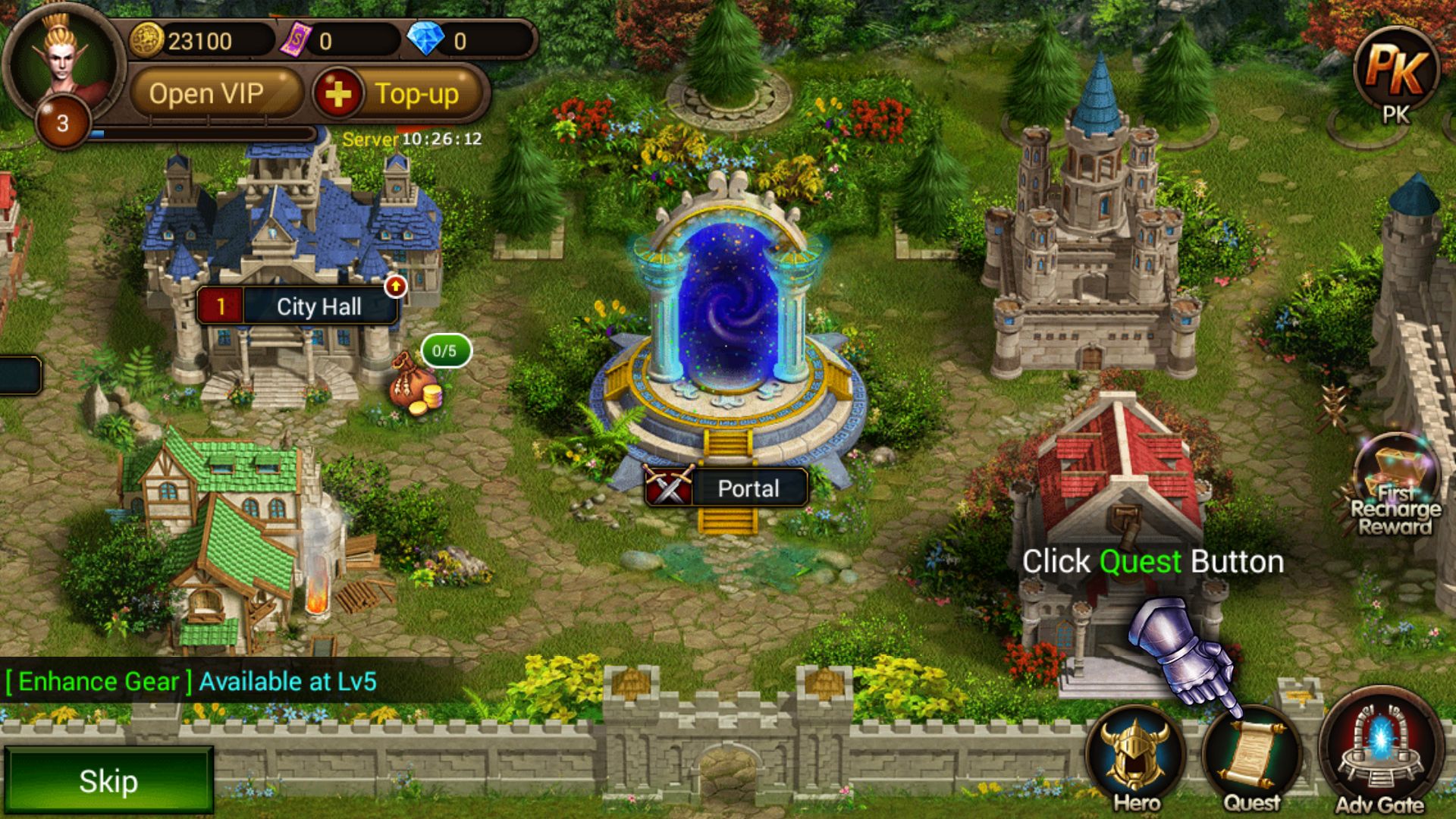 The game's graphics are well done and the audio does add a good feel to the game and does not sound very repetitive. It's a good standard RPG game but nothing that I would say would really draw me in to keep playing again and again. I'd say its good for something to fiddle once in a while but there are better online RPGS on Android out there.
Related:
Android
,
MMORPG
,
Mobile
,
Review