It's not often that a truly interesting router comes along. Every few years we get a new generation that increases maximum download capabilities, such as 802.11ac being able to handle 1300Mbps vs 802.11n maxing out around 450Mbps. Of course, download speed is completely reliant on your service provider and the fastest router on the planet won't improve slow Internet lines. However, today we're looking at the Linksys WRT32X gaming router. Instead of promising faster speeds, the WRT32X is supposed to make your network more efficient.
What the WRT32X gaming router does is analyze the network and prioritize traffic in different stages. Traffic is prioritized in this order: gaming, voice and interactive video, video, other wi-fi devices, email, and finally large downloads. What this should do is stop lag spikes during gaming sessions due to other people or devices on the network that are downloading or streaming large videos or chunks of data. Furthermore, the Killer Prioritization Engine is built into the WRT32X, which allows it to work in tandem with Killer-enabled computers.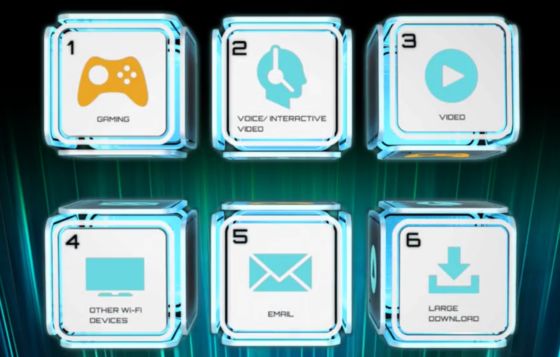 Features
On the outside, the WRT32X looks like your typical router. It has a 1.8GHz dual-core processor, four antennas, four Ethernet ports, an Internet hookup, a USB 3.0 port, and a USB 2.0 port. It features dual-band AC3200 (N600 + AC2600) 2.4GHz and 5GHz simultaneous connections. For a router, it's fairly large sitting at 28.16 ounces and dimensions of 9.68 x 7.63 x 2.04 inches. Furthermore, it supports 802.11a, 802.11g, 802.11n, and 802.11ac network adapters, which means it should work on basically any wireless enabled computer. Of course, these specifications can be found on many high-end routers.
Where it really gets interesting is the software. One of the best things about the WRT32X is the simplicity and functionality of the dashboard. Most routers have an overly complex dashboard that can be difficult to navigate for people who aren't used to working on a network. However, the dashboard on the WRT32X first shows all of the relevant information in an easy-to-navigate menu but still has all of the complex options that some users need.
As soon as I login, I have access to the network traffic, latest speed test, devices on the network, network names, and port forwarding. I can also see which devices are Killer enabled and choose the priority for non-Killer devices. This means that your gaming PC can be prioritized above your family PC and/or smartphone devices. Due to the Killer Prioritization Engine, Killer-enabled computers will always have priority. There's also a built-in speed test, options for VPNs, static IPs, local networks, and basically anything else you could expect to have access to.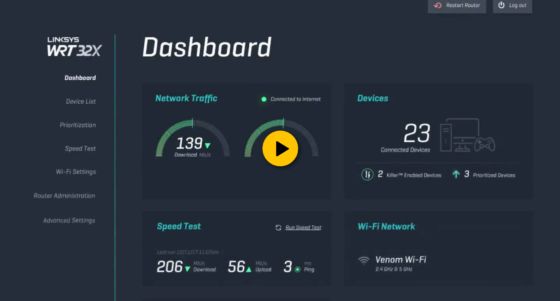 Killer Prioritization Engine
Nothing is worse than being in an important match or raid and having your ping spike all over the place. Maybe your little brother is watching YouTube videos or your significant other is streaming Netflix. Regardless, there's always the possibility for someone in your house to be sucking up all that precious bandwidth and causing you to lag at the worst possible moments. This is where the Killer Prioritization Engine comes in.
Instead of treating all bandwidth equally, the WRT32X identifies computers with Killer Networking and prioritizes their traffic first. Usually, games don't even require that much bandwidth so other devices in the house shouldn't experience much slowdown; this simply prevents them from hogging all of the bandwidth. This also means that the slower your Internet the more effective the Killer Prioritization Engine will be. According to Linksys, users with Internet speeds of 10Mbps down/2Mbps up had ping reduced by up to 77 percent during peak usage.
The biggest downfall with the Killer Prioritization Engine is that it requires specific Killer Network hardware to completely take advantage of it. This wouldn't be a major problem if you could simply buy a PCI Express network card, but as of this moment Killer doesn't make those anymore. This means that the only truly compatible products are desktop PCs with specific motherboards and gaming laptops with the Killer Wireless-AC 1535 or 1435. Generally, this includes products like Alienware, Gigabyte, MSI, and Razer.
Without the Killer hardware, users can still set the prioritization of specific devices over others, but the router and PC won't be able to communicate on the same level.
Testing
To conduct latency tests, I used a Killer-enabled MSI laptop, non-Killer desktop PC, Arris SBG6782-AC modem/router, WRT32X gaming router, and Albion Online. First, I played Albion Online with the Arris router while downloading other programs, performing Internet speed tests, and running torrents. Then I conducted the same tests while connected to the WRT32X. What I found is that the WRT32X was both faster than the Arris and gave me more consistent ping.
While using the Arris SBG6782-AC with no other programs running, I experienced between 85-101ms ping in Albion. When downloading another program this increased to around 115ms and then 118ms while torrenting. Then I conducted an Internet speed test (Ookla), which caused my ping to shoot up to 158ms with a download rate of 105Mbps and upload of 10.50Mbps. The results were similar with my Killer-enable gaming laptop.
Then I installed the WRT32X. Initially, my ping remained about the same, ranging from 84-103ms. On the non-Killer PC, the ping increased to 106ms while running a speed test and peaked at 123ms with a torrent downloading. Interestingly, the speed test showed 148Mbps down and 11Mbps up, which means the WRT32X was consuming more bandwidth with the test but ping remained relatively low. With the Killer-enabled PC, ping remained steady while torrenting and increased to 111ms while running a speed test. For the final test, I downloaded a torrent and ran a speed test on my non-Killer PC while running Albion Online on my Killer PC. During both of these tests, my ping temporarily spiked to 109ms and then settled to around 100ms.
What these tests show is that the WRT32X doesn't completely prevent increased ping from additional bandwidth usage, but it does decrease it significantly even on a fast Internet connection. According to my data, the largest improvement was a 29 percent difference while running a speed test and there were marginal improvements across the board.
Besides the data showing an objective improvement, the WRT32X also feels subjectively more consistent. During the last 3 weeks with the WRT32X, I haven't experienced any major ping spikes or connection drops while gaming that weren't related to my service provider.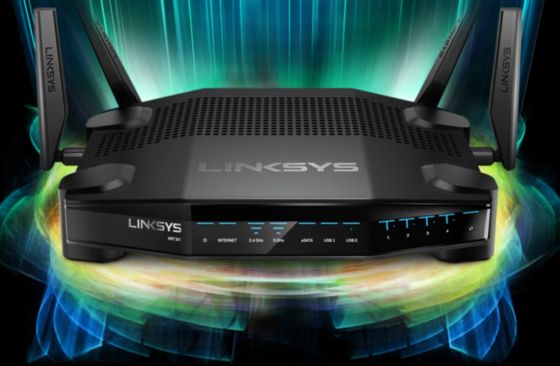 Overall 9/10
The Linksys WRT32X is already a top tier router but add in the Killer Prioritization Engine and you've got a real winner. The only problem is that it's difficult to get everything out of it without already owning very specific hardware. The WRT32X is currently available for $299.99.
Pros:
Prioritizes bandwidth
Easy-to-use interface
Works great with Killer-enabled PCs
Cons:
Pricey
Requires Killer Networking hardware
Related:
Hardware
,
Linksys
,
Linksys WRT32X
,
Review
,
Tech