The team at Logitech are no strangers to making desirable peripherals for PC and console owners. In fact, one of its most notable headsets came out back in 2015, with the weird name of Artemis Spectrum. (Sounds like a name you give to an offbeat show at a planetarium, I think.) Also known as the Logitech G933, this headset delivered all sorts of quality, though its bulky size made it somewhat difficult to lug around. Still, for home-based play, you couldn't get audio quality better than that.
Or so we thought. Logitech recently decided to give its most dedicated gaming headset a revision, and for the better. So it's upped its game with the Logitech G935 wireless gaming headset, one that not only works wonders for the PC and PlayStation 4 alike but also proves to be compatible with mobile devices, Nintendo Switch and PC as well. Some of its features may not be a complete necessity for some, but the fact that Logitech can bring down the size, increase the audio quality and make it more affordable than the G933…well, that's hardly anything to scoff at. In fact, it's the ideal definition of improvement to a product if we've ever seen one.
Design
First, let's talk about the headset design. While the G935 is still slightly bigger than other models on the market, it does seem slightly smaller compared to the G933, so it still acts as a plus. That said, it probably wouldn't hurt to get a decent-sized carrying case if you're looking to bring it around with you on a number of sessions.
One unique feature, however, is how the wireless dongle for the headset stores. You can actually remove one of the magnetic plastic covers on the ear cups and store it comfortably in there, so you'll never have to worry about losing it. Alas, your 3.5mm cable doesn't fit in there, but the fact you can make sure your dongle doesn't get lost in the shuffle is a nice touch.
Just so you get an idea of size, it's about 7.4 inches measured by 7.7 inches, so it does seem bulky. But the weight isn't that bad, as the headset barely clocks in at over 13 ounces. That makes them somewhat comfortable to wear around your neck, though carrying them around is a solid option as well.
The headset lights up as well. You can actually choose your array on the headset itself across from different flashing options; or, if you really want to go in deep, you can connect it to your PC and select something a little more customizable. We'll get into this feature a bit later.
As for functionality with the headset, the buttons are fairly easy to use, including power, three buttons that can be programmed for extra features, the ability to mute your microphone and an old-school volume control dial, which works way better than simply pressing buttons. On top of that, the microphone is incredibly easy to use, as you can retract it and fold it up when you don't feel like talking to people, preferring to enjoy the raw power of the sound in itself. (For some games, like solo efforts such as God of War, this is a welcome feature.)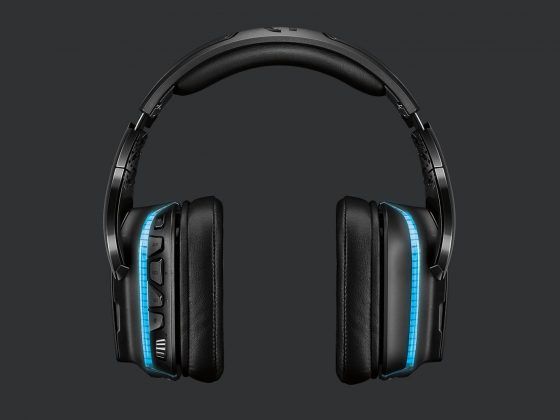 The headset is made with a plastic chassis in mind, and while that sounds like it might make it uncomfortable to wear, the G935 is surprisingly cozy. The earcups don't create too much pressure on the ears, and also don't allow for the build-up of sweat. You can also wear them with ease while you're wearing prescription or gamer glasses, as a lot of you pros like to do. There is a slight slip with them, but not to the point where they'll slide off your head. Logitech probably designed them this way so that they weren't crunching your skull, and that's a good thing compared to previous, cheaper headsets we've used. My noggin still hurts.
You can also adjust the headset however you see fit, and the cups can even turn slightly if you need to walk around for a bit with them on. That doesn't mean you should throw them to the ground, mainly due to the plastic, but they hold up better than most.
Lighting
Now, let's talk about that lighting. The default options aren't too bad at all, though if you're just playing on consoles, you may have to adjust to not being able to contort the colors to your liking. However, if you have a gaming PC, you can set up LightSync and customize them in a number of ways, or even pair them up with your fellow Logitech goodies. It's a neat option, but one that's not really necessary save for those that want to show off team colors or something that gives them a little more flair. As they stand, the light-up option, in general, is pretty good and puts on a show when you're playing in a dark room. The only downside is that you need to download the necessary software to access the "G Hub", but customization goes a long way here, especially with sound options.
Longlasting
Speaking of which, the long-lasting value of the headset is really something. When working wirelessly, it can last around 8 to 12 hours by default, although sometimes a little bit longer depending on conditions. And if you're using the 3.5mm cable, you can actually use them however long you please, since it's just a matter of plugging and playing.
What's more, the headset does include a USB cable and doesn't really take too long when it comes to charging back up. You will need to find a viable power source your game console isn't too bad when you're playing without your headset. And then you're right back in the game. If you prefer, you can play with the lighting off, although, to be fair, it just doesn't look as cool. But sometimes, you want to show off more in the game than, say, in your living room.
As far as compatibility goes, the Logitech G935 works best with the Switch, PlayStation 4 and PC. That's because of the dongle, which, again, can be stored within the headset itself. Plug it in and it easily syncs with your unit to deliver utmost quality, which we break down below.
Sound
On the 3.5mm front, obviously, the sound is a little bit lesser. But it's still very good, as we got into a few seasoned sessions of Far Cry: New Dawn and Gears of War 4 using it like a champ. It also holds up reasonably well when it comes to portable play on the Switch, though obviously playing locally with the dongle plugged into the system (yes, it works) is the preferred choice, especially with games like Mario Kart 8 Deluxe, where you can hear the roar of the engines surrounding you.
Where players will truly notice a difference with the G935 wireless gaming headset is with its audio drivers. Logitech managed to rebuild these with maximum performance in mind, particularly with the Pro-G 50MM Drivers, which powers the headset with DTS Headphone x 2.0-level quality. Plugged into a 3.5mm cable, this might not make a world of difference. But get it set up with your Switch or PlayStation 4 with an epic game, and, boy, will it shine through.
The quality of sound in this department is unheard of, especially for an affordable headset such as this. One example clearly came with God of War, where we could hear enemies all around us and the whooshing of Kratos' axe with custom clarity. It was really something. Not only that, but simpler games pop to life as well, including older favorites like Knack II and Until Dawn. It's incredibly detailed, with that perfect balance of bass and treble that really comes through.
Customization
On top of that, if you have the customization option for PC, you can set up sound performance across a number of profiles, and then program them into the headset itself. If you don't have access to a PC, the default option is not too bad. But it's great that Logitech poured on the features for those that can access them. (That, combined with the color matching and customization, goes a long way for PC gamers.)
But I really liked how well everything balanced out with the gaming sessions that I tried the headset with. I even dabbled in some older stuff like Sega Genesis Classics and was surprised how well the sound effects came across, even while you were enjoying 16-bit favorites. We have a feeling that those that invest in the headset will be digging into these features for some time.
The voice chat support is great as well. The microphone on the headset works like a charm and balances out the level of noise perfectly. That said, you may need to adjust your volume slightly as you get used to certain sound levels. We heard other parties with no problem while working through our game sessions, finding that perfect balance so we could continue to hear what was happening within the game itself.
That said, perhaps the mic quality is a little too good in some cases. For instance, someone actually heard me tapping my feet on the floor at one point as I patiently waited for a game to start. Still, way better than having to scream, "WHAT?!" at someone over the in-game gunfire, yeah?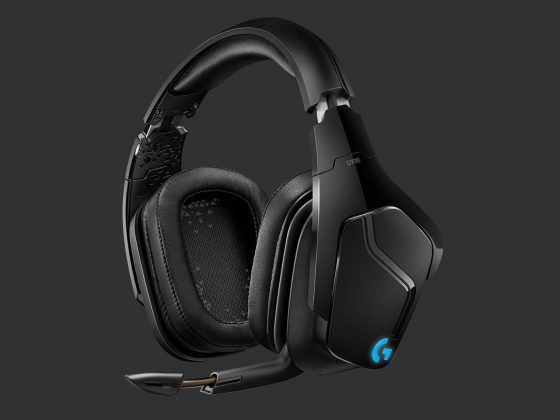 And again, there's a 3.5mm option if you prefer to take that route, but that'd be like taking a Mercedes out for a spin to the local Dairy Queen. The wireless route is the way to go. Still, if it's stuff you want to do on the go, this headset's not too shabby in terms of audio quality.
I tried it on three occasions. The first was with listening to general music, and the quality is quite good, even with some of the softer songs in my library. The second was with a Nintendo Switch travel session alongside Dead Cells, and I'm happy to report that the G935 did well here, too. Finally, we took it for a go with the Xbox One games above, and, yep, still didn't disappoint, to say the least.
Size
Although they're on a good level, the G935's bulky size does need to be addressed. For casual play, this may not be the best go-to headset out there, due to their large size. Something along the lines of a smaller Razer headset might be better suited there. Also, for smaller players, they could be a bit larger than expected. But, again, adjustments can be made, and the headset is comfortable for long sessions in case you need them.
Pricing
As for pricing, $170 may seem a bit steep for some. But the previous G933 model from Logitech sold for $200, so this is a reasonable value. On top of that, you get what you pay for, especially listening to these amazing drivers in action. They really pop, especially during furious action games or those sessions where you really want to get long-lasting value. I wasn't disappointed, even with games that I would think weren't exactly built with audio quality in mind.
The Logitech G935 Wireless 7.1 Surround Sound Lightsync Gaming Headset (that's its official name, we just called it the wireless gaming headset because, well, simplicity) goes on sale February 25. And if you're a gamer looking for something savvy and/or remarkable to use both in public game sessions and the comfort of your home, this is an excellent go-to pick. Accept the fact that the headset size is still as bulky as they come, and you'll find it's got quality to spare between its performance with its drivers; its awesome options on the PC front; and its beautiful set-up with both wireless and 3.5mm play. There's really no losing here.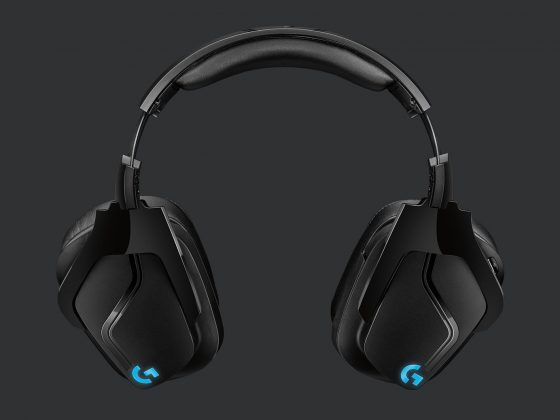 Now the real question is, can Logitech make an even smaller headset sometime next year with equal sound quality and a lower price point? Who's to say? But the G935 is a step in the right direction, and we're eager to see where it takes us on our next session.
RATING: 9 out of 10.
(Disclaimer: Logitech sent us a review unit of the G935 to check out. We thank them for the support!)
Related:
Headset
,
Logitech
,
Review