Logitech has made leaps and bounds of progress during the last few years. Not only with its products but also in the way it brands itself. Initially, Logitech was more of a consumer brand. It produced cheap, reliable products but nothing considered high-end.
Having rebranded its gaming department Logitech G, the company stepped up its game in terms of quality and appearance. Its mice, keyboards, and headsets now compete with the top dogs in the market, such as SteelSeries, Astro, and Razer. However, there are only so many bells and whistles you can add on to a peripheral before it becomes too much. With that idea in mind, Logitech's latest design is the Pro Gaming Mouse, which is created purely for performance.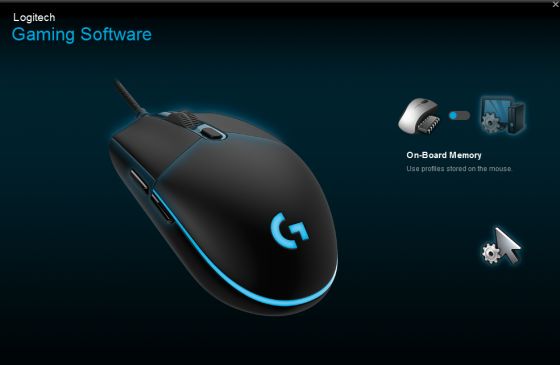 Legacy Shape
One of the most obvious features of the Logitech Pro Gaming Mouse is its shape, which is borrowed from one of the first Logitech G models. The Logitech G100s has been a popular choice among eSports players, particularly those in the FPS genre, due to its light weight and comfortable design. However, the G100s is incredibly outdated as far as technology goes. Professional Counter-Strike players might not need flashy colors or 10 buttons, but more accurate sensors are always a positive.
Instead of simply designing a product that it thought professional gamers would like, Logitech brought its sponsored teams into its studio to test the new mouse firsthand. Feedback was taken from some of the best Counter-Strike: Global Offensive and League of Legends players from around the world to develop a simple, yet effective product. When money is on the line, function matters so much more than anything else.
"Competing at the top level requires a well-built mouse," said Tyler "Skadoodle" Latham of Cloud 9 CS:GO. "After working closely with Logitech and extensive testing, the new Pro Gaming Mouse is my preferred mouse. With a comfortable shape and top-of-the-line sensor, I never have problems picking off my enemies."
If you take a look at the latest Logitech G line, you'll notice that almost every mouse has a non-standard shape. From the G300s to the G900, there's an interesting angle or curve added that might not appeal to everyone. The Pro Gaming Mouse might not have a fancy thumb rest or be super aerodynamic, but it is comfortable in its simplicity.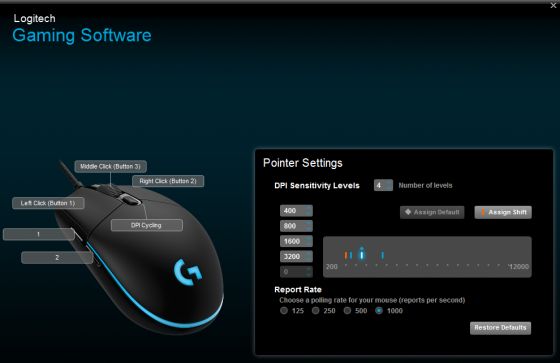 Furthermore, it's also one of the lightest mice in Logitech's arsenal. At 3 ounces, it narrowly beats out the Daedalus Apex and makes the Proteus Spectrum look like a behemoth weighing in at 4.3 ounces. Although it does weigh less than the G303, it has more surface contact, which does slightly increase the force needed to move the mouse. This can be a positive or negative depending on your needs.
Enhanced Sensors
The biggest upgrade for the Pro Gaming Mouse is something that we've seen in a lot of previous Logitech G products, and that is the PMW3366 optical gaming sensor. Out of the dozens, if not hundreds, of mice I've tested, the PMW3366 combined with Logitech's surface tuning has created the most accurate gaming experience to date.
From 200 to 12,000 DPI, there is zero mouse acceleration or smoothing. This eliminates artificial delay and ensures the mouse does what you want it to do when you want it to happen. I've been using the PMW3366 since the G303 was released and I've never had a single accuracy issue on any reliable surface.
While not everyone needs 12,000 DPI, sometimes players need multiple settings. The Pro Gaming Mouse can be set to switch through up to five different DPI settings with a single button click. This is excellent for FPS players who want to switch from ultra-low to standard DPI when going from a sniper rifle to an assault weapon.
Updated Features
When the G100s was first released, Logitech had just began to rebrand itself as a gaming company. Although the product was excellent at the time, the support for Logitech products has drastically improved. The latest version of the Logitech Gaming Software, which will be available with the Pro Gaming Mouse, will allow for custom DPI levels, polling rates, button customization and lighting configurations.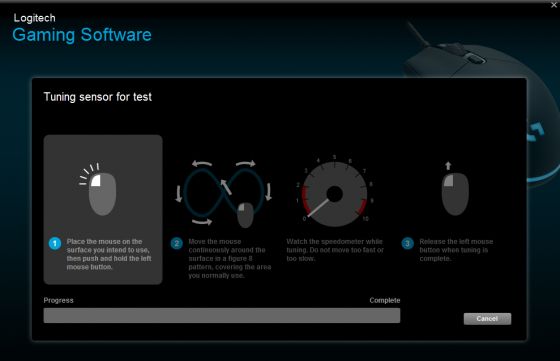 The pattern, brightness and rate for the lighting can all be adjusted or it can simply be turned off. Additionally, the lighting effects can be synced to other Logitech devices. This creates options for players who hate peripheral lighting or those who can't play without their favorite color.
On the performance side of things, the surface tuning analyzes the depths and textures of any mouse pad, or lack of, in order to optimize sensors based on reflectiveness and opacity. There's a direct line of communication between the software and the sensor on the mouse; it's not just a software gimmick to artificially improve smoothness.
The on board memory ensures that gamers who are constantly on the move won't have to worry about settings or software. The last settings received by the mouse will work with any computer it's plugged into.
Finally, The Pro Gaming Mouse also comes with two additional thumb buttons, which the G100s did not have. These are placed comfortably enough to be ignored if necessary, but the added hotkeys can be very useful in certain genres, such as MOBAs.
Overall 9.5/10
The Logitech Pro Gaming Mouse is perfect in its simplicity, but it's not necessarily the right mouse for everyone. It's light, accurate, and customizable but it's not tailored for any specific role. This makes it great for genres that don't need a lot of extra functions, such as MOBAs or first-person shooters. However, it's probably not going to be my first choice for MMOs that require dozens of hotkeys.
This will be the perfect mouse for anyone who is still using the old G100s because it's the same design with improved everything, and it doesn't have the polarizing shape of the G303. That being said, players who are comfortable with the G303 probably won't see any reason to switch to the Pro Gaming Mouse.
The Logitech Pro Gaming Mouse will be available later this month with a suggested retail price of $69.99 (€79.99).
Pros:
+ Incredibly accurate sensors
+ Comfortable shape
+ Reasonable price
Cons:
– Nothing fancy
Related:
Logitech
,
Peripheral
,
Pro Gaming Mouse
,
Review
,
Technology