Multiplayer games that integrate streaming are one of the more interesting new frontiers in game development today, and when I heard about The Darwin Project, the Hunger Games-inspired arena survival title in development by Scavengers Studio, my instinct was to follow up and get some play time. During my Darwin Project hands-on experience, my instincts were rewarded.
The booth housing The Darwin Project is cramped considering the fan reaction, so much so that the PAX East Enforcers had to demarcate an area that people should stand in order to not clog up the pathway to other nearby tables. Seven computers are rigged up – six for players and the seventh for the shoutcaster – as one by one we squared off in the frozen wastes to survive the elements and the machinations of each other.
The map is a large size with seven hexagonal sections set up. Over the course of the match, these sections become forbidden, meaning the effects of the cold become even more pronounced. While there is nothing stopping you from entering a forbidden zone, time will not be on your side if you do.
Gameplay is the typical sandbox survival fare, with running around the area harvesting resources from the environment around you to make weapons or supplies. The biggest twist is the hunting aspect of the game. Every action you make, from crafting an item to lighting a fire to chopping down a tree leaves a clue. If another player finds that clue, then your position will be exposed for a limited amount of time. Perhaps you want that, though. Perhaps you've left obvious clues in order to draw someone into a more carefully placed trap.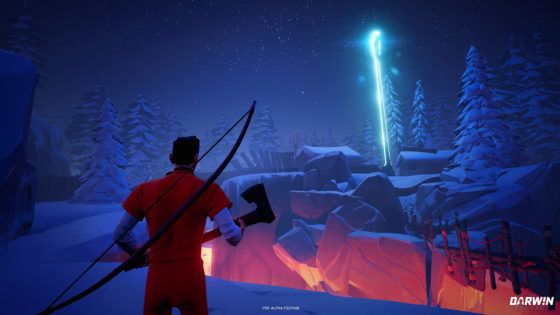 Another interesting wrinkle is the spawning of Technology, a specialized harvestable resource that arrives on the map in a giant flash of light that's visible to everyone. Collecting this rare resource allows you to create special skills such as a shield that makes you invulnerable for a period of time. However, that also carries a risk. Do you gather a resource that everyone knows where it's located, or do you try to survive without?
The game pulled together cat-and-mouse strategy and reality TV tension in an engaging package. At one point while warming myself up by a fire, I was beset by someone who followed my tracks and buried an axe into my back. Mercifully, I was able to escape and was able to fight my way through to a kill, but with no health items to speak of available, it was a risky decision. Ultimately, I won as my opponents either killed themselves off or succumbed to the elements. Perhaps it was thanks to being part of a broadcast, but it felt exhilirating.
So where does all of this streaming integration come into play? One player is assigned the role of Director, who is given powers such as the ability to make one player in the game Wanted. Audience participation can also affect the game, with players able to vote on which sections of the map become Forbidden. All of the manipulation is handled on a dedicated website.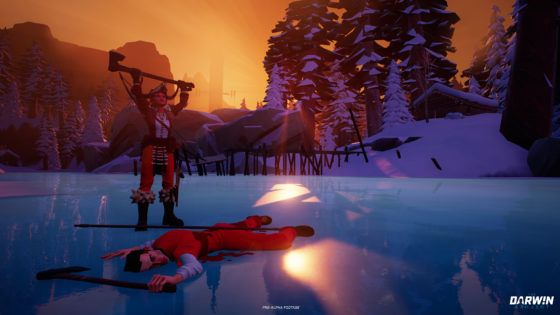 Of course, none of this interaction really matters if the backend for these systems isn't up to snuff. Extensive testing has been done in-house with several dozens of people across the globe at a lag of up to 200 ping without issue, so the team feels confident that the website will be able to hold up to the strain.
The Darwin Project will kick off early access in the Fall of 2017. Early access is targeted to run approximately six months and the game will hopefully release by the Spring of 2018.
My time with The Darwin Project left me mightily impressed, but perhaps that's because I enjoy watching new and unexpected types of games come to life. The Twitch-integrated videogame is a fascinating new direction, and The Darwin Project is offering the kind of experience that could make it a standout not just in its sub-genre, but in multiplayer gaming overall.
Related:
Arena
,
Multiplayer
,
PAX East 2017
,
Preview
,
The Darwin Project