During my time in a Guns of Icarus: Alliance hands-on play session, I was introduced to the game for the very first time. Considering that this new-look Guns of Icarus is essentially a brand new release, that's very likely by design. Alliance is more than just a PvE mode, it's being looked at as an opportunity to refresh the game overall.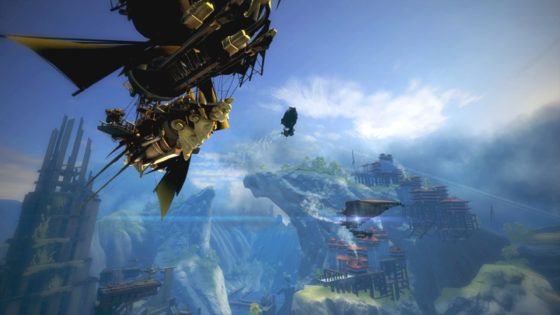 I was part of a crew of two other people who joined in off of the show floor and Team Lead Howard Tsao, who took the helm of our motley crew and steered us into battle. The mode we played involved flying through an area that had several bases that needed to be taken out, which is one of the seven new modes planned for the release. Much like the base game, it's up to the team of four to take up positions and crew the ship.
Gameplay here will feel incredibly comfortable to fans of Guns of Icarus, with similar loadout options for crew and craft. What is unique to Alliance is the fact that the PvE mode opens up new possibilities for unique weapons that would otherwise not fly in a purely PvP title. Weapons like giant lasers, a black hold gun or a giant corrosive cloud are just a few of the new killing tools that Guns of Icarus can now offer thanks to Alliance.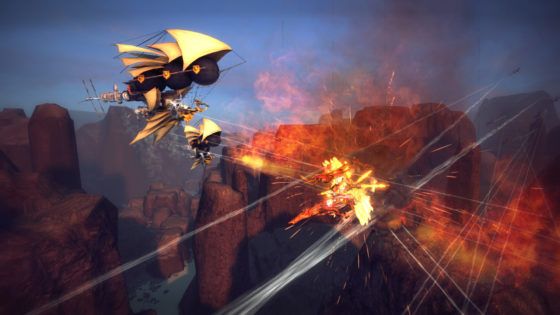 From the very start, the importance of coordination became apparent. I ended up being automatically relegated to the role of support as I dashed around the ship's decks to repair engines, armor, and the balloon keeping us aloft. All around me was incoming cannon fire and bullets as other airships of varying sizes laid into our ship.
It overall didn't go very well as our craft was blown out of the sky three different times thanks to overwhelming numbers, but it was still a great time overall.
While Alliance is a cooperative effort, there will still be a sense of competition. Players can join different factions, and loot earned during Alliance will increase that faction's standing in a larger conquest metagame.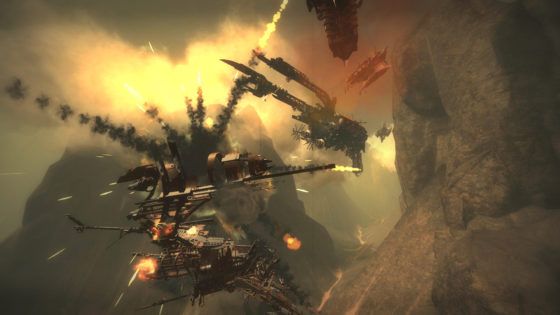 With the advent of Alliance, entirely new ways to play are now available to Guns of Icarus. Attacking bases is one way to play but other modes planned include attacking a convoy that's out to bomb a friendly installation or taking on missions in the dark of night. The game will launch with approximately seven or eight maps, but content for the game has already been lined up for the next several months.
Of course, if you're already invested in the PvP side of Guns of Icarus, you're not being left in the dark, as everything available to original Icarus players will still be included in the re-release. Those who have already bought into Guns of Icarus can get the Alliance release for $15 and after that Guns of Icarus: Alliance will release as a wholly new title, with both PvE and PvP gameplay, for $20.
My time behind the guns and banging on burning components convinced me of Guns of Icarus as a fun twist on the cooperative team shooter. The added PvE of Alliance now offers up more gameplay action beyond mere ship-to-ship PvP, and it was clear during my time with the game that the devs are very excited about working on new stuff for Alliance.
Related:
Co-op
,
Guns of Icarus
,
Guns of Icarus: Alliance
,
Hands On
,
MMO
,
PAX East 2017