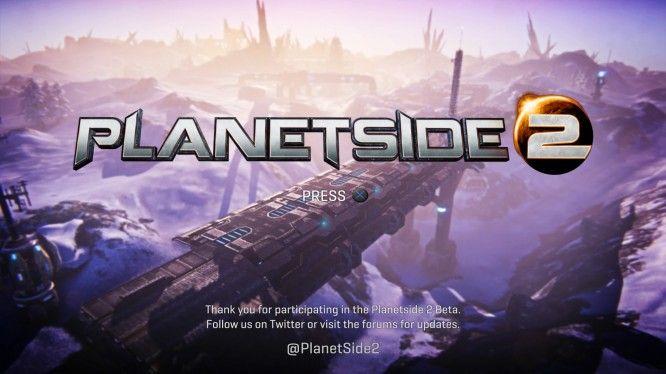 Editor's Note: This article was written just days before the launch of Planetside 2 on the Playstation 4. Little of the game has changed in that time.
Let me be honest up front: I never played PlanetSide for more than a month and I had trouble getting into PlanetSide 2 when it originally released in 2012. That remains the case after having experienced the Playstation 4 beta of the game. Yet, this is not an indictment of PlanetSide 2's value as a game, nor is Daybreak Game Company's Playstation 4 port in anyway bad. The game simply is not for me, but it will find an audience with its epic battles, vehicle combat, and persistent state-of-war.
PlanetSide 2 is a Massively Multiplayer Online First Person Shooter from Daybreak Game Company (formerly Sony Online Entertainment). In it, players choose one of three sides – Terran Republic, New Conglomerate, or Vanu Sovereignty – and fight for dominance over a science fiction setting called Auraxis. Gameplay features multiple classes, a ton of weapons to choose from, vehicular combat including fliers and transports, and a lot of open spaces to endlessly wander.
Regardless of your interest in or your enjoyment of PlanetSide 2, witnessing one of the game's all-out battles should be a bucket list item for every gamer. The game builds upon and re-imagines its predecessor, and the scope and scale of encounters have only improved with better technology. High speed internet has made a potentially lag-heavy experience like a MMO shooter perform with relatively few hitches, and that remains the case when moving from the PC to the PS4. When PlanetSide 2 is firing on all cylinders, then so is every side in its three-sided war – the resulting firefights almost always result in shock, awe, and wonder.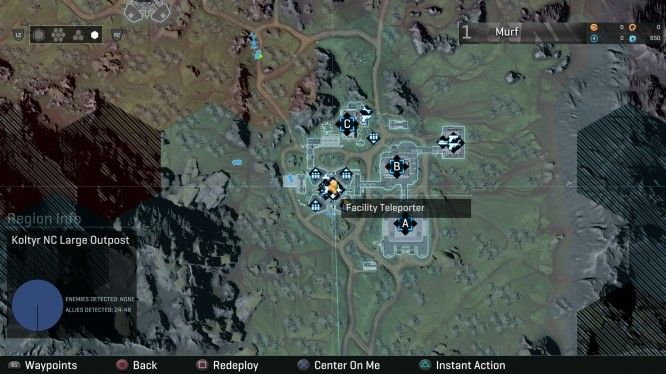 Though big battles are worth seeing, PlanetSide 2's graphics are no better on the Playstation 4. This will not detract from the game's functionality in the slightest, but the experience no longer feels as crisp as it did in 2012. The game remains a technological marvel though, considering the size of its world and the amount of characters and vehicles it can have on screen. The PS4 port of the game won't win any beauty contests, but it ran smoothly and put everyone on an equal playing field when it came to remaining connected.
Although I had no connectivity issues in my time playing, the Playstation 4 version of PlanetSide 2 has been in a fairly limited beta test. When the game releases later this month, it remains to be seen whether the size of the battles that made the PC experience so special will carry over entirely to consoles without breaking servers. However, the two platforms will be kept separate, so Playstation 4 fans will not have to worry about competing with veteran PC players or competing via login queues.
Logging into the game for the first time, I was surprised to see they had added a tutorial section for beginners. When I had originally played the game during its beta on PC, this wasn't the case, and I felt especially lost. Here, the tutorial definitely helps, but it is hard to shake how abrupt starting a new life in PlanetSide 2 feels. As a MMO, the game is easily one of the most open experiences around, even early on, and it can feel very overwhelming. I began to pick up things naturally over time, but others may find the early goings too big a barrier to overcome. Tooltips and a closed-off section of the map help, but only so much.
While consoles are the home of every major FPS franchise now, most of those games do not have the extra interface requirements that PlanetSide 2 requires. Access to your inventory, to communication channels, to maps: all of these mean more buttons than the typical FPS. Thankfully, the Playstation 4 port pulls the interface off really well. Everything is accessible with little to no fuss, and I had no issues finding my way around without needing to be told what buttons to click.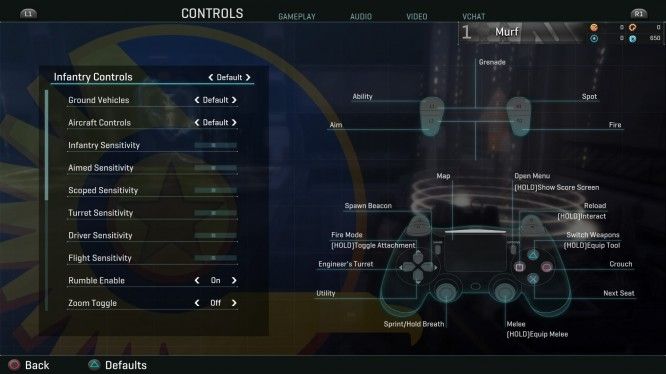 But the controls were a bit iffy. There are some customization options, but my sensitivity seemed off the entire time, even after adjusting it. The resulting problems gave the overall gameplay a slightly clunky feel. It feels worse when you compare the movement and aiming to the smooth PC experience, with its mouse-and-keyboard, or even to other shooters on the PS4.
Other than that, the experience remains the same as PlanetSide 2 on PC. You pick a class, level up, get certifications for new weapons and vehicles, and fight to make your faction victorious. The game is an appealing blend of shooter and RPG, and it offers some truly unique opportunities to participate in some really large-scale battles. If I were a little better at shooters or I had a larger group of interested friends, then PlanetSide 2 would definitely be a game I would like to try out on my Playstation 4.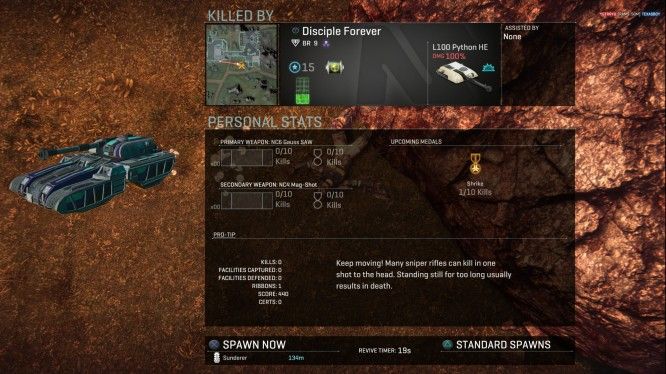 As far as acquiring the game to play, it remains free-to-play on the Playstation 4. The game does not require Playstation Plus, a paid membership which is often required for any online access for PS4 games. There will be a starter pack which players can purchase and it will have a small discount for Playstation Plus members. In addition, there will be a subscription option for all-access to the game for $14.99 a month. For the price, subscribers will be given a monthly Battle Cash grant to spend in the game's online store; increased gains for experience, certs, and resources; special discounts in the marketplace and exclusive promotions; and, finally, a monthly double experience weekend to level up your characters even further. Members will also have the priority when it comes to any sort of login queues.
PlanetSide 2 will release on Playstation 4 on June 26th of this year. It will only be available for download via the Playstation Store. If you were a fan of the PC version, then I think you will find yourself at home with this console port. If you haven't tried it yet, then there is literally nothing to lose by downloading the game when it releases. It is both free to download and to play. Who knows? You may end up in the biggest firefight of your life as soon as you log-in.
Related:
Planetside 2
,
Playstation 4
,
Review