There are some awfully good MMOs in the making right now. Some of them are nearing release, while others are probably going through their very own development hell, possibly never to be seen again. No matter what, I want to believe that the following games will eventually make their way into North America and Europe, even if some of them take a few more years of work. In no particular order, here is my list of 10 Exciting MMOs That Are Yet to Be Released.
And no, Phantasy Star Online 2 is not included here. The English version of that game is dead and buried, you need to let go.
Lost Ark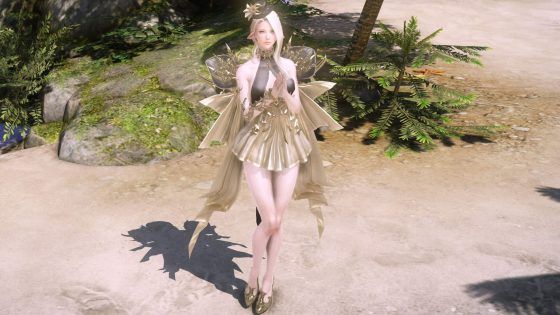 Lost Ark is without a shadow of a doubt one of the most anticipated MMORPGs in recent history. Everything about it screams AAA quality, which is a nice change from the rushed, me-too MMOs that we have suffered through during the last five years of so. I don't know if it's my inner Diablo fan speaking, or if the huge scope of this MMORPG just seems to scratch my itch, but I think Lost Ark is going to please every MMO fan, even the most insensitive brutes among you.
Developed by Smilegate, the Korean studio that is now swimming in CrossFire money – still one of the top grossing titles worldwide, surprisingly beating Fortnite Battle Royale and PUBG on PC –, Lost Ark represents a huge investment and a solid bet for the South Korean studio.
Let's just say things as they are – Lost Ark isn't the Diablo MMORPG that everyone is dreaming of, but it sure is the closest thing that you can get, even considering the likes of the excellent Path of Exile. The diverse character classes offer such a vast array of combat choices that you will be hard-pressed to pick one and stick with it for days, and I'm not even counting with the Tripod system, which allows you to customize the skills in a unique way that suits your playstyle. Combat feels impactful and crunchy, and the amazing animations and skill effects are the cherry on top of this lip-smacking fantasy cake.
Even if graphics aren't everything, I'm not the one to say that I don't like my games with some impressive visuals. For a game that runs on the old-fashioned but heavily modified Unreal Engine 3, Lost Ark looks remarkable for our day and age. Just as with Black Desert Online, this is a game where I will often stop and take my time to look at the details in the environment – there is one island where you become microscopic and seeing every bug and blade of grass so huge makes quite an impact.
With the Korean open beta coming later this year, my only regret is that there is no western release officially announced, despite rumors and datamining that point to it.
Peria Chronicles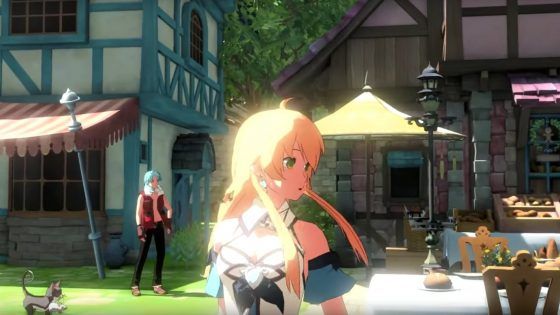 Imagine the most beautiful anime game ever made, then mix with it a hefty dose of wacky creature design that would stand proudly among the best from Pokémon. That's Peria Chronicles in a nutshell, but there is so much more to this game. In fact, it's obvious that developer Thingsoft was shooting for the skies, as this beautiful anime sandbox MMORPG is now going through development hell, and it is likely that some features are being toned down or entirely removed.
But what is Peria Chronicles all about? It is, plain and simple, one of the most ambitious projects coming out of South Korea, backed up by the powerhouse that is Nexon. The goal is to create a community-driven world where players can build their own towns, manage the economy and social system that drives these towns, and even design their own quests, dungeons and NPCs. It's a daunting task and Peria Chronicles' design has often been compared to Minecraft, in the sense that you could build anything, design anything – but with wonderful graphics to go along.
They are not just bragging either; we've been shown a gigantic Tetris machine created in-game, as well as some impressive terraforming. This is obviously a nightmare to develop, and the similarly ambitious and canceled EverQuest Next surely agrees.
Then we have the combat phase. Your character finds and collects Kirana – let's not call them Pokémon for copyright reasons – and uses them in battle. This was one of the aspects that needed a lot of extra work, based on feedback from the 2016 demo.
In theory, Peria Chronicles is like an MMORPG player's dream. It looks like heaven, gives you almost full control to do what you want, and tasks you with being as creative as you can. In practice, it could turn out to be a broken, bugged, exploit-ridden mess of a game. If it is ever released, of course. This would definitely be my top contender for this list of 10 exciting MMOs that are yet to be released.
Lineage Eternal (Project TL)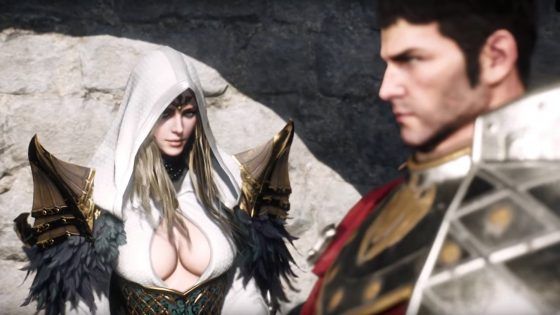 The Lineage series remains as NCSoft's cash cow for several years, with the first game bringing the most revenue to the Korean publisher. It's no surprise then that they want to keep the money rolling, first with a popular mobile release and now with the third official game in the series.
Lineage Eternal was announced in 2011 and has gone through some rough times, with development team changes and a renewed focus. The 2016 beta revealed a multi-character system that is now completely scrapped in favor of a more traditional character control approach. To be honest, this system seemed a bit weird, as you could only control/see one character at a time and swapped between them with the push of a button.
With the new team and focus, Project TL is shaping up to be a very different game. Even the game engine was changed, from a proprietary engine to Unreal Engine 4. The revamp retains some of the ideas from the previous iteration – environmental destruction, dynamic weather, large-scale battles, physics… but it looks like the design was streamlined, to say the least.
Seven years have passed since its announcement and the new Lineage is still some time away from a closed beta. Again.
Kingdom Under Fire 2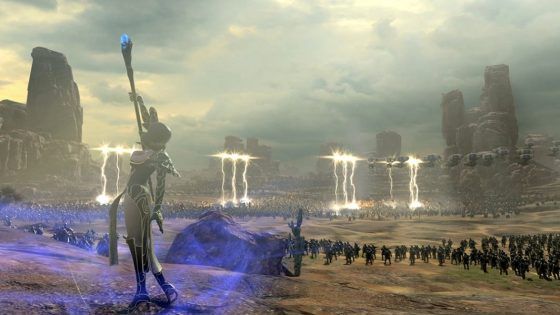 There is no way of knowing what is happening at Blueside's headquarters. They have this ambitious, one-of-a-kind action MMORPG and yet, a decade has passed since its announcement and there is no western release in sight.
I remember playing Kingdom Under Fire 2 in 2014 during the first Asian beta test and I was impressed with the scope of the battles and mostly with the way that your character sliced and diced through hundreds of troops and creatures. There was something unique to it, a clever mix of action and strategy that was rarely seen.
Your character, carefully picked from a batch of five (Elementalist, Ranger, Gunslinger, Spellsword and Berserker), would not just take active part in battles with a deeply satisfying action MMORPG feel, they would also be the one to command troops and outline the tactical approach when the clashes became more demanding. There was a clever real-time strategy hook to Kingdom Under Fire 2, providing a delicate balance that very few online games ever dared to try.
In all honesty, I would prefer such a game instead of the deluge of Battle Royale copycats that we are getting every other week. And yet, developer Blueside is utterly failing to give us a proper update for quite some time. The last we heard from them was over a year ago, unconvincingly reassuring us (again) that the western release was happening and that is was planned for late 2017 or early 2018 on PC and PlayStation 4.
Sure, guys.
Kurtzpel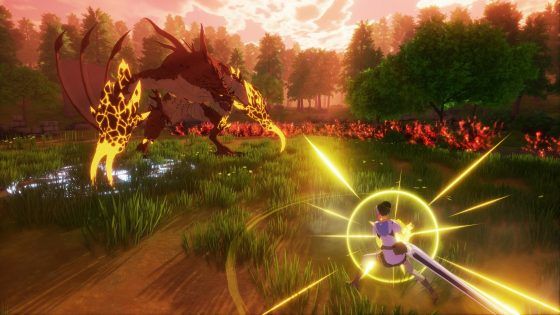 Kurtzpel is probably a mystery to a lot of you, but it deserves more recognition as it isn't without potential. First, it is developed by KOG Studio, who you should know as the creators of Grand Chase and Elsword, two cherished MMO games. Secondly, it looks and feels like the spiritual sequel of both games, taking some characters from the former and the style of the latter, mixing it all up in a third-person blend that is colorful, frantic and thrilling.
The focus of Kurtzpel is clearly on PvP, while leaving PvE as something of an afterthought. It's not that they are ignoring a story mode – there is one and you can play the boss battles in co-op with a friend – but they are evidently aiming for the competitive side of things. Kurtzpel runs on the always reliable Unreal Engine 4, but the team tweaked it to make it more suited to the cel-shaded anime graphics of the game.
KOG Studio aims to create a fighting experience that ditches character levels and stats almost entirely; their goal is to provide action combat mechanics where timing, situation assessment and swift reactions are vital to succeed.
An alpha or beta is purportedly coming before the end of 2018, but it should be exclusive to Korean territories.
Age of Wushu 2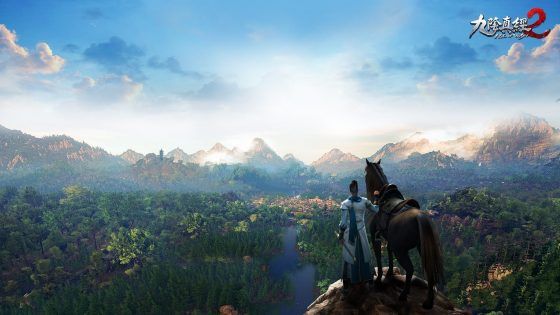 If you like your martial arts games with a side dish of fantasy, then you probably enjoyed Age of Wushu. There was something compelling about this Wuxia-inspired MMORPG, with several systems contributing to a game of commendable depth. Combat was also interesting, being more tactical than most, while still featuring some of those outlandish moves that you are used to see in Chinese films. But there was room for improvement, and a sequel was the right thing to do…
… After the mandatory mobile version Age of Wushu Dynasty, of course, which was released in 2016.
Snail Games started development on Age of Wushu 2 in 2014, but in the meantime, it looks like Dark and Light became the priority. The latest news point to a 2018 reveal, but the lack of recent news is disheartening. This is quite a shame, as for Age of Wushu 2 we were promised a sandbox game with a focus on survival elements – dynamic weather, resource gathering, day and night cycle, non-target combat and even the ability to build your own school, a.k.a. faction. All of this powered by the Unreal Engine 4.
Fantasy martial arts games are always a big question mark when it comes to North America and Europe. However, Blade & Soul seems to be doing fine for itself, so I wouldn't mind a bit of quality competition.
Ascent: Infinite Realm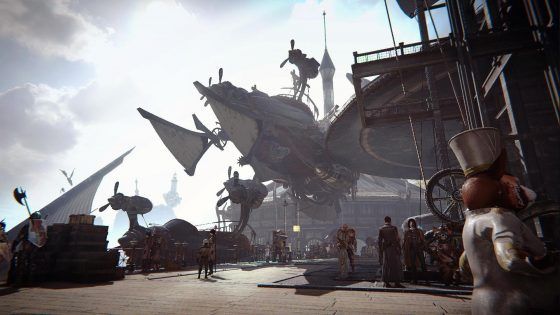 TERA set the bar really high for developer Bluehole; it was a tough act to follow on one of the better MMORPGs still running nowadays. While they managed to fool everyone with the unexpected release of PUBG and sparked the latest trend – Battle Royale –, everyone was expecting their next move in the MMORPG genre.
Late 2017, Bluehole reveals Ascent: Infinite Realm, an incredibly ambitious steampunk MMORPG with a heavy focus on aerial combat and an impressive disregard for frame rate. Yes, because the announcement trailer was torn apart due to the frame drops and lack of optimization – players are always quick to destroy a game based on what is obviously a very raw, early version of a game.
Still, the ambition was there, the aerial battles look like Cloud Pirates but way more chaotic, and absolutely needed a lot of work, as the airships felt weightless, physics be damned. While on foot, Ascent: Infinite Realm doesn't seem to evolve on the acclaimed TERA action combat system, instead feeling dull and unexciting. Maybe the fun begins when you reach the endgame and its Realm versus Realm PvP, right?
I'm being too critical of Ascent: Infinite Realm, but I admit that we have been treated to a very early, very rough build. Showing this game so soon probably harmed it in more ways than one, and it clearly needed more time to fully shine. I'm guessing that Bluehole still has a lot of work to do before a proper, polished version is ready for beta.
Moonlight Blade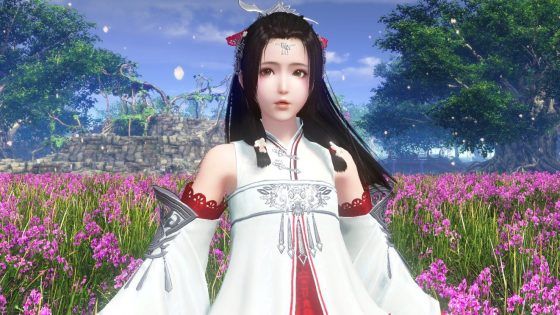 Moonlight Blade is one of several fantasy martial arts games coming from Eastern developers. This one hails from China, more specifically from Tencent, the gigantic corporation that seems to have a tight grip on everything, from League of Legends' Riot Games to Path of Exile's Grinding Gear Games.
As for Moonlight Blade, it's been around for a while in Korea and China, featuring a world that is said to be 18 times larger than Skyrim. While it won't win any awards for originality, Moonlight Blade looks good, sometimes truly great, and those flying skills have to be seen to be believed.
After a couple of years of uncertainty, Nexon has unofficially confirmed – twice – that Moonlight Blade is indeed getting an English release. Even if this isn't in anyone's top MMORPG list, it is definitely worth looking into.
Dual Universe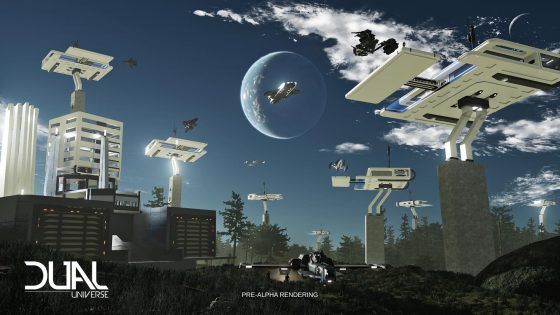 Is Dual Universe trying to go where No Man's Sky has gone before? This is the kind of game that seems too good to be true, and we know what usually happens with that, right? However, maybe French developer Novaquark really knows what they are doing.
The way that it is shaping up, this sci-fi MMORPG could turn out to be the perfect mix of Minecraft and EVE Online. There is a scale to Dual Universe, an ambition that seems unrivaled and a game that will only prosper if one thing happens – a big… no, a galactic player base is willing to populate the game and build the civilization that this single-shard sandbox MMORPG needs and hopefully deserves.
Dual Universe is an intimidating game. It could fail in so many ways, and it could also never be feature-complete, judging by the scope of it. With a roadmap to be strictly followed and a release planned for the second half of 2020, maybe we will in fact get to explore this brave new world. We only have to build it first.
Ashes of Creation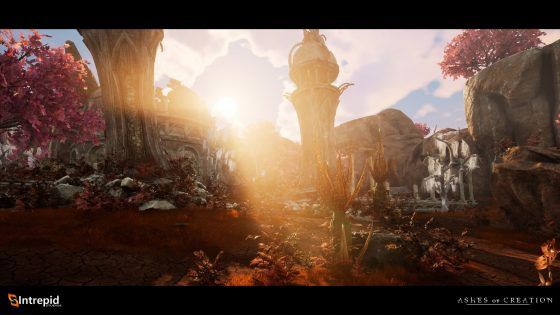 Ashes of Creation may look like your classic high fantasy MMORPG, but there is much more to it, at least in theory. The idea of an experience where every player will live something entirely different is extremely appealing. Depending on the actions of the players, the population size and other aspects, the dynamic game world will change and unlock new quests. The AI is also said to be adaptive, with the same creature reacting differently according to the player.
It almost sounds too good, right? In fact, it reminds me a lot of this game called EverQuest Next, which also had some revolutionary plans for its AI and world building, and where is it now? Exactly, canceled without ever showing a hint of what was promised, unless we include the failed Landmark in the equation.
You can easily tell that I am a little wary of Ashes of Creation, and selling a $375.00 Founder's Pack makes me question if everyone is rich except for me. With a monthly subscription fee of $15, it really needs to be special to motivate players to stick around for long. The release is scheduled to happen before 2020, but this game has a lot to prove if it plans on living up to its developer's claims.
These are 10 exciting MMOs that are yet to be released, most likely a couple of years away from launch, or even beta. However, it's hard to forget about them and the incredible potential that they hold. If you had to pick only one game from this list, what would it be?