A new report from SuperData lists League of Legends as the second highest in revenue earned by micro-transactions in 2013. The report includes online games from around the world and clearly shows that South Korea is still the dominant force in this genre. They have three of the top five earners on the list, CrossFire, Dungeon Fighter Online, and Maplestory.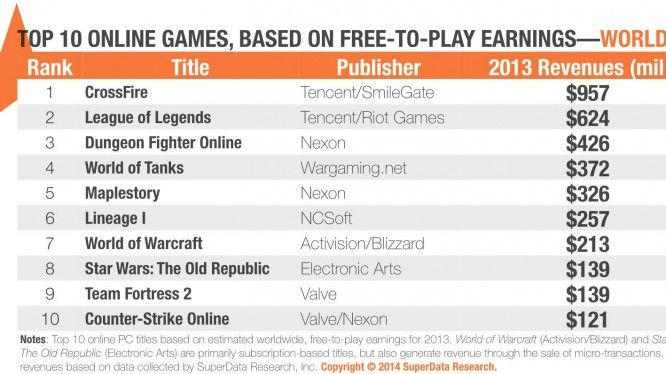 Top 10 Online Games 2013:
CrossFire: $957 Million

League of Legends: $624 Million

Dungeon Fighter Online: $426 Million

World of Tanks: $372 Million

Maplestory: $326 Million

Lineage: $257 Million

World of Warcraft: $213 Million

Star Wars: The Old Republic: $139 Million

Team Fortress 2: $139 Million

CounterStrike Online: $121 Million
It should be noted that if World of Warcraft's subscriptions had been calculated into this revenue list it would be the top earner for 2013.
The report also showed trends in online gaming for 2013.
Social Gaming is down 21% from 2012 with a total revenue of $1,815 Million.

Free to play sales are up 45% to $2,893 Million. But monthly active users are on the decline.

Pay to play MMOs made $1,126 million, down 19%. And overall micro-transaction spending is down.