The Latest MMO Alpha and Beta News
This week's updates are shaping up to be all about upcoming test and trial periods for MMOs that we would very much like to try out all at once. It sure is an exciting period for players looking for a new game, with quite a few beta tests and free access events on offer. Check out below the latest news from the MMO Alpha and Beta world to find out what's been going on since last Friday!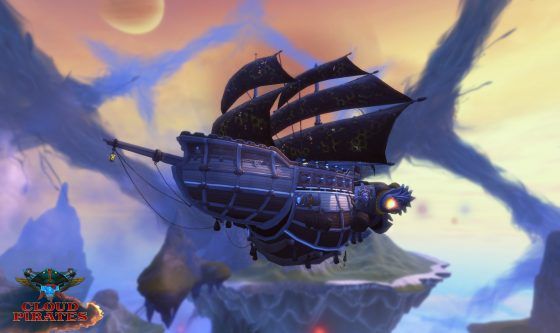 The first closed beta test period for Revelation Online will run from October 25 to November 8. Players can join by trying to win a key from the many giveaways My.com has been organizing, but there are founder packs available as well for the more impatient.
A new and refreshing title on our list is Cloud Pirates, a free-to-play action MMO that focuses on airship battles and that is said to have been inspired by Allods Online. The Cloud Pirates closed beta begins on October 18 – of course, founder packs are also available for instant access and various perks.
Darkfall: Rise of Agon will be welcoming all players for a free trial period during October 14-24, so if you've been curious to see what's going on in this closed beta, this is the time to dive in!
You can play Smash+Grab with no restrictions and bound to no purchases this weekend too, as the game is temporarily available for free on Steam. The Smash+Grab free weekend event runs between October 13-18, after which it will return to its usual buy-to-play early access state.
The MU Legend closed beta test is starting very soon, on October 25, and if you still need a key to get in, we've got you covered! There's still a chance to grab one with our MU Legend closed beta key giveaway but better hurry, they're going fast!
Although we were thinking that Albion Online's current (and final) beta phase would be ending soon, developers announced that it will be extended until late 2017. This significant delay is explained at large in the official forum post making the announcement as well as a roadmap, but it all boils down to the fact that developers feel the need for more time to address new issues and improve the game.
Guardians of Ember is opening its test servers for their first backer event next week: between October 20-27, backers will have access to a small chunk of the main questline, a new dungeon, and unranked PvP matches.
Sci-fi shooter MMO Project Genom has launched on Steam early access this week, and although its development is officially described as alpha stage, opinions concerning the content are positive, which is a pretty encouraging sign for its future if you ask us.
Card game Smash Up is now also available via Steam early access and will be releasing in time even more exciting factions adding variety to its crazy deck combos.
The Dual Universe Kickstarter has reached its goal, just a few days before the official end of the campaign. An update from Novaquark mentions that any and all future crowdfunding will be carried out through the official website, which is currently in development.
Hero's Song, on the other hand, has not been as successful, as its campaign ended after earning only about half of its total amount of funding sought. Nevertheless, the game development is continuing as scheduled and it still has the support of external investors as well.
Crush Online will be leaving our list since it has officially launched a few days ago! You can also find this interesting hybrid that defines itself as a "free-to-play PvP MMO with MOBA-style combat in a persistent world" on Steam as well.
That about does it for this week's MMO Alpha and Beta List. Notice anything missing? Get in touch and we'll take a look!
Find links to everything new to the MMO Alpha and Beta List this week and much more in the list below. Look for this icon:

to see everything we added this week.
Pre-Alpha and Alpha
Games in Pre-Alpha and Alpha are games in early testing, are often under an NDA and require keys to access.
Early Access
Games that are in Early Access tend to require a purchase and/or access to Steam. Anybody can access games in Early Access but builds tends to be unstable as they are still under development.
Closed Beta
MMOs in Closed Beta are those which require a key to participate in, typically for a limited number of people and occurring prior to an Open Beta testing phase.
Open Beta
Open Beta is the phase in which everybody can take part at no cost, with no key required. These days, Open Beta tests tend to be a soft launch with no wipe.
Crowdfunding
MMO and MOBA related crowdfunding events taking place through Kickstarter, IndieGoGo, or open donations through a game's website.
Giveaways
We often have keys and items to give away that either offer access to a game in testing or grant rewards in games still in testing and of course we add these to our MMO Alpha and Beta list.

| | |
| --- | --- |
| MU Legend Closed Beta Key | Giveaway |
| Erectus the Game Closed Beta Key | Giveaway |
| Empire: Revenant Beta Gift Pack | Giveaway |
| Dragonbone Dynasty Open Beta Gift Pack | Giveaway |
| Crystal Saga II Open Beta Gift Pack | Giveaway |
Related:
Alpha
,
Beta
,
Beta Data
,
Closed Beta
,
Crowdfunding
,
Early Access
,
MMORPG
,
Open Beta
,
Pre-Alpha