The next version update will bring a new twist to ARK: Survival Evolved mounted combat with the ability for mounted weapon use while aboard certain creatures.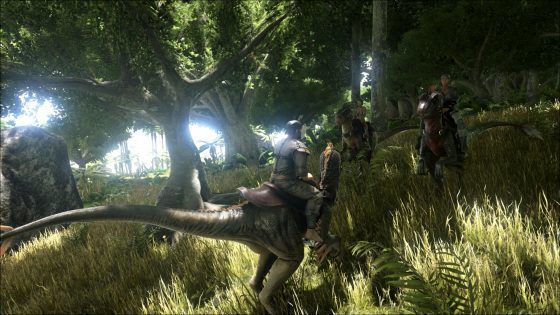 ARK: Survival Evolved v248 will finally let riders participate in combat with their own weapon while aboard a dino according to a tweet from lead designer Jeremy Stieglitz. Specifics on what weapons can be used and which mounts will let riders join in the battle weren't provided, but the feature is coming soon.
Version 248 will also introduce the third phase of breeding, several new dinos and procedurally-generated ARKs, though the feature is listed as experimental.
ARK's v248 is loosely set to arrive on October 10th.
Our Thoughts
Now that we think about it, not being able to join in combat while on dino-back was a kind of weird omission. We're curious to know what sorts of weapons will be available to enter combat with, and especially what sorts of things players will do with the new feature.
Your Thoughts
Are you looking forward to the new update to mounted combat in ARK: Survival Evolved? Is there some other feature you'd rather see implemented? Give us your thoughts in the comments.
Sources: Massively Overpowered, Official forum
Articles Related to ARK: Survival Evolved
ARK: Survival Evolved Free Update Adds New Map, Creatures
ARK: Survival of the Fittest Reintegrated into Survival Evolved
ARK: Survival Evolved Launch Delayed, Early Access Sales Revealed
Related:
ARK: Survival Evolved
,
Mounts
,
News
,
Update