This weekend saw Bob Ross Fan Club take home first place in the first ever crowdfunded Heroes of the Storm eSports tournament, Heroes Rising. The event took place at the eSports Arena in Santa Ana, California and featured an intense 5 game series with 10 of the top North American teams.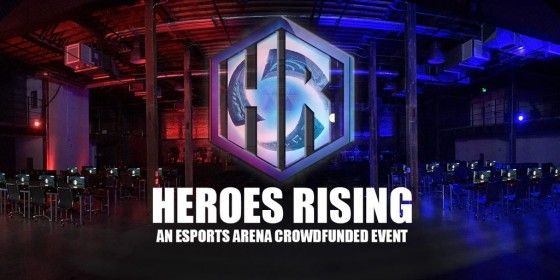 Bob Ross Fan Club put on a good show, despite losing to Cloud9 in the second round, defeating oVo Gaming in the first round on Saturday, while King of Blades won against SK Gaming. Round 2 saw Tempo Storm win versus King of Blades with a new roster. Panda Global beat COGnitive Gaming, and Team Blaze saw defeat at the hands of Murloc Geniuses. And then round 3 on the winners-bracket secured Cloud9 for the winners-bracket final as they took out Panda Global, and Tempo Storm joined them after defeating Murloc Geniuses in a very close match.
The winners bracket finale was a close call with Cloud9 winning 2-1 over Tempo Storm, securing their place in the grand final.
Over in the losers bracket, oVo Gaming beat King of Blades, but then lost in the second round to Team Blaze, who continued on to beat Panda Global. But it wasn't enough, as Bob Ross Fan Club just dominated the bracket, beating SK Gaming, COGnitive Gaming, Murloc Geniuses, and Panda Global, pitting them against Tempo Storm in the loser's bracket finale, which they also won in a very close series.
The grand finale was something else entirely, with Cloud9 starting out able to go 2-0 on Bob Ross Fan Club, but it didn't last, as Bob Ross Fan Club came back with 3 wins in a row, crowning them the Heroes Rising champions.
Our Thoughts
It's pretty incredible to see a relatively new team beat the number one team in the world, especially with such a rough journey to the finals. Color us impressed! We hope to see many more crowdfunded eSports tournaments in the future, or even better – more fully funded tournaments. Televised!
Source: GosuGamers
Related:
Crowdfunding
,
eSports
,
Event (Real Life)
,
Heroes of the Storm
,
Heroes Rising
,
MOBA
,
News