We've been introduced to a variety of Archetypes for Crowfall, but they've been specifically one gender up to this point. Today, we've gotten our first look at some new Crowfall gender variants of the Assassin and Druid classes, along with a little bit of backstory.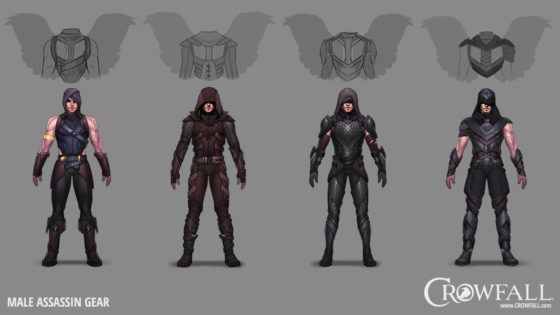 Art director Mellissa Preston penned the preview, offering two concept drawings of various pieces of gear worn by the two Archetypes. The male Assassin features a design that evokes a classic Rogue style due to their history as being outcast from the Fae and their need to remain hidden. Male Druids, meanwhile, tie together bone, fur, and leather as a way to symbolize the Druid's connection to life and death.
With the concept phases of all races and genders nearly complete and almost all of the core Archetypes open for testing, players of Crowfall should expect to see the different Archetype genders come online. When that time will be was not specified, however. If you're curious to know more about the look of these male Archetypes, you can check out the post here.
Our Thoughts
We love hearing about the thought processes of the Crowfall art team in their design of gear, but we are more anxious to know when more customization will go live or when other Archetypes will be playable. Concept art is lovely to look at, but we're far more interested in seeing the implementation.
Source: official site
Articles Related to Crowfall
Checking In with Crowfall's Big World
Crowfall Power Selection Brings Custom Skill Options
Crowfall Eternal Kingdoms Feature Detailed in Video
Related:
Character Customization
,
Crowfall
,
News
,
Sandbox MMO