One of the most popular World of Warcraft addons of all time, Deadly Boss Mods, has launched its own Patreon crowdfunding website.
If you've played World of Warcraft in the last 10 years, and enjoy high-level dungeons or guild raiding, then it's likely that you've at least heard of the addon Deadly Boss Mods. Over the years, Deadly Boss Mods became a requirement for many top guilds due to its incredible amount of information provided during raids.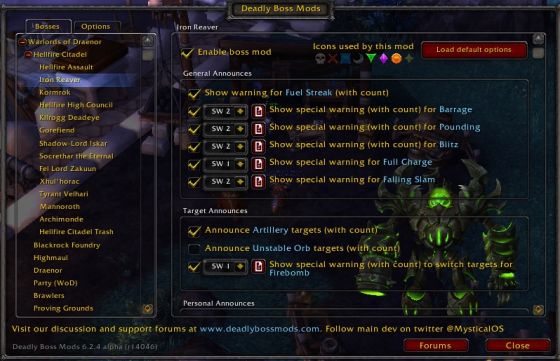 For those unfamiliar with Deadly Boss Mods, it's basically a cheat sheet for World of Warcraft. It provides warnings for area-of-effect attacks, boss phase shifts, colored raid warnings, loot tables, and a ton of other useful information. This information allows new players to quickly catch up to any encounter while letting veterans focus on other things.
Initially, Deadly Boss Mods was funded through a partnership with the Elitist Jerks forum, but financial support from the website has dwindled and the addon is requiring more work to keep updated. Due to these issues, creator Adam Williams has started a Patreon to help fund his work. Currently, he's met $1,322 out of his $1,750 monthly goal. Not a bad start, but still not enough to live comfortably.
If you're interested in supporting Williams, you can find the Patreon here.
Our Thoughts:
Deadly Boss Mods is somewhat of a double-edged sword. While we greatly appreciate the work that Williams has put into it, it slightly diminishes the feeling of accomplishment for taking down exceptionally difficult bosses. However, for players who are more interested in progressing above all else, this is an amazing resource full of invaluable information.
Source: Patreon
Related:
Blizzard Entertainment
,
MMORPG
,
News
,
World of Warcraft