So. We all know that Defiance 2050 will be a thing. But where does that leave existing Defiance players? That's where the Defiance Valor Program comes into play, which will grant some cosmetic rewards for use in 2050 for playing Defiance classic.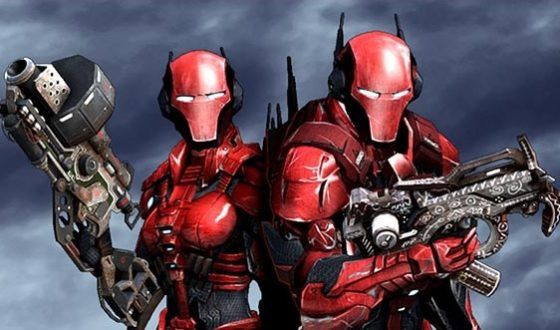 In summary, players will be able to a new currency for use in 2050 by completing Pursuits – AKA achievements – in Defiance. These rewards include unique cosmetics like the Red VBI Infiltrator armor pictured above, along with character boosts, titles and vehicle skins.
Defiance will be adding a number of new Pursuits this Friday, March 9th for players to rake in the Valor Commendations and will even create a unique "Road to 2050" category for players to keep track of.
There are some important things to make note of regarding the Valor Program. Specifically, there will be a cutoff date for Valor Commendation earnings, after which point the character with the highest EGO from Pursuits on your account will get their EGO score converted into Valor Commendations.
Details about this cutoff date will be announced at a later time. You can also find a further FAQ about the Valor Program on the official forums.
Our Thoughts
On the one hand, this will very likely drive more activity into the original Defiance game as people try to rake in as many Valor Commendations as they can. On the other hand, we are definitely wary about what sort of "boosts" are being offered and whether this indicates bad things for the game's store offerings or how progression as a free player feels without said boosts.
Source: official site
Articles Related to Defiance
Defiance Leaps into the Future with Defiance 2050
Defiance 2050 Game Page
Defiance Game Page
Related:
Defiance
,
Defiance 2050
,
MMO
,
News