The spoopy season is soon to arrive to Destiny 2, though with a bit more of a solemn backstory considering the events of Forsaken. In the Festival of the Lost 2018, players of the MMOFPS can honor the fallen and get themselves some sweet new shiny in the process.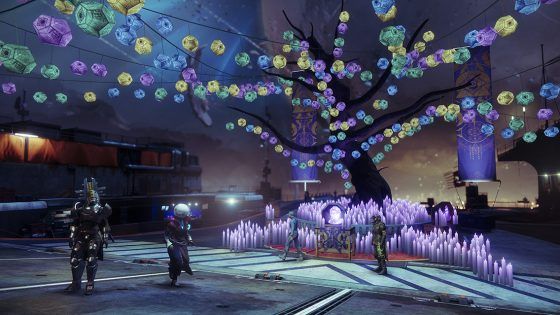 This year's Halloween-themed event will bring new Triumphs for players to chase and daily bounties that award Fragmented Souls, a currency which can be used to purchase Festival of the Lost masks and the Horror Story Legendary auto rifle. Players will also earn a special Engram every time they fill their XP bar to maximum filled with Festival-themed goodies on top of the usual Steadfast Engram rewards.
The event will also bring a new survival mode in the Haunted Forest, where players will have 15 minutes to delve into the depths of the location as far as they can and take out as many enemies as possible. The Haunted Forest can be challenged solo, with a pre-made fireteam, or with a PUG via matchmaking.
Finally, during the last week of the event, a special quest line will have players tracking down the killers of Master Ives. Awaiting at the end of this particular quest is a so-called "powerful reward" of some form.
The Festival of the Lost begins on Tuesday, October 16th and wraps up on Tuesday, November 6th. The Master Ives quest will begin on October 30th.
Our Thoughts
We're glad to see this seasonal event come back around to Destiny 2 once again and definitely hope that the Engram RNG Gods are with everyone who takes part of the event. Personally speaking, I'm pretty sure I need that black cat Ghost shell.
Source: Bungie website
Related:
Destiny 2
,
FPS
,
MMO
,
News
,
Seasonal Event