Are you familiar with the Destiny 2 Electronica Shell? It's an Exotic Ghost shell that says that it brings "increased loot from public events on all destinations". That, however, doesn't appear to be the case according to some initial findings of one of the game's players.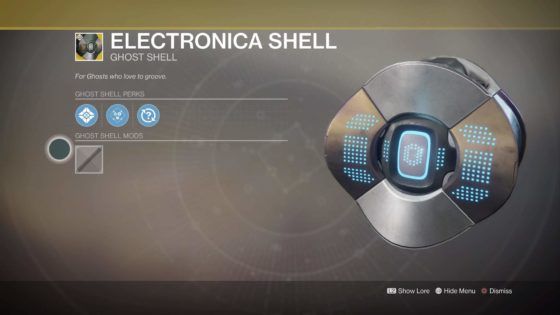 The player in question shared their impressions on the Destiny 2 subreddit, claiming a day's worth of public events with the Electronica Shell equipped did not provide any appreciable improvement to loot drops versus a day of public events without the shell.
For the record, the Electronica Shell is an item that's found inside the Bright Engram, the Destiny 2 equivalent of a loot box. Bright Engrams can either be earned after filling your XP bar post-cap or by spending Silver currency bought with real-world money.
By the player's own admission, one day is not enough of a sample size to make a fully informed conclusion. That said, the point of the discussion is to bring up that "increased loot" is a vague statement without any metrics available to players to back up the tooltip's claim.
For clarity's sake, Bungie has responded to the concerns raised by the original post, stating that the shell provides "increased chances for rewards, typically in the form of Legendary or Exotic rewards, upon completing public events". There was no mention of an update coming to the tooltips in-game, but the response does mention that Bungie's help page will be seeing updates in the near future to provide more clarity on perks like the one provided by the shell.
Our Thoughts
Yea, the tooltip needs to be updated.
Source: Destiny 2 subreddit
Articles Related to Destiny 2
The Dawning is Returning to Destiny 2
Bungie Responds to Destiny 2 End Game Lockouts
Destiny 2 Alexa Partnership Announced
Related:
Community
,
Destiny 2
,
FPS
,
MMO
,
News