The Warhammer 40k: Eternal Crusade closed alpha has been going on for a while now, and the servers are being pushed to the max lately. Now the game is introducing a new, winter-themed map which will shake up the gameplay experience of the closed alpha testers, and we've got the details!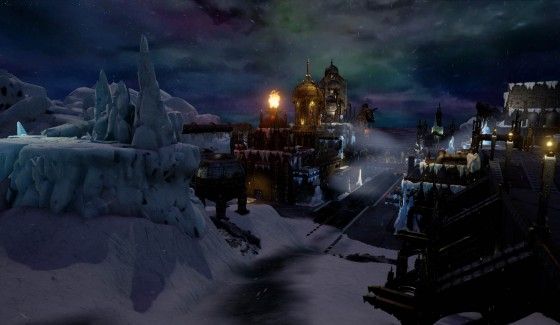 The map is called Pegasus Station, and it has longer sight lines and is a little more friendly for vehicles. Most importantly, however, is the fact there is ice. It is roughly the same size as the Promethium map, as Promethium was 600m by 400m and Pegasus Station is 700m by 300m.
There are a total of 3 capture points, 6 vehicle spawners and 2 quad guns to be found in Pegasus Station when playing the Classic domination game mode. The map is a tad different than Promethium, as the developers have added a lot of catwalks between buildings and quad guns to cover them. There are more and bigger interiors, which makes it all the more Assault Class friendly, and there'll be more fights in between buildings. Overall, you can say that there's going to be a lot more chaos in Pegasus Station than you're used to, but chaos makes things fun, right?
Reflection and refraction probes have been added that allow lights to affect nearby environment assets and it works perfectly with the arctic setting of the new map. Substance PBR shades are also in development that improve the overall look of the assets as well as some vertex painting to break up the tiling and give even more richness to the environments.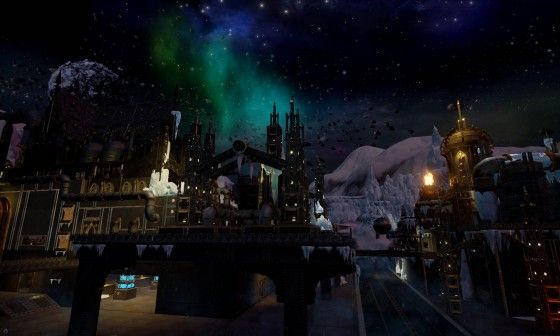 Blizzards will be added to the map in the future too, but an exact date for that hasn't been set yet. It'll be one of the many mutators that'll be part of the gameplay. The Pegasus Station map will be released this week, so if you want to check it out, make sure you grab yourself a Founder Pack to gain access to the closed alpha.
Our Thoughts
This newest map looks pretty fantastic, and we love the fact that Eternal Crusade is introducing things like blizzards to make things even more dynamic. We can't wait to try out Pegasus Station! Let us know in the comments below what you think of it if you have played it.
Source: Press Release
Related:
Behaviour Interactive
,
Features
,
Maps
,
MMORPG
,
News
,
Shooter
,
Warhammer 40k Eternal Crusade