Theories can be creepy and eyebrow-raising at the worst of times, but at the best of times they can also be entertaining. So it is with a variety of assumptions surrounding a potential Diablo 4 announcement at this year's BlizzCon.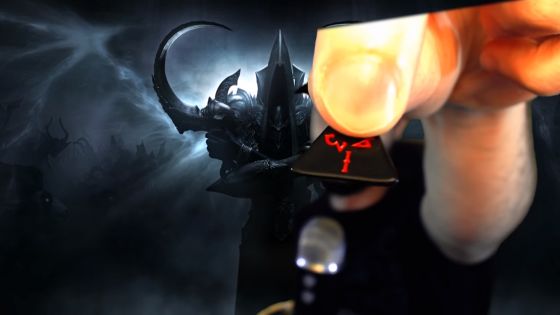 A YouTuber by the name of Rhykker has posted a video that opens up a Diablo dice bag inside the BlizzCon swag collection, which holds inside a four-sided die. The numbers on the die appear to be deliberately misprinted with 1, 1 and 4, indicating the date of November 4th – the date of BlizzCon. Even more intriguing is the fact that a four-sided die is called a "D4".
Further fanning the flames are a pair of tweets by former Diablo co-creator David Brevik. The first mentions his position as "the adviser for the game that pushes [ARPGs] to new heights", while the second has a picture of the statue outside of Blizzard's headquarters asking "Where is Dave today?"
These new pieces of scuttlebutt add to previously reported job listings back in July for positions to "lead the Diablo series in to the future". There has been no official word from Blizzard yet to substantiate any of the rumors or theories.
UPDATE: A new tweet from Brevik has poured some water on some of the other speculation surrounding a possible Diablo 4. "There has been a lot of speculation (and hope)," reads the tweet, "but I'm not working on the Diablo franchise currently or in the near future #sorry #muchlove".
Our Thoughts
It's totally a Diablo 4 announcement.
Your Thoughts
What do you think about the evidence being presented? Do you believe that Diablo 4 is on its way, or is this a lot of grabbing at straws? Give us your take in the comments.
Sources: YouTube, Twitter via Eurogamer
Articles Related to Diablo
Blizzard Hiring for Unannounced Diablo Project
Games Like: Diablo 3
Heroes of the Storm Rewards Diablo III Players
Related:
Blizzard Entertainment
,
BlizzCon 2016
,
Diablo
,
Diablo 4
,
News