The OG battle royale game is about to make its way out of the early access tent and into fully launched game after what seems like an age. Today is the official H1Z1 launch, bringing with it some new system revamps, new features, and a vehicle-centric battle royale mode.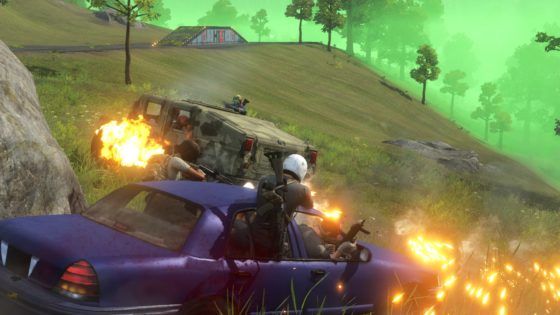 The new Auto Royale mode is pretty much what it sounds like – an arcade-style battle royale mode where players drive vehicles around a large map looking to blow each other apart and survive as long as possible.
The mode supports up to 30 teams of four players and features power-ups like weapons, fuel and health littered across the map, while hazards like turbo boosts, jumps, oil slicks and corrosive smoke will make things just a bit trickier. With the new Auto Royale mode comes new vehicles and weapons, including the small and nimble sedan, the heavily armored ARV, and the light machine gun weapon that's exclusive to Auto Royale.
While Auto Royale is the party piece of the launch update for H1Z1, a number of other enhancements and features have been added as well. Players can also look forward to a new deployment feature that shows a heat map where players are landing before dropping in, a revamp to airdrops, and a minimap. Launch also kicks off the first official season of H1Z1 with a new scoring algorithm that rewards aggression and consistency instead of just a player's 10 best placements.
H1Z1 is open for business at $19.99 via Steam. A new launch trailer all about Auto Royale can be seen below.
Our Thoughts
With the battle royale iron still hot thanks to PUBG, it's nice to see that the actual original battle royale title is making its way to final release and with an interesting new mode to boot. That said, it still might be a case of too little, too late, as players now associate battle roayle with only two titles at maximum. Time will tell whether the battle royale bubble's walls are thick enough to support a third game.
Source: press release
Articles Related to H1Z1
H1Z1 Playerbase Declines Over 90% Since June Peak
H1Z1 Will Become Two Different Games
H1Z1: King of the Kill Game Page
Related:
Battle Royale
,
H1Z1
,
Launch
,
News