The newest expansion to the online CCG Hearthstone has been officially unveiled. Journey to Un'Goro was revealed in an announcement video with production director Jason Chayes and game director Ben Brode.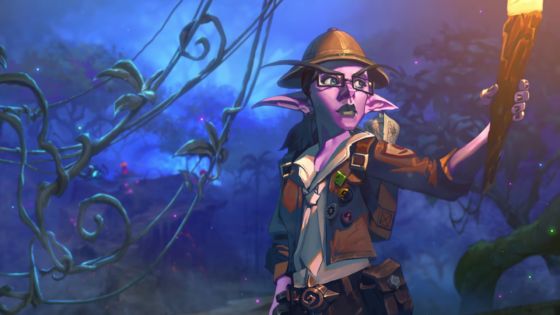 Journey to Un'Goro, as its name suggests, takes place within the primordial area of Un'Goro Crater, where prehistoric creatures and plant life have absorbed large amounts of elemental energy, transforming them into fierce new forms.
The video introduced some of the new cards arriving with the expansion, including the Shaman spell Volcano and the legendary Mage minion Pyros. The expansion will introduce a new Elemental minion type, which will bring other new cards and change existing cards to Elementals. A new Adapt keyword will also be added with the expansion, giving certain cards the ability to choose one of three different upgrade powers among 10 different possible choices.
Journey to Un'Goro will also bring about Quest cards, which offer unique rewards for meeting certain conditions. An example provided was Awaken the Makers, which gives the player a powerful Amara: Warden of Hope card if they can summon seven Deathrattle minions in one game. Quests are described as a way for players to get the most powerful cards in the game if the Quest conditions can be met. Quests can be played for one mana and appear in the Secrets panel, however the Quest cards can be seen by all players of a match.
The expansion brings 135 brand new cards to Hearthstone when it launches in early April, with more cards to be revealed on March 17th. You can check out the video preview of Journey to Un'Goro below.
Our Thoughts
Wow! Journey to Un'Goro looks like it's going to provide a major shake-up to the meta of Hearthstone. Quest cards sound like one of the best foundations for building a deck the game has seen yet, and the new Adapt keyword could make things very interesting for players. We are excited to see how this all works out!
Your Thoughts
What are you impressions of the new Journey to Un'Goro expansion? Are you excited for the new cards, or do you think they're adding too many weird systems to Hearthstone? Let us know in the comments.
Source: YouTube
Articles Related to Hearthstone
Hearthstone Names 2017 The Year of the Mammoth
Games Like Hearthstone
Hearthstone Global Games Features 48 Countries in $300k Tournament
Related:
CCG
,
eSports
,
Expansion
,
Hearthstone
,
Journey to Un'Goro
,
News
,
TCG