It wouldn't be the holiday season in a Blizzard game without Winter Veil. Starting on December 9, and ending January 6, Winter Veil events will be taking place in Hearthstone.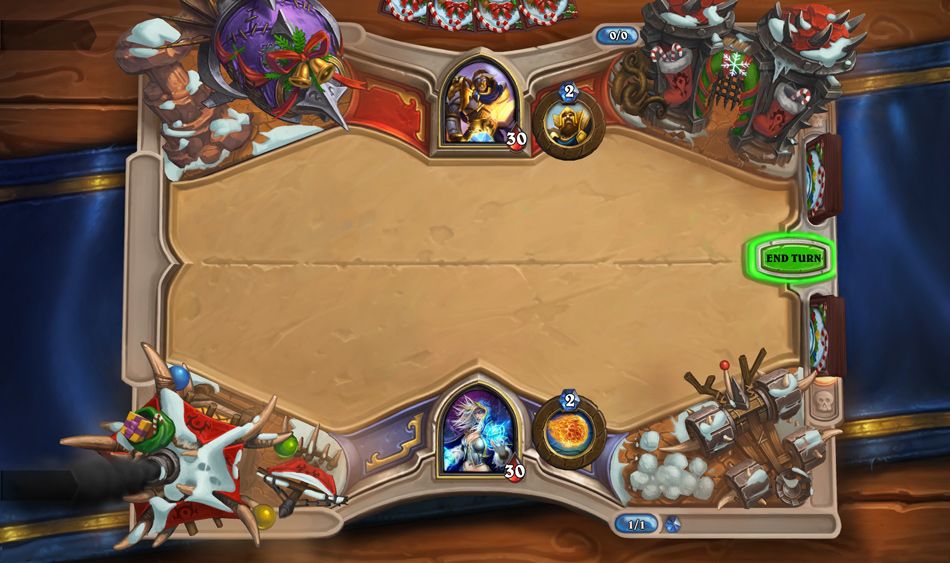 Winter Veil began in Hearthstone today and the first holiday changes includes updated battlegrounds and hero emotes. Now the Stormwind and Orgrimmar game boards are covered in snow and festive decorations. Each hero also has a unique holiday greeting.
"Oh the weather outside is frightful,

but the Inn is so delightful.

With our decks all good to go,

Play Hearthstone! Play Hearthstone! Play Hearthstone!"
According to the Blizzard blog post, there should be a few other Winter Veil events taking place throughout the month. It's expected that there will be a special Tavern Brawl that rewards players with a new card back and possibly a Christmas event.
Currently, Hearthstone is also running a Winter Veil sale. Players will receive 10 additional Classic Hearthstone packs when 40 or more are purchased.
Our Thoughts:
Compared to the recent Heroes of the Storm Black Friday sale, an additional 10 packs isn't that great of a discount and it only applies to classic packs, which most players seem to not want or need anymore. Hopefully, there will be some other events taking place this month that reward free players as well.
Source: Blizzard
Related:
Blizzard Entertainment
,
CCG
,
Hearthstone
,
Holiday
,
News