That's right. If you happen to log into your North American Hearthstone account, you'll be greeted with an introduction on the new Standard vs Wild system and receive three card packs for Whispers of the Old Gods.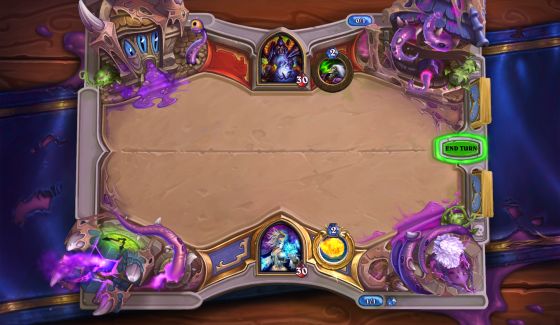 Not only that, but all players will also receive C'Thun and two copies of Beckoner of Evil once they open their first pack. Furthermore, players will also be given the opportunity to obtain five packs simply for winning two games in Standard format and five additional packs for winning seven games in Standard mode. That's a total of 13 packs and three cards for simply logging in and playing a few games.
The new expansion focuses a lot on the Old Gods by introducing some of the most powerful creatures in the game including: C'Thun, Yogg-Saron, N'Zoth, and Y'Shaarj. In order to get things in the right mood, Blizzard has also created a new game board complete with tentacles.
Finally, Whispers of the Old Gods is attempting to slow down the powercreep and many popular cards have been nerfed in the process. Cards that have been changed include: Ancient of Lore, Force of Nature, Keeper of the Grove, Ironbeak Owl, Big Game Hunter, Hunter's Mark, Blade Flurry, Knife Juggler, Leper Gnome, Arcane Golem, Molten Giant, and Master of Disguise.
Our Thoughts:
Whispers of the Old Gods completely changes the playing field in Hearthstone. By introducing Standard Format, players are going to have to constantly think of new deck ideas instead of simply inserting the most powerful cards from each set. Many core set cards had their power reduced in this patch, so make sure you adjust your decks accordingly and remember that their dust value has temporarily been increased.
Source: Blizzard Entertainment
Related:
Blizzard Entertainment
,
CCG
,
Hearthstone
,
News