Heroes and Generals, the fan-greenlit smash hit, reached a major milestone today: this morning marked its 1 year Steam anniversary.
Heroes and Generals 1 Year Anniversary
Following the recently released 'Walker' update, Heroes & Generals celebrates its 1 year anniversary on Steam. Since the Early Access release in July 2014, the playerbase has grown to more than 5.5 million players and Reto-Moto has added a lot of new content to the game, expanded the featureset, fixed lots of bugs and tweaked gameplay and balancing using performance stats and community feedback.
"This first year on Steam Early Access has been an incredible roller-coaster ride for us and the engagement and feedback from our community has been priceless." says Jacob Andersen, Game Director at Reto-Moto. "We will continue to improve the game, bring more content to our players and we have many exciting new features in the pipeline, so Heroes & Generals will continue to grow in the years to come."
As one of the first 10 games to be greenlit by the community on Steam, Heroes & Generals showed the potential to become huge, and it was the third most popular game of all 2014 releases on Steam. Heroes & Generals continues this path by currently being one of the most popular free-to-play games on Steam.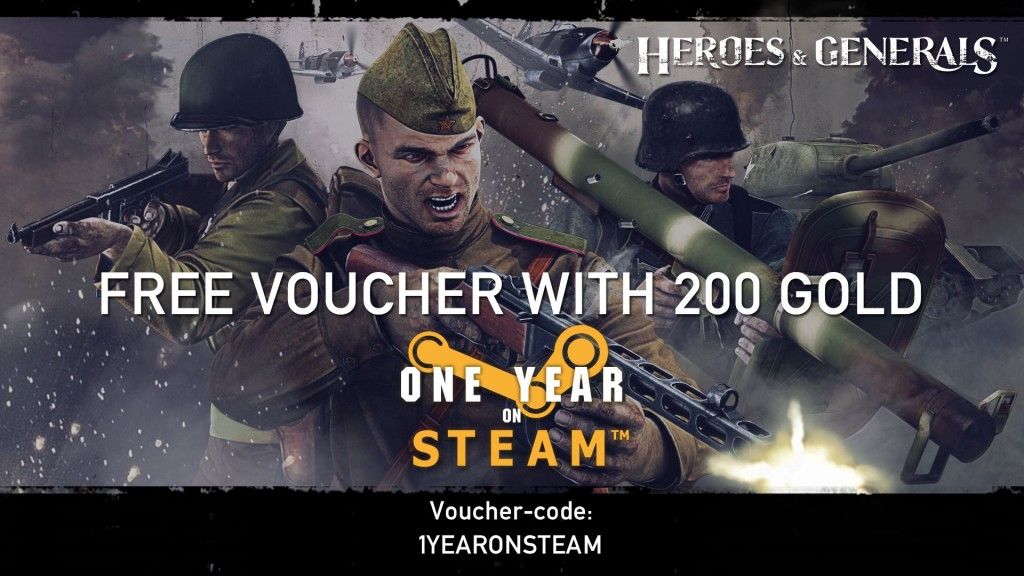 To celebrate the 1 year Steam anniversary, Reto-Moto will give away free Gold voucher codes this weekend. Claim your voucher code here (a hint: it's in the image above).
Source: Press Release
Related:
Heroes & Generals
,
MMO
,
MMOFPS
,
MMORPG
,
News
,
Steam
,
Steam Greenlight
,
Update