For long-time players of the game, today is a big event; the launch of the MapleStory V update, which brings the hotly-anticipated fifth job advancement along with a host of other new features and gameplay.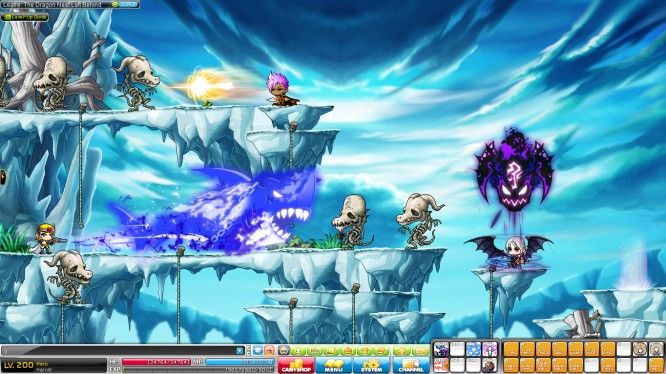 The V Update, as mentioned, introduces a fifth job to all classes, providing 41 brand-new skills for players to use. Players have to be level 200 and also need to finish the Temple of Time questline. If those requirements are met, a Memory Keeper NPC awaits to grant max-level players all-new power.
Those new skills will be put to the test as a new area will be introduced. The Arcane River continent will launch today with the Vanishing Journey area and a new questline for players. A second area, Chu Chu Island, will go live on December 28th with its own questline involving a child-like rock creature.
The V update also introduces a new V Matrix Skill System, which will let players direct how their characters grow. The V Matrix opens up alongside the Fifth Job unlock, granting players the ability to select the advanced skills they want to master, combine skills for greater power or make existing skills even more impactful.
Other enhancements include a smoothed leveling curve, new UI improvements, an expanded inventory, new questlines, and new in-game events.
MapleStory's V Update will go live today at 2pm PST. A video showcasing the update's features can be seen below, and patch notes for the update are online here.
Our Thoughts
Players of MapleStory were expecting this update to be big, and it looks like the devs did not disappoint! The V Update is easily one of the most feature-loaded that this game has seen in a while, and watching those new fifth job skills fire off is a sight to behold indeed. We're very excited for fans of MapleStory!
Your Thoughts
Which part of the V Update are you most excited to try? Are you looking forward to more from this game, or are you instead excited for MapleStory 2? Give us your thoughts in the comments below.
Source: press release
Articles Related to mapleSTory
Nexon Posts Opening for MapleStory 2 Production Manager
New MapleStory Based Mobile Game Revealed
MapleStory 2 Now Lets You Compose and Perform Music
Related:
MapleStory
,
MMORPG
,
News
,
Update