Can you believe that RuneScape has been around for 15 years already? It seems like only yesterday that we were mining iron ores and making our way to the furnace to smelt them. To celebrate the 15th anniversary of the iconic MMORPG, Jagex is taking some of the most memorable highlights of the past years and montaging them together with some of their favorite moments to bring players one of the most nostalgic RuneScape birthdays yet.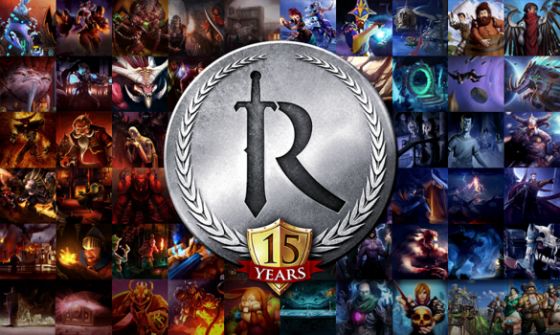 Celebrations Everywhere!
Tune into the RuneScape Twitch channel today at 17:00 UTC for a special hour-long stream with Andrew and Paul Gower, who will be looking back at 15 years' worth of RuneScape history, the 15th birthday documentary and the upcoming Gower Quest that will release later this year. This stream isn't all that's coming though, as you might start noticing some of Party Pete's modifications around Gielinor, including festive bunting in the GE, lanterns in trees and new logos on the lodestones. Aside from these party decorations, there is also a birthday version of The Drop, a 15th Anniversary garden, a unique party buff and a handful of special items, overrides and emotes to be unlocked.
Make sure you don't miss the party! You can now login and speak to party Pete in the party area to receive a free 15th Anniversary party box of birthday goodies that'll surely get you in the party spirit. Each gift box contains a Prismatic lamp, a Prismatic star, an unowned statue and 10 party hat fragments. Ironman accounts will also receive a free gift box, but won't receive the Prismatic star and lamp.
The Party Hub
A statue garden with a plinth for every year, a food banquet to feed a small army and a specially crafted tiered RuneScape cake are all waiting for you in the party venue east of the Falador lodestone. But there's more! Every half hour there will be a two-minute confetti sower around each lodestone, except for Prifddinas, accompanied by a world message to announce the forthcoming of a balloon drop. Each balloon popped will reward you with either gold, a Prismatic star or lamp, an unowned statue piece or additional party hat fragments. After you've popped 15 balloons, you'll unlock the 15 year tunic which you can access from your wardrobe. Popping 50 balloons, which is also the maximum amount of pop-able balloons per day, will reward you with your very own 15th anniversary balloon, which allows you to bank any item of your choice, once every 30 minutes.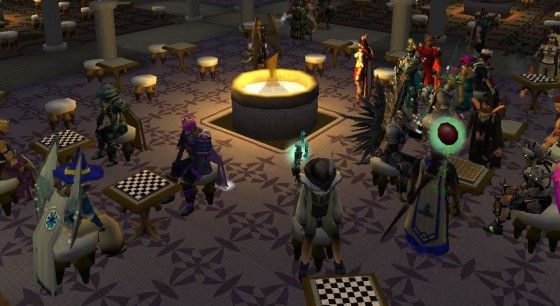 Various portals around the free-to-play areas of Gielinor will also give you an unowned statue once you interact with them. If you're lucky enough to acquire a statue from a balloon drop or through a portal, they'll automatically be added to the right statue plinth in the Anniversary garden. With 15 status in total, each one represents each RuneScape year. If you're not able to partake in the celebrations over the next 4 weeks, there's no need to worry, as the portals will stay around for the entire year.
Four Statues = Awesomeness
For every four statues you find, you'll be rewarded generously. With the first four statues you'll unlock a limited edition birthday dance emote. Eight statues will unlock RuneScape Classic's Skilling thought bubble animation. These can be used on 19 in-game skills but won't represent Attack, Strength, Defence, Ranged, Magic, Constitution and Dungeoneering. You can toggle these thought bubbles via the miscellaneous game settings menu.
If you manage to acquire 12 statues in the garden, you will gain the second 15th birthday emote which will get progressively longer throughout the year, with a new move being added each month on login to accommodate all 15 years. Collecting all statues unlocks the super special cosmetic override: Cracker Wings.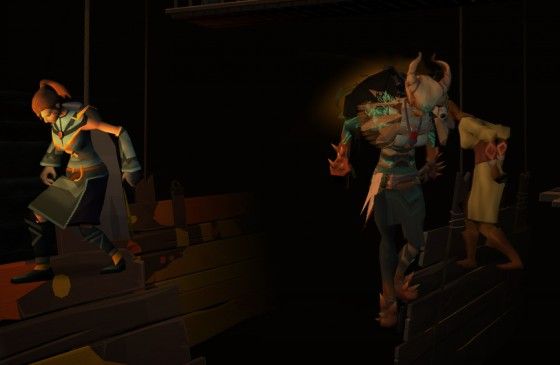 The Drop will run every half hour and features 15 questions about RuneScape history that only the true fans will know. If you get all 15 questions right, you can look forward to receiving a huge Prismatic star and the title: The Historian.
For more information the 15th Anniversary celebrations, including an XP buff and healthy cake, make sure you visit the official RuneScape website.
Our Thoughts
We could go on and on about the memories we've all made in RuneScape back in the day, but we've all made memories right? We're glad to see that RuneScape is celebrating their 15th anniversary in the best year possible and over a very long period of time. We'll definitely be tuning in for these celebrations; will you?
Source: RuneScape Official Website
Related:
Anniversary
,
F2P
,
Jagex
,
MMORPG
,
News
,
Runescape