Star Trek Online is a game played on two fronts: on the ground and in the vacuum of space. While a lot of new content, systems, and mechanics have been introduced, the devs feel it's high time (get it?) for some space combat changes to arrive in the MMO.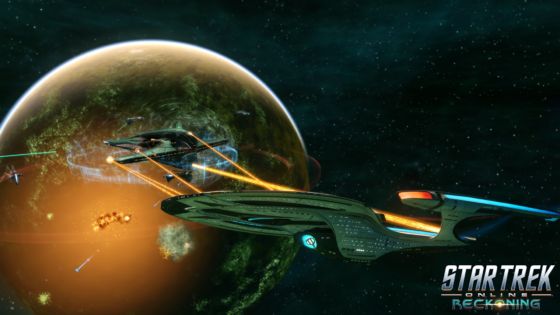 Adjustments to space combat come with three guiding principles according to the developer blog post: increase fun, maintain player setup investment, and make choices meaningful. "Given the opportunity to make such drastic changes to Star Trek Online's experience, it was important to setup some guiding principles to ensure that the game, as much as possible, only gets better," explains the post.
With those points in mind, Star Trek Online will be making some adjustments to Carrier Pets including improved AI, invulnerability to Warp Core Breaches a health and damage increase. There are also multiple changes coming to ship weapons like Beam Overload increasing damage and basic attack power while losing its guaranteed crit, a nerf to Fire at Will's damage and accuracy, and adjustments to Kinetic Weaponry flight speed and Hazard ability avoidance while still retaining the chance to be shot down.
There are several other changes being planned for space combat that isn't able to be listed, but what is on offer can be read on the official site. Full details on initial changes will be included in a Tribble patch in the near future.
Our Thoughts
Looking over the tweaks to space combat, it does appear that there is a lot to digest. Ideally, these changes will not break up established builds for Captains currently flying end game activities, but some adjustments are likely going to be inevitable. It is only logical.
Your Thoughts
How do you feel about the space combat changes on the way to Star Trek Online? Does any of the listed information shake up your current loadout? What adjustments would you like to see? Let us know in the comments.
Source: official site
Articles Related to Star Trek Online
Star Trek Online Season 12 Heralds a Reckoning
Star Trek Online Agents of Yesterday Coming Soon to Console
Star Trek Online: Fleets Features Arrive to Consoles
Related:
Combat
,
MMORPG
,
News
,
Star Trek Online
,
Update