No matter how good the game might or might not be, the dominating topic for Star Wars Battlefront 2 has been its economy and progression system. The latest in the ongoing epic features some shifts to Star Wars Battlefront 2 credits rewards as part of an "initial" step to more changes.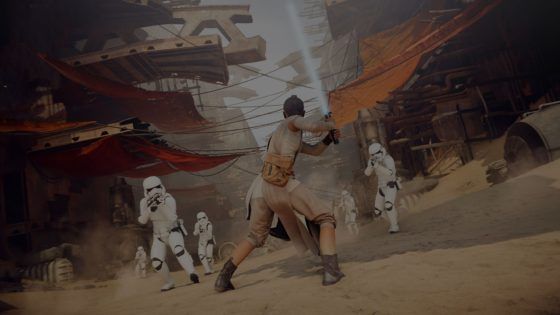 As of the shooter's most recent patch, players will be seeing bigger end-of-match credit payouts overall, with more credits being handed to those players who performed the best in each team. The credit cap in Arcade Mode is also seeing a raise to a maximum of 1500 credits, and Daily Login Crates will be offering more crafting materials to let players make the Star Cards they want.
The post announcing the changes made sure that players bear in mind these adjustments are only the first of several steps to improve the game's progression and economy, though how many steps there will be and what other updates on that front are planned was not announced.
The post did make sure to nod towards its free updates tied to The Last Jedi, which will introduce hero characters Finn and Captain Phasma, new maps, and new vehicles. The single-player campaign will also get new chapters that chronicle the formation and rise of The First Order. All of the updates in question are due in the next few weeks.
Our Thoughts
We'll hold our opinions until we see how the game's subreddit users take to these adjustments. More credits certainly sound like a welcome addition, but considering how volatile everything is when the topic of Star Wars Battlefront 2 comes up, it's just best not to assume anything at this point. That said, it's likely going to take a whole lot more than shifting credit earning numbers to rebuild player confidence.
Source: official site
Articles Related to Star Wars Battlefront 2
Star Wars Battlefront 2 Temporarily Closes the In-Game Store
Star Wars Battlefront 2's Store Closure Prompted by Disney Execs
Players Continue to Question Star Wars Battlefront 2's Progression System
Related:
FPS
,
Multiplayer
,
News
,
Online Shooter
,
Star Wars Battlefront 2
,
Update