Got a little time to spare this weekend? Sword Coast Legends is free for everybody to play this weekend via Steam!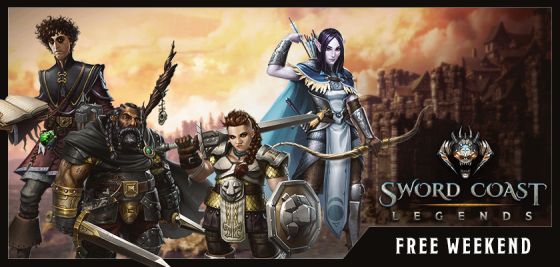 Whether you've been wanting to try out Sword Coast Legends or just fancy a bit of a change from your day-to-day gaming routine, you'll be able to check the game out during its Steam Free Weekend. Running from December 17th at 10am PST until December 22nd, also at 10am PST, the Sword Coast Legends Steam Free Weekend will be followed up by a sale, lowering the game's price to $19.99 but only for a limited time.
What's even better than a little bit of free Dungeons & Dragons cRPG on your weekend? Sword Coast Legends will be completely open during the Steam Free Weekend, meaning that you will have the opportunity to play the entire of Sword Coast Legends' 40+ hours of story campaign, play around with more than 1,500 community made modules – though not all of them, that would be crazy – and even create your own adventures that other players can play through. All for the low, low price of nothing at all.
Since launching back in October, Sword Coast Legends have introduced playable Drow, new skill trees, even more monster abilities, and character respecs. It's the best chance you're going to get to play Sword Coast Legends for free, folk!
Source: Steam Update
Our Thoughts
If only it weren't so close to Christmas! An entire weekend of Sword Coast Legends being entirely open and free for all to play is an amazing opportunity. What's more, with the sale on the game following the Free Weekend, Sword Coast Legends could well be a perfect candidate for a Christmas gift for a gamer friend.
Related:
Co-op
,
Event (In Game)
,
F2P
,
n-Space
,
News
,
Steam
,
Sword Coast Legends