Moisture farmers everywhere rejoice! A new patch for Star Wars: The Old Republic grants more hook space for the Tatooine Homestead.
Tatooine Homestead: More Space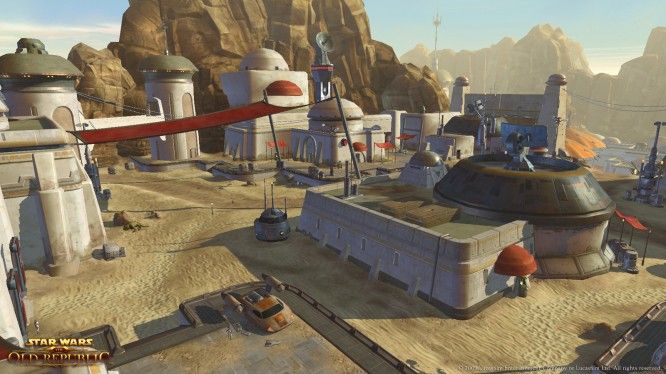 In a community post earlier this week, David Staats announced more space for the Tatooine Homestead. Now players with land on Tatooine can fill their Strongholds with more equipment and loot.
Let me take a moment and give some insight as to why we are looking at increasing the allotted hook cap for the Tatooine Homestead. While reviewing our Stronghold hook limits across all Strongholds, we discovered that Tatooine in particular was drastically lower in regards to the available hooks to total hooks ratio than the other Strongholds. This means that those who owned the Tatooine Homestead actually had far less hooks to utilize compared to the space given, and as such were able to fill their Stronghold "quicker" than desired.
He continues:
The change we have made now brings Tatooine up to par with the other Strongholds we have available, and gives the opportunity for those who have the Homestead as one of their Strongholds to utilize more of the space provided to create their stories. However, at this time it will require those who had previously achieved a 100% completion and received any Prestige or Conquest bonuses which go with that to continue adding to their Homestead. At this time there are no plans to alter the hook limits on any of the remaining Strongholds, as those are well within the ratio we desire.
Source: SWTOR
Related:
MMO
,
MMORPG
,
News
,
Patch
,
Patch News
,
Star Wars The Old Republic
,
Update