You like it. You really like it. Evidently, the number of TERA console players has hit a new high watermark as the action combat MMO continues to press on with its new updates through the month of May, cresting the two million player mark according to the latest announcement.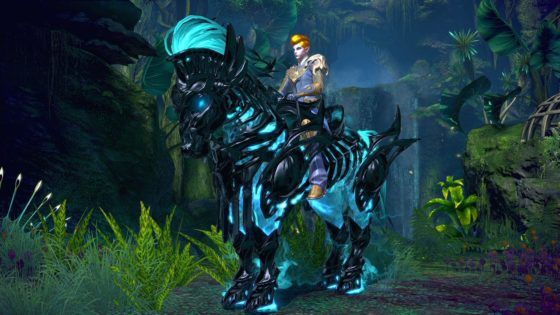 Since the MMO's release to Xbox One and PlayStation 4 last month, TERA reached the new player number milestone. In celebration of the new high point, PlayStation Plus members are getting a unique pack that includes a Shadowmare mount pictured above, 15 days of Elite status, and a blue baseball cap because reasons. The pack is available from now until June 12th and is limited to one PSN account only.
As you'll recall, TERA's month of May on consoles has already seen a couple of updates in the form of the Runious Manor dungeon and the Corsairs' Stronghold PvP battleground. Later in the month, players will get a hard mode of Ruinous Manor and the devs are promising more "hot content" arriving in free updates over the course of the Summer.
Meanwhile, an accolade trailer with some collected praise for TERA's console edition is available for viewing below.
Our Thoughts
Of course, congratulations should certainly be offered to the TERA devs for making the console edition of this MMO a success. Clearly, playing the game's combat model on a console controller is hitting a nerve for fans. Here's hoping that future updates will maintain the momentum and that things push forward in a positive direction.
Source: press release
Articles Related to TERA
TERA Hosts a Murder Mystery Community Event
TERA Details Planned May Updates to Consoles
TERA Celebrates Sixth Anniversary All Through May on PC
Related:
Consoles
,
MMO
,
News
,
TERA