Top MMO News: March 17, 2016 includes information regarding the possible release date for World of Warcraft: Legion, Oculus Rift launch titles, and an expansion for Blade & Soul.
World of Warcraft Legion Rumored to Release June 30
As overly enthusiastic as it might sound, some retail gaming sites and forums seem to believe that June 30 is the launch date for World of Warcraft: Legion. Calculating this with the launch of the Warcraft movie as a starting point does make some sense, but the movie launch is not the only predictor in this scenario.
So, while not impossible, this date is still hard to believe as Blizzard usually runs about four months of beta testing but no date has been announced for it yet and Legion is still in Alpha. While being able to play Legion earlier would be awesome and a very welcome bonus for all World of Warcraft players, we remain skeptical as the launch date is probably closer to September.
DCUO: Batman v Superman PVP Tournament
With the Batman v Superman: Dawn of Justice movie releasing later this month, DC Universe Online has prepared a special event for its players! The Saturday before the movie opens, U.S. or Canadian DCUO players will be able to join an Arena PvP 4v4 double-bracket tournament.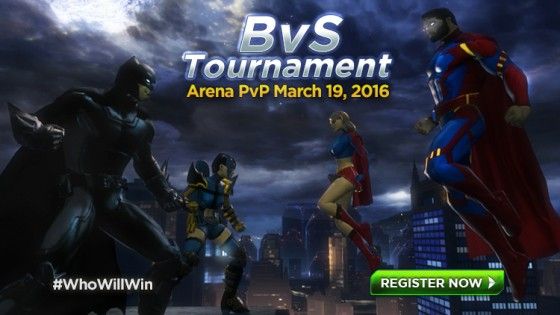 The tournament will be held on the US server on Saturday, March 19, 2016, beginning at 9AM PT and running until only one team remains. The tournament is divided into two single-elimination brackets, one representing Batman and the other representing Superman. Teams may sign up for only one of these brackets, not both, as doing so means declaring their support for either Superman or Batman.
Each bracket will play matches until one team remains, as one will represent the champion for Superman and the other for Batman. Finally, these two teams will face off in a best-of-3 finale match. Prizes for the members of both finalist teams include Batman v Superman merchandise and in-game goodies, and members of the winning team will also receive copies of the DCUO Batman statue that was included with the original Collector's Edition of the game.
Oculus Rift Titles and Prices Revealed
With the Oculus Rift launching later this month, gamers must be eager to get their hands on copies of the most anticipated VR games. A list of the 30 games releasing at the same time as the Oculus Rift was published earlier, featuring not only the prices of the games that players can dive into straight away but also their comfort level.
Comfort level should act an indicator for how likely a game is to induce states such as motion sickness. According to Eurogamer, "intense games are mostly first-person, or third-person with a fast-moving camera such as racing games, moderate games are third-person with a slow-moving camera, and comfortable games have fixed camera that may switch view, but don't move."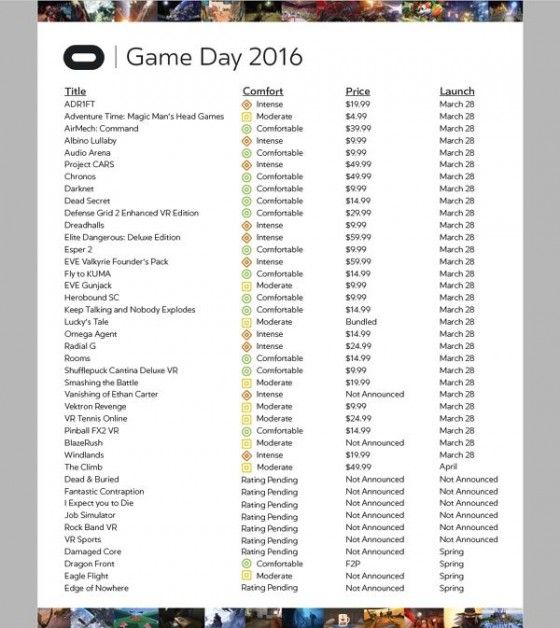 Aside from the 30 titles on this list, there will be 11 more launching after the release of the Oculus. We can also note the surprise appearances of thriller The Vanishing of Ethan Carter and racing game Project Cars, neither of which was previously known to be launching as a VR title.
Blade & Soul Expansion Announced
The Silverfrost Mountains Expansion for Blade & Soul, the largest update to the game yet, has been announced via the official Blade & Soul website. The expansion opens up an entirely new continent for players to explore and quest in, and it increases the character level cap to 50. The expansion also builds upon and continues the main storyline of the game.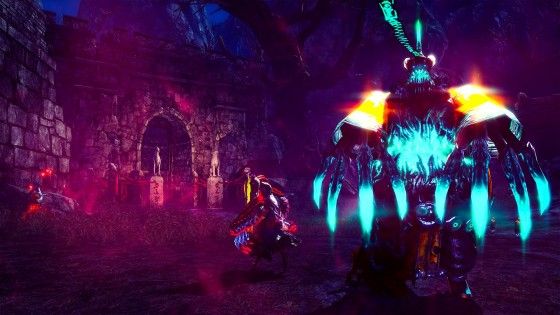 The expansion brings with it eight new dungeons – five expert and three heroic – and are all playable in both 4 and 6 member teams. It also extends the weapon and accessory upgrade path, allowing people to enter an "endgame" upgrade path once they finish the current one. The expansion also includes a new capital city named Zaiwei for players to base from and trade in, among many other new changes and features.
Anyone interested in knowing more about the Silverfrost Mountains Expansion can read the entire announcement article on the official Blade & Soul website.
Planetside 2 Shutting Down In China
The9, publisher of the extremely popular MMO shooter Planetside 2, has announced that they will not be extending Planetside 2's contract, and that the game will shut down on May 31. The9 has heavily promoted the game since its 2013 launch, but now seems to have settled on putting their available resources into launching Firefall in China, though they have not yet announced a launch date.
Note that this impacts only Planetside 2 players in China, who play on servers owned by The9; Planetside 2's servers in all other locations are not going to be affected by the change.
WildStar Looking to Remove Faction Barrier
WildStar has created a new community initiative called DevConnect on the forums where players can directly communicate with the development team. The first post was made by creative director Chad "Pappy" Moore and it focuses on factions within WildStar:
What are your thoughts on dropping the faction barrier? And why?
What are your thoughts on keeping the faction barrier? And why?
If you were a developer for a day, what would your vision for what faction barriers be?
How should PvP flags factor into faction barriers, if at all?
Initially, factions played a major role in the development of WildStar's storyline, but recently they have fallen to the backburner as more important issues for the game have come up. Many community members have already responded and the general consensus is to allow cross-faction play, but only if a reason for it is written into the lore.
The current DevConnect will remain open for discussion until March 30.
Unlock Daredevil for Free in Marvel Heroes 2016
Players who log into Marvel Heroes 2016 on Saturday or Sunday will fully unlock Daredevil for free. To clarify, Daredevil will be unlocked forever and not just for the weekend. Additionally, players who already have him unlocked will receive an Ultimate Upgrade Token for each day they log in.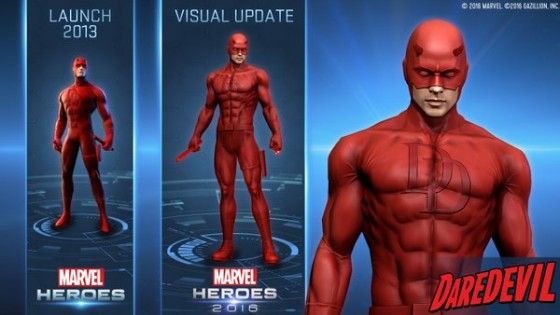 Daredevil season 2 becomes available on Neflix Friday, March 18, and to celebrate Marvel Heroes has given him a visual update in the game. His new appearance has slimmed down and toned up the hero to reflect the acrobatic style he's known for. Furthermore, players who pre-order Elektra, the 57th Marvel Heroes character, will receive her default costume from the comics as well as her TV costume.
Source: MMORPG, Daybreak Game Company, Eurogamer, NCSoft, MMOCulture, ComicBook, Carbine
Related:
Blade & Soul
,
DC Universe Online
,
Marvel Heroes
,
MMORPG
,
News
,
Oculus Rift
,
Wildstar
,
World of Warcraft