Valeera Sanguinar, the rogue Rogue from World of Warcraft, will be making her way in to the Nexus according to a not-so-subtle teaser video posted by Heroes of the Storm.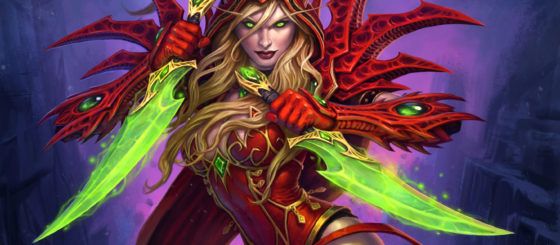 The video in question was posted on the game's Twitter account, which showed an Orcish silhouette right before being carved up by Valeera's daggers. The video also came with a warning: "I've spent long enough in the shadows, so watch your back!"
The teaser offers no details about the character's release, but it's easy to assume that Valeera will likely be an Assassin role considering her arrival. In the meantime, you can watch the 15 seconds of stabbing and dark giggling below.
— Heroes of the Storm (@BlizzHeroes) January 13, 2017
Our Thoughts
Well, this new arrival to the Heroes of the Storm roster could make things very interesting indeed. It seems like Valeera will be a stealth-based character considering her class, and we are definitely intrigued to see what she's capable of in the MOBA.
Your Thoughts
Do you have any assumptions about how Valeera will play in Heroes of the Storm? What sort of moves do you hope she's capable of? Give us your thoughts in the comments below.
Source: Twitter
Articles Related to Heroes of the Storm
Zul'jin Added to Heroes of the Storm Roster
Heroes of the Storm Ragnaros Interview
Samuro the Blademaster Joins Heroes of the Storm Roster
Related:
Heroes of the Storm
,
MOBA
,
News
,
Reveal