Valiance Online, one of the many "legacy projects" hoping to fill the swirling vortex left by City of Heroes' shutdown, is stepping up to do the superhero thing in real life as well. For today, every dollar of Valiance Online donations will instead go to help fund disaster relief for hurricane victims.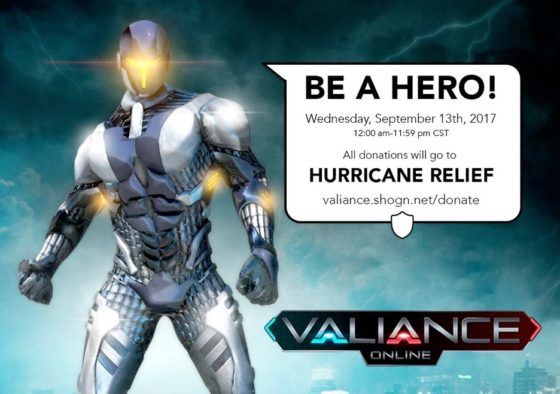 From now until 11:59pm CST, every single dollar made on the Valiance Online donate page will go to help out Direct Relief, a humanitarian aid organization with focus on maternal and child health, disease prevention, and emergency preparedness and response. Direct Relief operates in all 50 US states and in 80 countries across the world.
Those who donate to Valiance Online will still receive the same rewards they would get if they were donating to the game's development, including alpha access to the superheroic MMO.
"We care about community and want to do our part to help those afflicted by the devastation," said SilverHelm Studios CEO Chad Dulac in a statement. "We empathize with all hurricane victims in Texas and elsewhere and wish for their safety during these difficult times."
Our Thoughts
We are superheroes. This is what we do. We applaud SilverHelm Studios for their philanthropy and hope that this charity drive raises a huge amount of money for Direct Relief.
Sources: Twitter, press release via Massively Overpowered
Articles Related to Valiance Online
Preparations to Launch Valiance Online on Steam Have Begun
Speed Round: City of Heroes Successor Showdown – City of Titans vs. Valiance Online
Watch a City of Titans Commander Lock Down Enemies with the Power of Dance
Related:
Charity
,
MMO
,
News
,
Valiance Online