If you love the lore and world of Warframe, then the devs of the action MMO and Top Cow Comics have come together to make you smile. An upcoming Warframe comic book miniseries is on the way, with five issues based on the futuristic action game confirmed.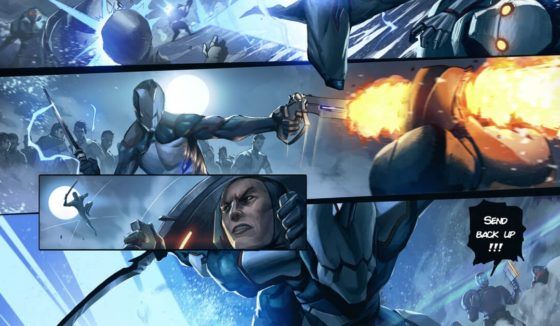 The new series comes courtesy of writer and Top Cow President/COO Matt Hawkins and editor Ryan Cady. The comics will follow the Excalibur Warframe as he tries to protect a young girl, the only survivor of an attack on an Earth village. According to the announcement, veteran players of Warframe may find clues to future updates to the game, while the story itself is meant to be one for Warframe fans and comic book fans alike.
The Warframe comic book's first issue will arrive first to attendees of TennoCon as a free gift on Saturday, July 8th. The comic will also be on offer as part of Top Cow's attendance at this year's San Diego Comic Con and New York Comic Con events. No word is yet available on when the comics will go on sale or be available otherwise. More details, along with a preview of some of the comic's pages, can be found hereW.
Our Thoughts
The universe of Warframe is definitely one of the most interesting and unique aspects of the MMO, so we're certainly ready to learn more about the world, or at least enjoy an exciting story told within it!
Source: press release
Articles Related to Warframe
Warframe Plays Octavia's Anthem on Consoles
New Warframe Revealed During Livestream
F2P Kingdom: Warframe Free to Play is a Real Bang for the Buck
Related:
Comics
,
Dark Horse Comics
,
MMO
,
News
,
Warframe