In the latest Warhammer 40k: Eternal Crusade newsletter, game designer Michael Chan discusses the evolution of the in-game loadout system.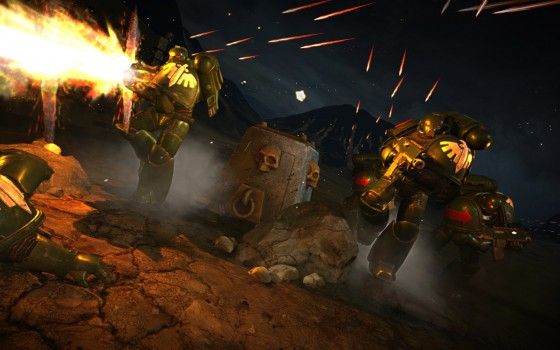 The loadout system for Warhammer 40k: Eternal Crusade will consist of the character progression tree, post-battle rewards, weapons, modifications, accessories, and consumables. Players will also be able to equip items purchased from the Rogue Trader Store in the loadout menu.
There will be different types of items for each class in Warhammer 40k: Eternal Crusade with specific offensive, defensive, and utility capabilities. Furthermore, each item will be assigned a point value and there will be a total item cap. This limits the amount of pay-to-win functionality in the game, as characters won't be able to equip the best type of every item at the same time.
"You will eventually be able to save more than 5 custom loadouts, from which you will bring into battle a smaller set after considering which map you will be fighting over, who your foes will be, your war party composition and your knowledge of the metagame.  If the prospect of creating loadouts seems daunting to you at first, then fear not – there will be preset loadouts to act as examples of what potentially viable loadouts might look like," said Chan.
In addition to functional equipment, visual customizations will be part of the loadout system. As characters gain experience they will unlock achievements and perks such as titles. Eventually, players will also be able to unlock Veteran versions of basic classes, which have higher loadout points and access to unique items. Finally, there will be Elite and Hero characters that have special fixed items.
Our Thoughts:
Behaviour Interactive has been in a constant struggle of promoting paid concepts and attempting to reassure players that the game will be appropriately balanced. Although there will be exclusive paid content, such as hero characters and items from the Rogue Trader Store, it is stressed that these will mostly factor into convenience and the best items can be acquired through playing the game. However, the game is still in a very early state and we'll have to wait to see how things actually play out.
Source: Behaviour Interactive Newsletter
Related:
Bandai Namco
,
Behaviour Interactive
,
Early Access
,
News
,
Shooter
,
Warhammer 40k Eternal Crusade