Apparently, a lot of people were excited by the Wild West Online Kickstarter idea. So much so that the game's initial investors have put forth more money to see the game come to life. The sandbox MMO devs will no longer need a crowdfunding drive for extra funding and are even bypassing Steam Early Access in order to release a full game in 2017.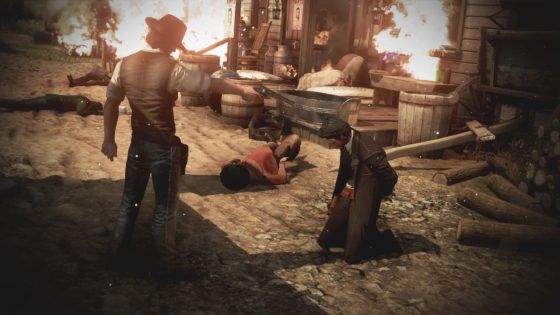 The decision made by the investors to fully fund the project comes by way of immense response to the game's reveal, which included thousands of emails and over 200k site visits according to the announcement. The extra funding will make the complete game a reality, including stretch goals such as female avatars, card games, and localization.
"The community's response to Wild West Online is something we never imagined and thanks to it we're able to fully develop a robust Western experience for PC," said 612 Games Chief Creative Officer Stephen Bugaj. "Westerns are lacking on PC so we can't wait to release the game to the public."
The game's official website has also seen a significant update, with details on the game's design philosophy and content updates arriving as part of Season 1, including train robberies, personal housing, mountainous and Mexican-themed biomes, and a Night Manager mission where players must defend a location overnight from other player bandits. You can find out more about Wild West Online here.
Our Thoughts
Funny how a genuinely unique and original setting gets people excited. It's almost like MMO players want something a little different! All kidding aside, we're certainly among those who are looking forward to hearing more about Wild West Online and how the game's systems will shape up. Insert a cowboy-themed exclamation of delight here!
Source: press release
Articles Related to Wild West Online
Wild West Online MMO Brings Open-World PvP to the Wild Frontier
The MMO Alpha and Beta List: May 12, 2017
Interview with the Devs of Tale of Toast, a Hardcore PvP MMORPG
Related:
Crowdfunding
,
Kickstarter
,
News
,
Sandbox MMO
,
Wild West Online