During the month of December World of Warcraft players could help out the Red Cross by purchasing an Argi Pet. The small goat was set at a price of $10USD and 100% of the proceeds went to helping the Red Cross fight Ebola in Africa. Players who purchased the Argi goat pet unlocked her on every character they have on the account During the promotion Blizzard and the World of Warcraft community raised over 1.9 million USA by purchasing the pet.
It's wonderful to see the gaming community react so warmly to efforts such as this one. We hope to see more charity giveaways from Blizzard and other development studios.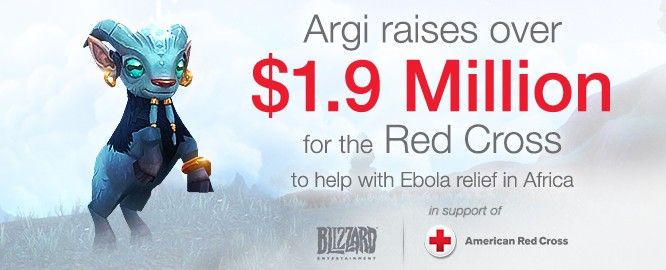 Thanks to the overwhelming generosity of World of Warcraft players around the world who purchased theArgi pet, we've raised a total of more than 1.9 million USD to support the ongoing Ebola relief efforts in Africa by the Red Cross.

In December, we announced that for every Argi purchased by December 31, 2014, 100% of the adoption fee would be going to assist in aiding in the fight against this deadly disease — and the community embraced this cute little intergalactic nibbler, helping out a great cause in the process. Thanks again to everyone who helped make a difference.
Related:
Blizzard Entertainment
,
Charity
,
MMORPG
,
World of Warcraft