Blizzard has introduced a new pet to its World of Warcraft pet collection, and it's quite a special one! The Brightpaw Pet has an unquenchable thirst for magic, but also a need to do something good for the world. Which is why, when you adopt it for $10, 100% of the adoption fee will go to support the Make-a-Wish foundation, to bring some magic to children with a life-threatening disease.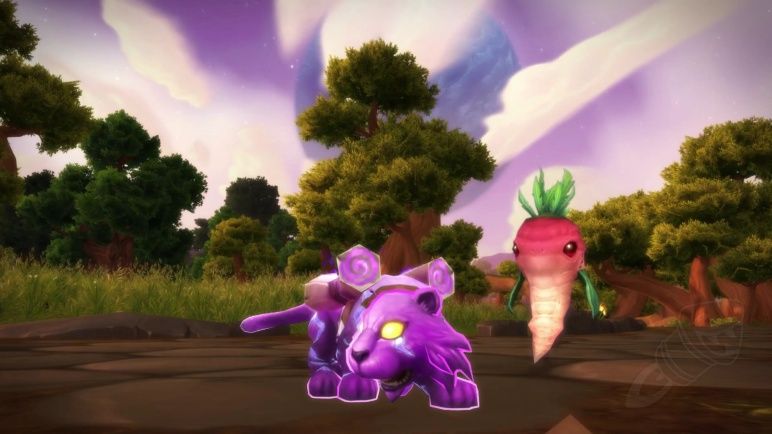 The purple little fella is the dream pet to have. Though it might sometimes be a little messy and unpredictable, perhaps even a little bit crazy, it looks adorable and it is a great participant in pet battles! Through these pet battles, you can unlock unique rewards for your new companion, making it all the more fun to let him "battle", otherwise known as playing (with razor sharp teeth).
You don't have to buy it for multiple characters either. Once you activate your Brightpaw, it'll be applied to all current and future World of Warcraft characters on a single Battle.net account. You can find it in your Pet Journal. If you're interested in buying Brightpaw for you or for someone else (as a present for the holidays perhaps?), then do so quickly as the charity event only runs until the 31st of December, 2015. After that, it'll be just another pet in the pet shop, and you won't get to help a great cause directly through purchasing an adorable little companion! You can fall in love with Brightpaw in the video below. Isn't it just adorable?
Our Thoughts
We love all this news of game companies doing something special for charities! And now that World of Warcraft supports Make-a-Wish, it makes us feel like they're truly spreading the Christmas spirit, and that's a great thing.
Source: Battle.net Website
Related:
Blizzard Entertainment
,
Charity
,
MMORPG
,
News
,
World of Warcraft